This post may contain affiliate links. Please read my disclosure and privacy policy.
Oat Flour Banana Bread has an unbelievable texture you'll love. My son has deemed it the "best banana bread ever" and I love that it uses affordable, gluten-free oat flour.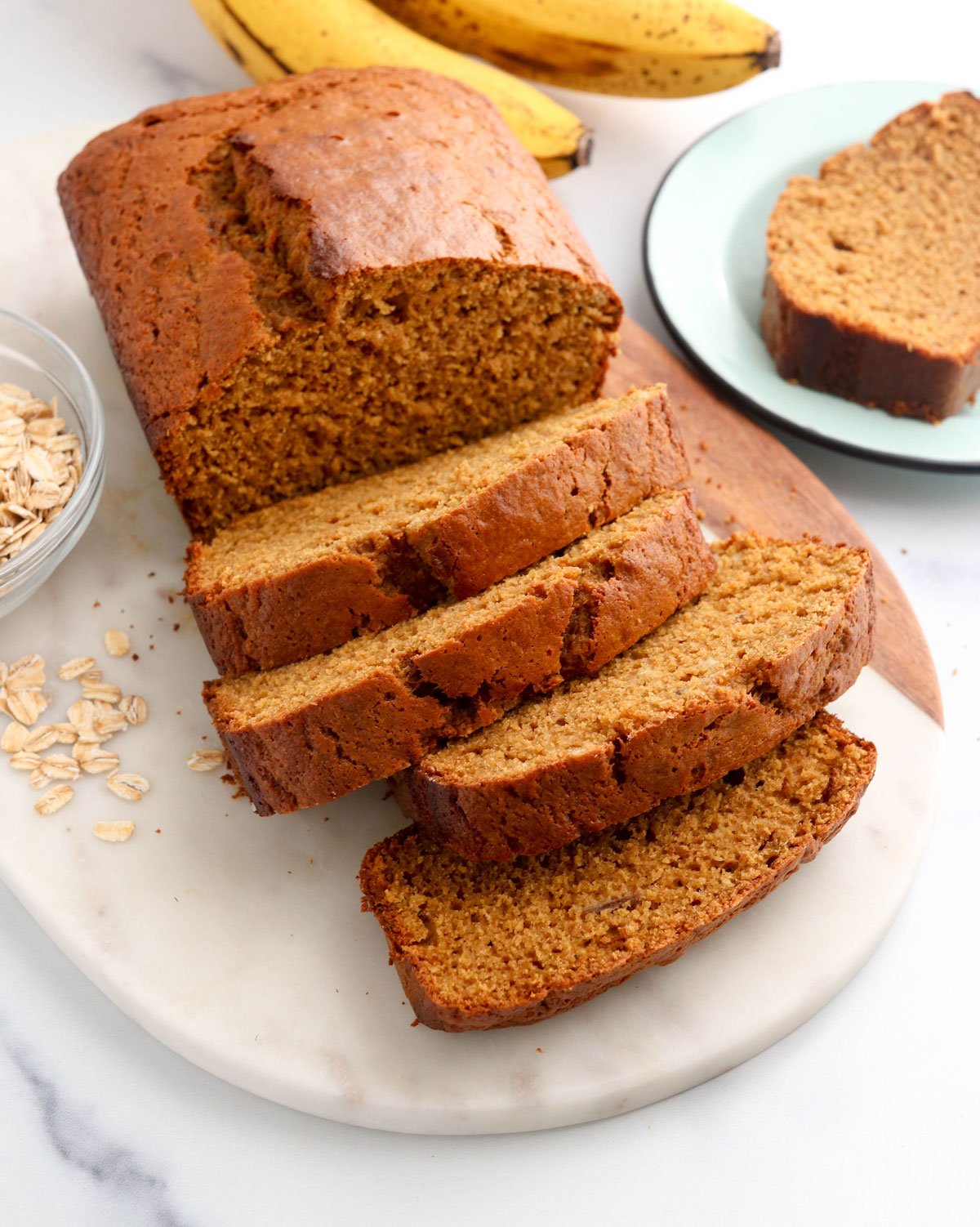 Why use oat flour? This flour is easily accessible! If you have oatmeal at home, you can make oat flour. It's naturally gluten-free, and super affordable when compared to other alternative flours.
Ingredients You'll Need
Can you use oat flour instead of all purpose flour? In most recipes, the answer is yes, but you'll typically need to use more oat flour when making this substitution, because oat flour is less dense than wheat flour. That's why I've done the testing for you!
Here are the basics for perfect oat flour banana bread:
Oat flour (certified gluten-free, if needed)
Eggs
Coconut sugar
Olive oil
Ripe bananas
Since oat flour is gluten-free, it doesn't have the same binding protein (gluten) that wheat flour does. As a result, you'll need to use more eggs to get a familiar banana bread texture that isn't mushy in the middle, or crumbling apart.
How to Make It
Oat flour banana bread is just as easy to make as the original! Start with ripe bananas, with plenty of ripe spots on their skin, so they'll be nice and sweet.
I like to mash mine with a fork on a plate before I measure out the puree for this recipe.
In a large bowl, you'll mix together all of the ingredients, until a relatively smooth batter is formed. It's okay if there are still a few pieces of banana that aren't totally mashed. (Yum!)
Lightly spray a 9-inch by 5-inch loaf pan with oil, then place a piece of parchment paper on the bottom of the pan to ensure this banana bread will be easy to remove later.
Pour the batter into the pan and smooth the top.
Bake until the top of the loaf has puffed up and started to crack, about 45 minutes.
This bread needs to cool completely before you slice into it, so be patient!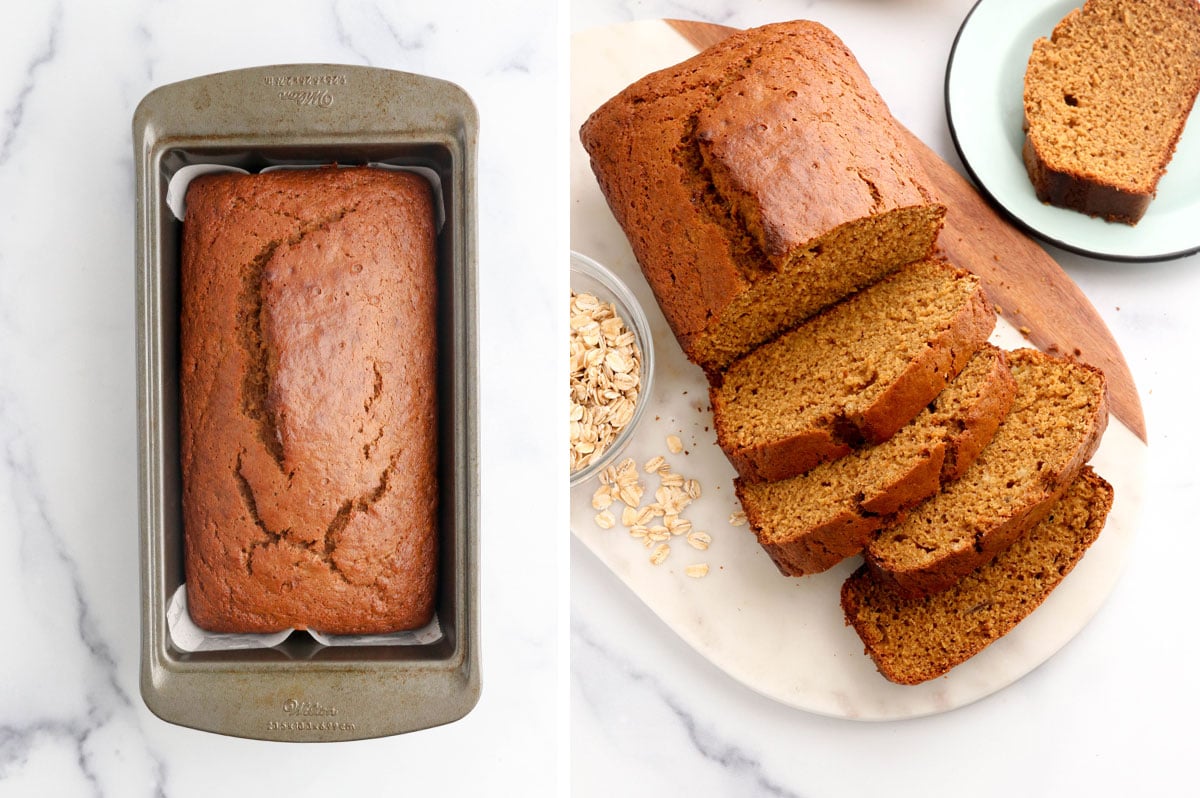 This bread tastes like a lightly sweet banana bread with a hint of oatmeal flavor. The addition of cinnamon is a nice touch, but you can leave that out, if you'd prefer.
You could also sprinkle some chocolate chips on top, for a chocolate chip banana bread!
Substitutions
Since I test my recipes so much, I can answer some of your substitution questions below.
Need to replace the coconut sugar? I've reduced the coconut sugar in this recipe to just 3/4 cup and that still works well, texture-wise. It just doesn't taste as sweet as a banana bread you'd buy at a coffee shop. I've also tested this recipe with 1/2 cup of honey instead, and that turned out too sweet, and the texture was super gummy in the middle. I don't recommend that swap. If I were to try it again, I'd probably use 1/3 cup of honey and increase the flour by at least 1/4 cup.
Need to replace the olive oil? You can use melted coconut oil or butter with similar results. I imagine you could possibly make this recipe oil-free by replacing the oil with more mashed banana, too, but the texture might not be quite as nice and sliceable.
Need to replace the eggs? I have successfully used Bob's Red Mill Egg Replacer in this recipe, and the results are great! The egg-free banana bread is a little more flat, but it still cracks in the center and isn't gooey in the middle with this substitution. I assume other store-bought egg substitutes will work as well, but I'm not sure that flax eggs will be as helpful. I think the "powdery" egg substitutes that involve arrowroot or tapioca starches are most effective with gluten-free baking. (FYI– using carbonated water as an egg substitute does NOT work here. I tried it, and it was inedible.)
Oat Flour Banana Bread
Oat Flour Banana Bread is naturally gluten-free and tastes just as good as the kind you'd buy at a coffee shop! It's going to become your new favorite.
3

large

ripe bananas

(315 grams; about 1 1/4 cups mashed)

1.75

cups

oat flour

(225 grams; certified gluten-free, if needed)

3

large

eggs

(143 grams)

1

cup

coconut sugar

(169 grams)

1/4

cup

olive oil

(58 grams)

2

teaspoons

baking powder

(9 grams)

1

teaspoon

ground cinnamon

(3 grams; optional)

1

teaspoon

vanilla extract

(4 grams)

1/2

teaspoon

fine sea salt

(3 grams; I use Real Salt brand)
Nutrition information is for 1 of 10 thick slices. For a lower calorie snack, just cut more thin slices instead! This information is just an estimate, and not a guarantee. 
See the post above for substitution needs. 
Need to make your own flour? If you have a food scale, measure out 223 grams of rolled oats and blend them to make your own flour. This is roughly 2 cups + 3 tablespoons of rolled oats, if you want to measure it out before blending.
Calories: 240kcal | Carbohydrates: 36g | Protein: 5g | Fat: 9g | Saturated Fat: 2g | Cholesterol: 56mg | Sodium: 171mg | Potassium: 300mg | Fiber: 2g | Sugar: 15g | Vitamin A: 100IU | Vitamin C: 3mg | Calcium: 58mg | Iron: 1mg
More Banana Recipes
If you try this oat flour banana bread, please leave a comment below letting me know how you like it! And if you make any modifications, I'd love to hear about those, too. We can all benefit from your experience!
–
Reader Feedback: What's your favorite quick bread? Should we do an oat flour pumpkin bread next?
Credit: Source link