Wondering what gift to buy that traveler in your life? Today we wanted to highlight some great gift ideas for travelers in a gift guide that focus only on products made in the United States of America.
Many people want to shop local and support local businesses. As an American, I wanted to do an article focused on travel products made in the USA. I love supporting and highlighting American businesses, particularly small businesses, that make their products in the U.S.
In this post, we'll highlight a number of American companies that make products that could be ideal gifts for travelers. These include a wide range of products, including travel accessories, luggage, clothing, National Parks passes, travel-inspired jewelry, pet travel products, water bottles, home decor, and travel journals.
We include American made products that should suit just about any travel lover on your list, from the budget backpacker to the RVer to the luxury traveler. We also suggest gift ideas for travelers that should appeal to just about any budget.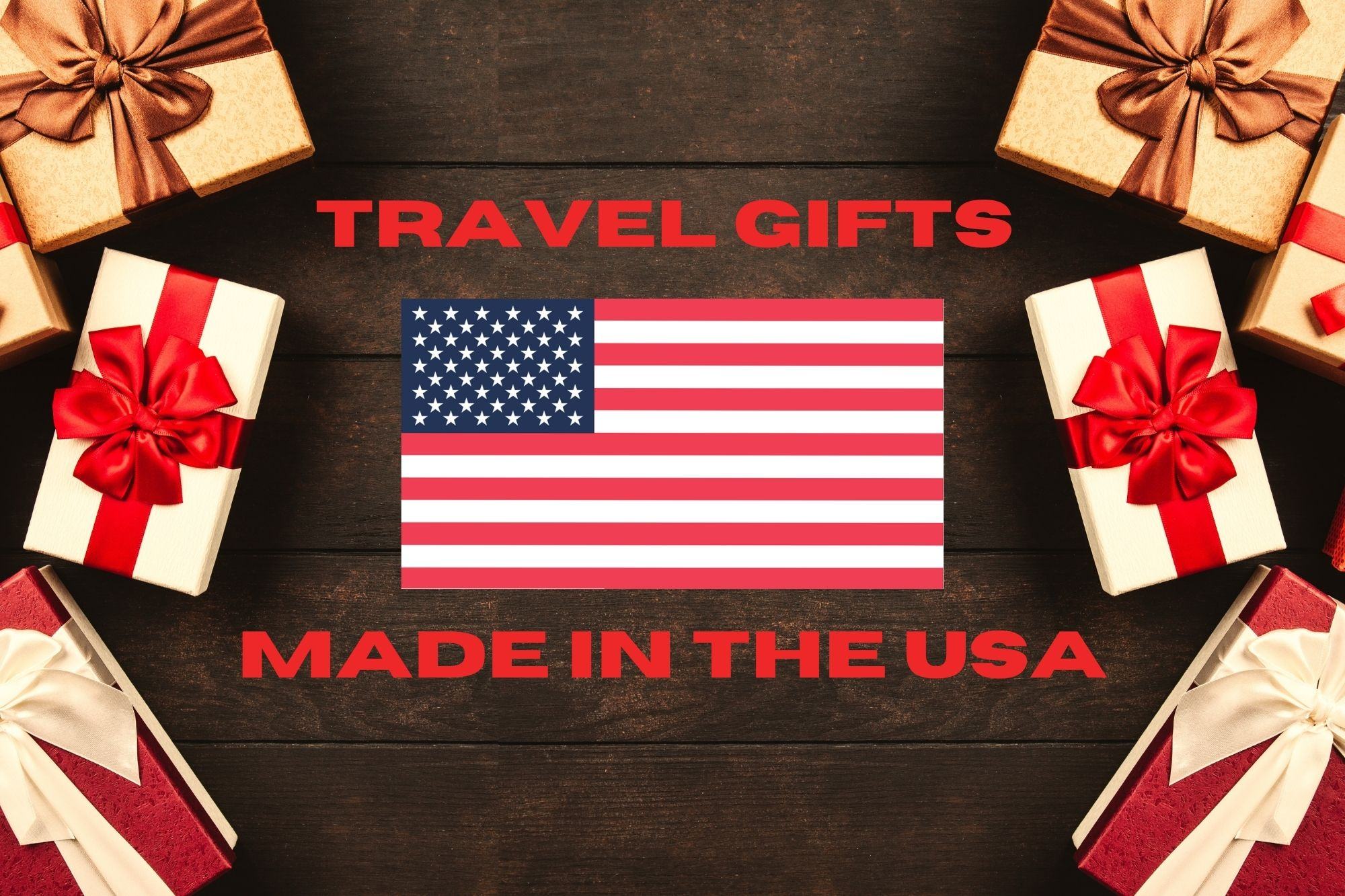 As travelers, we love receiving travel products and travel-themed gifts. We also love gifting them to fellow travel lovers. In this post, we wanted to highlight some great gifts for travelers which are made in the USA.
There are a number of reasons that you may want to purchase gifts made in your own country. Buying a product made in the United States can help support local businesses and jobs. American made products are generally produced in facilities that offer better labor standards, wages, and safety procedures than their imported counterparts. Buying products made in your own country can also help reduce the carbon footprint of your purchase.
Although the USA is home to some of the world's biggest companies, it is also home to over 30 million small businesses according to the Small Business Administration. We have included products from businesses of all sizes, but with a focus on smaller businesses. Many of the businesses we highlight, particularly those on Etsy, are run by just one or two people.
One of the great things about buying from small businesses is that you can easily find unique products that are not available anywhere else. Many of these can also be personalized or customized, making for a more special gift.
Note that all the products in this gift guide are made by American companies in the United States to the best of our knowledge at the time of writing. However, most do import materials to make some of these products. I try to note when a company also gets its raw materials solely from the USA as well.
If you are searching for products made in the USA, be very careful about the language used by the business. Many will say things like "designed in the USA" when the products are actually made elsewhere and imported. If a business does not plainly state it makes its products in the USA, it usually means they are made overseas.
If you are looking for more gift ideas, we have other travel gift guides as well, including our really comprehensive gifts for travelers guide that includes products made worldwide. For those in the UK, Laurence has put together a wonderful guide to British made travel gifts.
So let's get started. Here is our list of some great American gifts for travelers made by American companies and manufactured in the USA.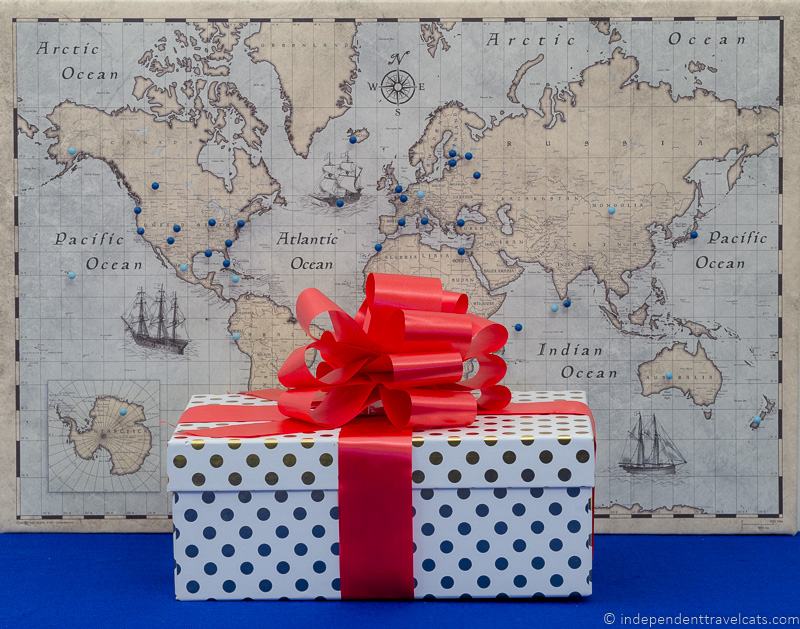 Happyluxe Travel Wrap
The HappyLuxe Wayfarer wrap is a great travel accessory that can be used as a travel scarf, wrap, blanket, and shawl. It is lightweight and versatile and is perfect for draping over your shoulders when it's cool outside and keeping you warm on a chilly airplane, train, or car trip.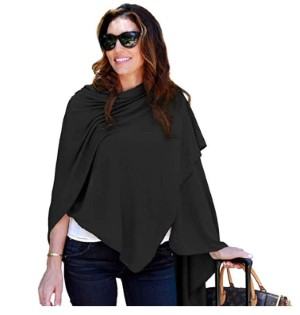 The Happyluxe travel wraps are 68 inches X 35 inches (172 cm X 89 cm) in size and made of Tencel which is 95% MicroModal (a form of rayon) and 5% Spandex. The wraps are vegan-friendly and offer protection from the sun with an Ultraviolet Protective Factor (UPF) rating of 50+.
There are two fabric versions (made from the same materials), the "classic jersey" and the brushed "eco-cashmere" which is a softer and more fuzzy version of the classic jersey wraps. The travel wrap is available in several solid colors.
In addition to their signature travel wrap, they also sell several other travel accessories made in a matching fabric, including a travel pillow, eye mask, and face cover.
The Happyluxe travel wraps and other travel accessories are all made in the United States. Specifically, they are made in a factory in Los Angeles, California.
If you are looking for a travel wrap made in the USA, this is the one we recommend. I have had one for a few years now and it is a great accessory to pack in my carry-on or stuff into my backpack. Unlike most travel wraps, this one is machine washable which makes it easy to clean.
You can find the latest price here on the Happyluxe website (free USA shipping) and here on Amazon (global shipping).
Luggage Tags
Luggage tags are a great gift as everyone needs at least one for their luggage. We particularly like personalized luggage tags.
One company we want to highlight is Lifetime Leather Co., which makes handcrafted leather luggage tags with adjustable straps, heavy-duty buckles, and a secured center slot for an address card. The luggage tags can be personalized on the front with initials and various fire branded designs are available to put on the back.
All Lifetime Leather Co. products are handstitched and made in the company's Arizona workshop and the leather is sourced from the United States. Another great thing about the company's products is that they all come with a lifetime warranty and the company will fix damaged or worn products.
Lifetime Leather Co. also produces a number of other leather travel products including toiletry bags, passport covers, backpacks, key fobs, and clothing. You can see more on their website and in their Etsy store.
Weekend Duffle Bag
If you are shopping for someone that loves weekend getaways, then a weekend bag might be a perfect gift. A classic duffle bag is perfect for throwing in the trunk of the car or taking as a carry-on on your next train, bus, or plane journey.
Weekend bags come in a variety of styles, sizes, and materials from luxury handcrafted leather bags to inexpensive cotton duffles. We're going to highlight the duffle bags made by Filson, an American company that has been making outdoor clothing and goods since 1897.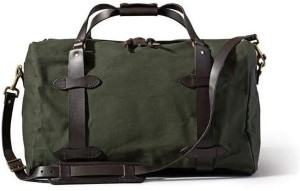 Filson makes a wide variety of travel bags, from the small tin cloth field duffel to the rugged twill medium duffle to this high-quality leather bag. The rugged medium duffle is a particularly great versatile bag for travel as it's durable, meets most airline carry-on size restrictions, and has a storm flap closure.
Note that not all Filson products are made in the USA, but most of their duffle bags are made in the USA.
Farm to Feet Socks
Socks are a common, if not particularly exciting, gift to give to family members during the holidays. Everyone needs them and having good quality socks is particularly important for travelers who often spend more time on their feet than usual.
In terms of American made clothing, socks are actually one of the easiest articles of clothing to find as there are several brands that are made in the USA. One sock company we want to highlight is Farm to Feet as we like how transparent the company is about its suppliers, materials, and where their socks are made.
Farm to Feet focuses on merino wool socks that are produced in North Carolina using 100% American materials. Farm to Feet sources their wool from American farmers who are raising sheep on American farms. The nylon and Spandex are also sourced in the United States.
Farm to Feet offers a wide variety of socks for men, women, and children which include regular everyday socks, hiking socks, performance socks, ski socks, and technical socks. You can see lots of design options here.
However, if you are looking for American-made socks there are several other brands which also make socks in the United States including Darn Tough (made in Vermont), Ballston (made in USA since 1918), and Wigwam (made in Wisconsin since 1905). Just note that the above do source some of their raw materials from outside of the USA.
Travel Inspired Lip Balms, Perfume Oils, & Soaps
It seems like you can never have enough soap and lip balms, and these can make great smaller gifts and work perfectly for stocking stuffers. The Adventuress Soap Co. focuses on scented bath and body products that are inspired by places around the world from the Rocky Mountains to Tokyo.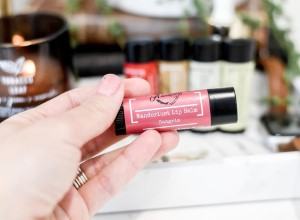 Julie started the Adventuress Soap Co. to share travel-inspired scents soaps and bath products. Initially, Julie focused on soaps, but she has expanded into making a number of bath, home, and body fragrance products including lip balms, perfume oils, travel candles, wax melts, and more. All her products are made in Denver, Colorado.
I have tried several of Julie's products and my favorite product so far has been the lip balms, which feel really nice on the lips and are one of the best selling items in her shop. I have also had a very positive experience with Julie in terms of communication and customer service.
You can discover all of Julie's travel-inspired soaps, lip balms, and fragrances here.
Gatorz Sunglasses
Sunglasses are a must-have accessory for travelers to help protect their eyes from the sun and harmful UV rays.
There are a few brands of sunglasses which are made in the USA. The one we are going to highlight is Gatorz Eyewear, which focuses on high-quality durable sunglasses. Their sunglasses were first developed with motorcycle riders in mind and then became popular among U.S. Navy Seals.
Gatorz manufactures its sunglass range in the USA. Their military-grade aluminum frames are designed to be durable, and the lenses themselves have scratch and water-resistant coatings, as well as 100% UV protection. A couple of their most popular sunglass models are the Raptor and Magnum.
A range of styles and features are available, with a range of options to choose from, including polarization, anti-fog coatings, and impact resistance. The products designed for active men who spend time outdoors. The sunglasses are particularly popular among the U.S. military, motorcyclists, law enforcement, skydivers, first responders, and outdoor sports enthusiasts.
These are hard-wearing sunglasses that come with a lifetime warranty, and they would make for a great gift for someone looking for a durable pair of USA made sunglasses.
Homesick State & Country Candles
Know someone who misses somewhere they used to live or a favorite travel destination? A company called Homesick makes soy candles which are designed to smell like specific U.S. states, cities, and countries.
These candles are designed to remind people of their hometowns or places they love. These make great gifts, especially for those who may have recently moved or graduated.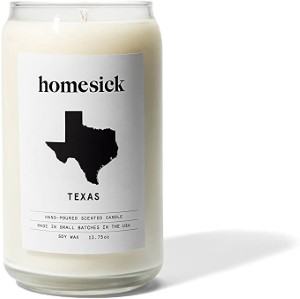 Homesick has candles that are designed to smell like all 50 states, a number of major cities, and several countries. For example, the Pennsylvania candle smells like "caramel, maple, buttery rum, and malty molasses balanced with dark cocoa and dry tonka bean", Atlanta, GA smells like "dogwood blossoms and daffodils; woodsy and floral notes balanced by sweet pecans", and India smells like "a simmering pot of curry with the ever-present scent of cardamom".
In addition to the destination-specific candles, they also have candles that smell like  "Grandma's Kitchen", "Beach Cottage", "Book Club", "New Home", "Holiday Stroll", and "Road Trip".
Homesick pours all their candles in the United States and uses a natural soy wax blend and cotton wicks. The company notes that their candles are non-toxic, not tested on animals, and contain no lead, plastics, paraben, phthalates, or synthetic dyes.
In addition to candles, Homesick also offers a few other fragrance products including reed diffusers, fragrance oils, and car air fresheners in similar scents. You can see their whole line of candles and other products here.
Travel Toiletry Bag
A travel toiletry bag or dopp kit is an essential part of any traveler's packing list, and a good quality toiletry bag can make for a great gift. Some toiletry bags can even be personalized with the recipient's initials or a custom message or logo.
There are several companies that make toiletry bags in the United States, particularly leather goods stores. We wanted to highlight two of these, Lifetime Leather and Felix Street Leather. Both of these shops make all their leather products in Arizona.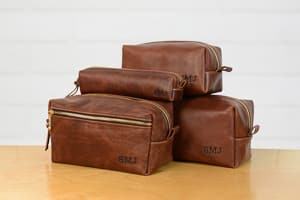 Felix Street Leather is a great shop to check out for those looking for personalized leather toiletry bags and accessories. Laurence has a gifted monogrammed toiletry bag from them that he loves. For example, these ones can be personalized with embroidered initials and have an internal nylon liner. They also offer cosmetics bags you can personalize.
Another great option are the toiletry bags from Lifetime Leather. These can also be personalized, and are also handmade in Arizona. You can see more on their website and in their Etsy store.
Travel Inspired Jewelry
Jewelry is always a great gift idea. For the travel loving person in your life consider a travel-inspired piece that will remind them of a special trip, their hometown, or a favorite destination.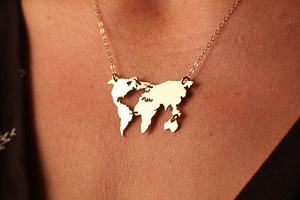 We have written a guide about jewelry for travel lovers, but I wanted to highlight several American shops that make their pieces in the United States. I buy most of my jewelry from Etsy and have pieces for many of these shops.
Here are several shops making travel-inspired jewelry in the USA to get you started:
The Hometown Haven – This shop specializes in sterling silver travel-inspired jewelry including state and country earrings, necklaces, and rings. Many of the pieces can be personalized and custom designs are possible. The shop is run by Tanya and her husband in California.
Stampin' off the Path – Carissa makes a variety of personalizable stamped jewelry and accessories, including rings, necklaces, and cuff links. The shop has a number of travel-themed pieces, which you can see here. The jewelry is made in Carissa's studio in Cincinnati, Ohio.
December Moon Designs – Doreen makes a variety of silver aluminum cuff bracelets with map designs of a variety of cities, regions, national parks, and hiking trails. She can also do custom map designs. Doreen makes these in New York and they are a great way to commemorate a special place.
Lovely Bauble Jewelry – Stephanie creates mountain rings in both gold and silver, including custom mountain rings of your favorite mountain or mountain range. A perfect gift for any mountain lover. They are made in Denver, Colorado.
Ivy By Design – Ivy makes a variety of hand-stamped jewelry pieces, including state jewelry, long-distance necklaces, and world map necklaces. She can also make custom designs and many of her pieces can be personalized. Her pieces are handcrafted in Spokane, Washington.
See our travel inspired jewelry guide for even more great jewelry made in the USA and elsewhere!
Swag Bags Jewelry Travel Pouch
Know a traveler who enjoys wearing a lot of jewelry? A travel jewelry organizer may be a perfect gift for them as these can help keep jewelry pieces organized and tangle-free, while also protecting them from scratches and damage. 
One such jewelry organizer is the Swag Bag. Swag Bags are circular jewelry bags made of silk brocade fabric that is closed with a sturdy satin cord drawstring to create a secure jewelry pouch. They are all handmade by Dana in Maryland who has been making and perfecting these bags since she started selling them in 2007.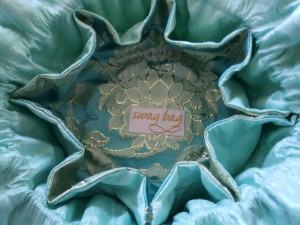 The interior of each of the bags is lined with satin or silk. The color and fabric type of the bag, lining, and drawstring can be customized. There are dozens of prints and colors available. I have one with a butterfly print fabric.
The Swag Bag includes 8 open pockets along the side which are designed for smaller jewelry pieces and then a large middle section that is perfect for larger and chunkier jewelry. You can get a lot of jewelry in the Swag Bag and the compartments are perfect for organizing multiple types of jewelry and small accessories.
These jewelry bags are handmade in the United States by Dana. She has many beautiful designs available, and you can see more in her Etsy store here.
Replogle Globes
Globes make for a perfect home decor item for the lounge or office. They can also make a great gift for the travel-loving person in your life.
If you are looking for an American made globe, you shouldn't have too much trouble. Replogle is the world's largest manufacturer of globes and 99% of their globes are made in the USA!
Replogle makes a large variety of globes in various sizes and styles, including desktop globes, floor globes, and educational globes for children. You can see their full line of globes here.
If you are looking for a personalized globe, Shelley from Selah Grace Designs can do personalized calligraphy messages on Replogle globes. These can make for a great gift or an event centerpiece.
AeroPress Travel Coffee Maker
If you know a traveler who loves their coffee, a travel coffee maker can make a perfect gift. These are particularly perfect for those who enjoy RVing, camping, hiking, or road tripping as they allow you to make a great cup of coffee anywhere!
The AeroPress Original Coffee Maker is a simple brewing system that allows for a uniform coffee extraction method that brews a smooth, ground-free cup of coffee every time. The system is simple to use and it takes only about 1 minute to make a cup of coffee. It can produce American style coffee, espresso style coffee, and cold brew coffee.
The AeroPress coffee system is specifically designed for travelers and it comes with everything you need to make a cup of coffee including a scoop, filters, funnel, and stirrer. The system is light, portable, simple to use, and easy to clean. It comes in its own travel tote bag.
There is also the newer AeroPress Go Travel Coffee Maker which is even more compact and comes with a coffee cup included. If you don't already have a coffee mug, then the AeroPress Go might be a better overall option for travel.
All Aeropress coffee systems are manufactured in the United States.
Okabashi Sandals
It can be difficult to find American made footwear, but Okabashi is a popular eco-friendly flip flop sandal maker and all its shoes are made in the USA. A pair of sandals can be a great gift for beach lovers.
Okabashi makes a number of sandal styles for both men and women. Two of the most popular ones are the Eurosport flip flops for men and the Okabashi Maui flip flops for women.
For example, the Okabashi Maui Flip Flop women's sandals are designed to be super comfortable and supportive. They feature massaging bead footbeds, arch support, a heel cup, and anti-slip bottoms.
The sandals are made from a combination of bio-based material and recycled materials and are available in several colors. They are easy to clean (you can even stick them in the dishwasher!), recyclable, 100% vegan, and made in the USA!
indeeGear Luggage Belt and Sleeves
If you are looking for a way to easily identify your luggage, indeeGear luggage belts and sleeves may be the travel accessory for you. The company makes individual designed embroidered sleeves that you can add to a luggage belt, strap, or handle. The sleeves provide an innovative and creative way to not only make your luggage stand out, but they can also serve as fun collectible souvenirs of your travels.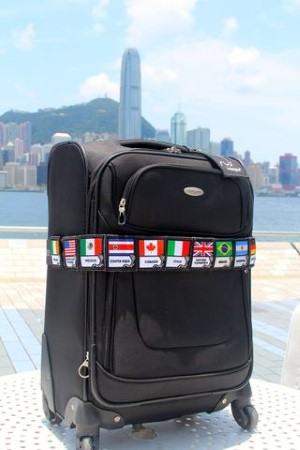 The collection of travel sleeves includes specific countries (e.g., Argentina, Italy), U.S. states,  hobbies (e.g., photography, fishing, travel, buying shoes), national parks, sports (e.g., surfing, golfing), and inspirational themes (e.g., peace, belief, inspire). You can see the full line of sleeves here.
indeegear was started by Valerie in 2012 in California and is a small woman-owned business. All indeeGear products are manufactured in the United States.
Leatherman Multi-Tools & Wearables
A multipurpose tool is a great accessory for those who travel, camp, hike, fish, or spend a lot of time outdoors. Leatherman multi-tools come with a number of tools including package openers, screwdrivers, scissors, knives, pliers, bottle openers, carabiners, tweezers, and nail files.
The original tool created by Tim Leather was the first pliers-based multi-tool. Today, they have a wide range of multipurpose tools, knives, wearables, and accessories.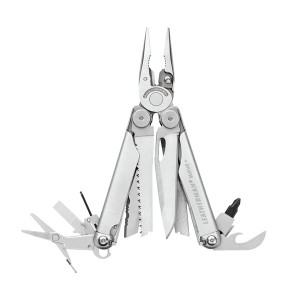 The wearables, which include wristwatches and bracelets, are also perfect for the traveler who secretly wants to be like James Bond. You can see all the wearables here.
Just note that many of the Leatherman products can't be placed in carry-on luggage when traveling by airplane, so if traveling by air, you may need to pack them in your checked luggage. They may also not be allowed into high-security areas like government buildings. For TSA compliant products, see their travel-friendly list of products.
All Leatherman tools are produced in their manufacturing facility in Portland, Oregon. The products are designed to last a lifetime and come with a 25-year limited warranty.
Laurence has one of the regular-sized Leatherman multi-tools (the Charge TI) and just checks it when we fly. He has had his Leatherman since 2005 and hasn't had any issues with it yet!
Sneaky Geek Chic Travel Scarf
A travel scarf with hidden pockets can help keep valuables hidden and safe. These scarves are handy for security as well as for when you want to go out without a purse or backpack. They can also add a bit of style and warmth to an outfit.
One travel scarf we have been recommending for a couple of years now are the ones made by Sneaky Geek Chic, a one-woman business run by Jasmine. All the scarves are handsewn by Jasmine in Albuquerque, New Mexico. Most of her scarves are made from a lightweight cotton fabric.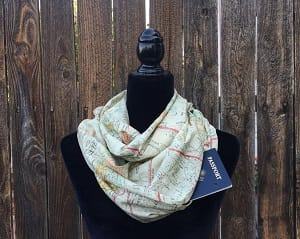 The infinity pocket scarf provides a bit of warmth and the hidden pockets can help protect passports, cash, credit cards, a smartphone, and other valuables. The inner pockets close with zippers and have specific slots that are designed to fit passports and debit/credit cards.
One thing we really like about Jasmine's scarves is that they are fully customizable. Because it is made to order, you can choose whether you want to wear the scarf to have 1 loop or 2 loops, say how many inner pockets you want, and the size of the pockets. You can even adjust the length of the scarf if you want something shorter or longer.
Sneaky Geek Chic carries a variety of infinity scarves with hidden pockets with all kinds of fun fabric designs including Harry Potter, Batman, Disney, planets, astrological signs, etc, and you can see her full range here. Our favorite for travelers is this scarf which has a map design fabric.
Travel Wall Decals
A fun way to decorate a wall with a travel theme without having to spend a lot on decorating supplies is with trave themed wall decals. These are easy to apply stickers that you can apply to most surfaces, which you can use to add a bit of wanderlust to almost any wall or space in your home.
One company we wanted to highlight is Blue Design Co. which makes a large number wall decals, including vinyl wall decals and fabric reusable decals. They sell a number of travel themed wall decals as well as hundreds of other decals. They also offer personalized and custom decals.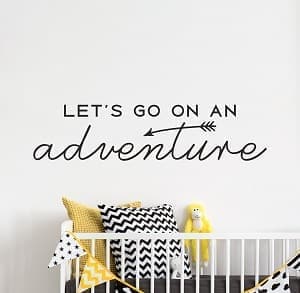 We have a set of decals from Blue Design Co. on our own walls. We have found that the decals are easy to apply and easy to remove. They will work on most clean surfaces that are smooth or semi-smooth.
Blue Design Co. is a small business run by husband and wife team, Adam and Kim in Wisconsin. All the vinyl wall decals are printed in their store in Ripon, Wisconsin.
Travel Prints
A wonderful gift for any traveler is art that can remind them of past travels, or inspire them for future travels. There are a number of print shops in the USA that can create some amazing travel prints, either of their own design or one's using your own photos.
One we particularly like is Just Go Travel Studios. Their main focus is on creating vibrant and high-quality National Park posters and prints that are inspired by the WPA style of the early 1900's. They offer a range of prints of individual American national parks and Canadian national parks.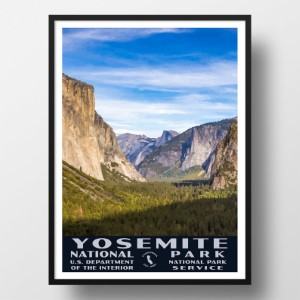 Just Go Travel Studios can also do other travel prints, including custom designs with your own text and imagery. They have hundreds of five-star reviews from happy customers.
All of the prints and posters are designed and printed in the USA. The shop is veteran-owned and run by a husband and wife team in New Hampshire. The couple donates 10% of the profits to the National Parks Foundation.
You can see their full range of products in their Etsy store as well as on their own website.
Karina Dresses
If you are shopping for a travel-loving woman who loves dresses, Karina Dresses might be a website to check out.
Karina is known as the maker of "the original easy dress" which are designed to be comfortable and to work for both day and evening wear. The dresses are made of easy to care for materials that have stretch, are machine washable, and are wrinkle resistant.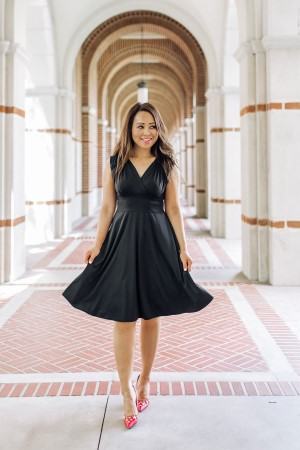 Although the dresses are not specifically designed for travel, the fact that they are easy care, durable, and wrinkle resistant makes them a good choice for those looking for a travel dress. For anyone who hates to iron, wrinkle-free clothing is a must for traveling.
Karina offers dozens of dress styles in lots of colorful styles and fabrics. They have inclusive sizing from XXS to 4XL so they should fit most women and have dress styles that look good on various body types. You can see all their dress styles here.
Karina is a woman-run business that was started in 2008 by Karina Cousineau. All the dresses are made in the United States; they are specifically sewn in New York.
Wanderlust Scents Candles & Wax Melts
I have tried a lot of travel inspired candles, wax melts, and fragrances over the years. Some of my favorite scents are from a small business called Wanderlust Scents.
The company started when Air Force veteran Drew created a Havana scented candle when looking for a more masculine scent than what he could find in his local stores. Today, they offer dozens of scents that try to capture the essence of places like São Paulo, Pittsburgh, the Rocky Mountains, Florence, Monterey, The Alamo, and Barcelona.
Their main product is candles and they offer candles in different sizes with either a cotton or wood wick. The candles come in recycled glass jars with a cork lid. All the candles are made from 100% American soy wax and are vegan, eco-friendly, not tested on animals, and free from petroleum, lead, and phthalates. All candles are hand-poured in small batches in Wisconsin.
Wanderlust Scents also offers soy wax melts, reed diffusers, home room sprays, perfume oils, and perfume sprays. If you are looking to try their scents without committing to a full-sized candle or spray, I highly recommend trying one of their wax melt sampler packs. These are a great way to try 10 different scents at once.
I personally have an entire drawer full of wax melts from Wanderlust Scents in our lounge and use them in our wax melter most evenings, particularly in the cooler months. We have loved almost all of them and they seem to be lasting forever as we are able to use the same wax melts for multiple nights.
If you are looking to try some new fragrance products, I can strongly recommend checking out this veteran-owned small business. Laurence and I have loved trying all the scents!
Conquest Maps Map Pin Board
A great gift for any traveler is a map that they can use to keep track of their past travels and have a great visual reminder. It can also help travel lovers plan their next vacation while at home.
There are a couple of companies that produce travel pin board maps in the USA, and the first one we want to highlight is Conquest Maps. This is the company that made the map pin board that we currently have hanging in our home.
They have a wide range of map designs, styles, and sizes. A couple of their most popular maps are their World Map design and their USA map design, but they also make maps of each of the 50 states, individual continents, and regions (e.g., Caribbean).
The canvas map prints are stretched over an internal wooden frame and come ready to hang on the wall. They also come with the hanging hardware, hanging instructions, and map pins. These pin maps have been handmade in Ohio since 2013.
As well as pin maps, Conquest Maps also make a range of wall decals, car decals, and ornaments. You can see their full range of map pin boards and other products in their Etsy store, and several of their most popular map pin boards are also available on Amazon.
Push Pin Map
Here is another American-made push pin map option. This one comes framed with your choice of a 2-inch wooden frame.
The Push Pin Travel Maps products use maps that were designed by National Geographic. A variety of maps are available including world maps, USA maps, continent maps, U.S. state maps, and maps of other individual countries.
The wooden frames come in several colors and you can personalize the text of the map legend. The framed maps come ready to hang on the wall with a set of push pins, a nail, and a hanger. The push pin maps are made in the USA, specifically in Denver, Colorado.
The company also makes a range of other related products, including travel-inspired personalized wall art, bucket list trackers, memory boards, and travel accessories. You can see the full range of products on their website or you can also buy their push pin maps here on Amazon.
Tough Traveler Backpacks and Bags
All travelers need travel bags, but it can be hard to find backpacks and luggage made in the United States. One company to consider if you are looking for travel bags made in the USA is Tough Traveler. They specialize in backpacks, luggage, carry-ons, and travel bags.
They make a huge range of bags, including regular backpacks, wheeled luggage, duffel bags, travel backpacks, hiking backpacks, fanny packs, a dog backpack, and more.
Tough Traveler has been manufacturing their bags in Schenectady, NY since 1970.
National Parks Pass
One of the greatest natural treasures in the United States is its National Parks. The National Parks Service has protected areas all over the country for generations of nature lovers, campers, and travelers to enjoy. Yellowstone National Park, established in 1872, is widely held to be the first and oldest national park in the world.
A National Parks Pass is a fantastic gift for anyone who loves exploring America's parks and historic sites. It gives the holder access not only to the 60+ national parks, but to over 2,000 federal recreation sites. These include national parks, national monuments, national forests, BLM land sites, national wildlife refuges, historic parks, and more.
Annual pass discounts are available for American military service members, seniors, federal volunteers, and those with permanent disabilities.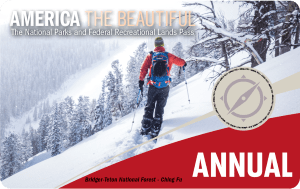 You can also shop for other items at the National Parks' online store. 100% of the proceeds from these purchases go directly to supporting education and preservation programs at America's national parks.
Not all items in the store are manufactured in the United States, so to find American made products, just type "Made in the USA" into the search box to filter the products. When I searched, there were over 220 products that were made in the USA, including glassware, pins, clothing, games, books, decals, jewelry, and more.
If you are purchasing someone a National Parks Pass, great additional gift ideas might be a Classic Parks Passport and this Parks passport cover.
Travel Journal
Many travelers like to keep a diary or notes about their travels in a travel journal. Whereas others may like to use a journal to make sketches of their travels or to keep upcoming travel ideas and plans. If you know a traveler who loves to put pen to paper, then you might think about gifting them a travel journal.
There are a number of American made travel journals out there, including leather-bound ones and vegan-friendly ones made of cork, paper, fabric, and vinyl. They come in a wide variety of sizes and styles. Many of these can be personalized with choices of color, initials, and engravings.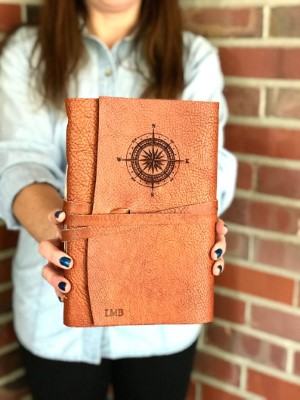 Here are some travel journal options we recommend checking out:
Leather and Earth Co. – This business makes a number of leather products, including handmade journals, diaries, and sketchbooks. Their products are made in Lincoln, Nebraska and the leather and paper used for the journals is sourced from the USA.
Bound by Hand – Stephanie creates a wide range of soft cover journals in a variety of materials, including cork, vegan leather, leather, and vinyl. She handmakes them all in her studio in Santa Cruz, California, and can also do custom designs on request.
Lifetime Leather – This leather goods business makes a range of leather products, which include beautiful handmade leather-bound journal covers. The journals are refillable, handmade in Arizona, and can be personalized for the gift recipient.
Word. – This company designs mini paper notebooks and journals that are pocket size and are designed to be both stylish and functional. The Adventure Logs are specifically designed for travelers. All the notebooks are designed and made in the USA
American Giant Clothing
If you are looking for some clothing basics that are made in the United States, consider American Giant. While not a "travel clothing" company, they make lots of things that a traveler may want to pack and do have a line of travel pants. Their comfy clothes are perfect for the airport.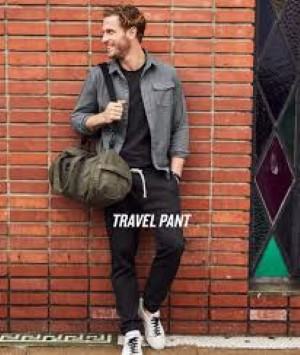 American Giant started with the goal of making a better hoodie and this is the product they are most known for. But they have expanded to offer a full line of clothing for both men and women. They offer T-shirts, hoodies, fleeces, jackets, vests, jeans, loungewear, dresses, thermals, hats, and more. The focus is on comfortable easy-wear clothing.
American Giant clothing is made in the United States, with most of the pieces being produced in Los Angeles, California. Military servicemembers and veterans can receive a discount on orders from the store.
Lifetime Leather Laptop Travel Case
Many of us travel with our laptops these days and having a laptop case can help us protect our valuable computers from the bumps and bruises of travel. Personalized laptop cases are the perfect gift for the digital nomads in your life.
Keeping a laptop safe when traveling is important, so a good case is essential. We think that one of these beautiful personalized leather laptop travel cases from Lifetime Leather would make for a wonderful gift.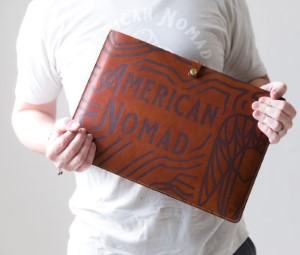 Like all of Lifetime Leather's products, these are handmade in Arizona in the USA and come with a lifetime warranty. The laptop is kept secure with a riveted heavy-duty brass snap, and they are designed for standard-sized laptops that are between 13″ and 15″.
The reason we think these would make an especially nice gift is that they can be personalized. The case can be fully customized with text, logos, initials, or a full cover design so you can make them as personalized as you want.
You can see more of their products on their website and in their Etsy store.
Nalgene Water Bottle
A water bottle is an essential travel accessory for most travelers. Keeping hydrated on the go is really important, whether you are setting off on a day hike, a month-long road trip, or a European train adventure.
A reusable water bottle not only helps make sure that travelers have water with them when needed, but it also avoids needing to buy environmentally-unfriendly single use water bottles.
Nalgene is the largest maker of reusable water bottles made in the USA. Their 32 oz wide mouth water bottle is one of the best selling water bottles on the market. But they sell a wide range of water bottles made in a variety of sizes and styles.
All of their water bottles are durable, leak-proof, BPA free, dishwasher safe, and made in Rochester, New York. Many are made of recycled materials. You can see their full line of products here.
Liberty Bottleworks Metal Water Bottles
If you are looking for a stylish metal water bottle, then we suggest taking a look at the line of aluminum water bottles from Liberty Bottleworks.
The bottles are made from high quality recycled aluminum and feature an internal liner that makes them easy to clean and odor-free. They are also 100% recyclable, and are made in the USA on American machinery!
Liberty produces a wide range of different printed designs on its aluminum water bottles which are all made and manufactured in the U.S. You can see several designs here.
Note that the company also sells a range of insulated stainless steel bottles as well, but these are imported although they are designed, finished, and printed in the United States.
Dog Travel Accessories
If you know someone who loves to travel with their dog, then you might consider gifting them a dog travel accessory. Or perhaps you are looking for a gift for your own dog. Gift ideas might include things like collars, leashes, harnesses, travel bowls, pet carriers, dog backpacks, and travel kennels.
There are a number of companies who make dog travel accessories made in the USA, from leashes and harnesses to travel bags and kennels.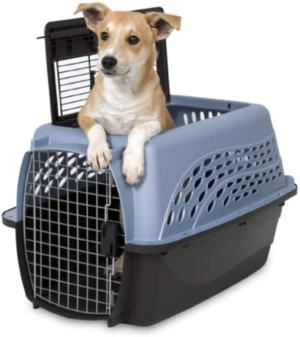 Here are some options:
The Good Dog Company – The business manufactures a range of collars, leashes, and harnesses from high-quality sustainable materials, primarily hemp and cotton. Their products are all handcrafted in the USA, specifically in Henderson, North Carolina
Petmate – Petmate is the nation's largest manufacturer of pet carriers, pet shelters, and feeding products. Most of their carrier and crate products are produced in their Arlington, TX facility. The company carries a full line of travel pet carriers for pets of all sizes, including this best-selling 2-door pet crate.
Petote – This company makes a range of pet tote bags, purses, and travel bags, all of which are hand-sewn in Chicago, Illinois.
Up Country – This company has a range of dog collars, leashes, harnesses, and other accessories which are all made in Easy Providence, Rhode Island.
Tough Traveler – This company mainly focuses on backpacks and travel bags for humans, but it also makes a dog backpack. All their bags are produced in New York.
Ruff Land – The company makes a range of high-performance tough kennels for safe dog transportation, all of which are engineered and manufactured in the USA.
Lifetime Leather – This leather goods business makes a range of leather dog collars which can be personalized with the dog's name. Collars are handmade in Arizona.
Susan Lanci Designs – The company creates a range of fashionable dog collars, tote bags, and other pet accessories which are made to order in their San Diego, California warehouse. Custom designed collars and accessories are also available.
Buffalo Leather Wares – The small business handcrafts a range of leather accessories in Oklahoma, including dog collars.
Hopefully, you can find something that will satisfy both dog and dog owner!
Cat Travel Accessories
Cats are less common travel companions than dogs, but there are many cat owners who travel with their cats. Even if you aren't planning to board a plane with your kitty, most people still need to transport their kitties for vet visits and the like. Gift ideas might include things like cat collars, leashes, harnesses, ID tags, travel bowls, cat carriers, and toys.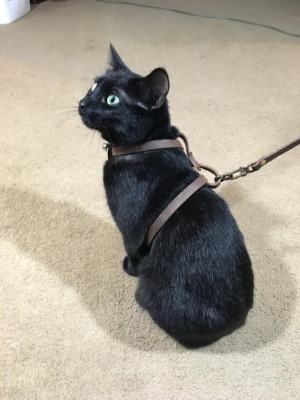 Many of the companies who make dog travel accessories in the USA also make items for cats. Here is a list of those that make cat accessories:
Despite the name, The Good Dog Company also manufactures a range of collars, leashes and harnesses for cats. Their products are all handcrafted in the USA, at Henderson, North Carolina
Up Country also has a range of cat collars, leashes, harnesses and other accessories which are all made in Easy Providence, Rhode Island
Buffalo Leather Wares handcrafts a range of pet leather accessories, including cat collars and harnesses. They are all made in Oklahoma
Petmate – Petmate makes most of their carrier and crate products in the USA. The company carries a full line of travel pet carriers for pets of all sizes, including this best-selling 2-door pet crate.
Petote – This company makes a range of pet tote bags, purses, and travel bags which work for both small dogs and cats, all of which are hand-sewn in Chicago, Illinois.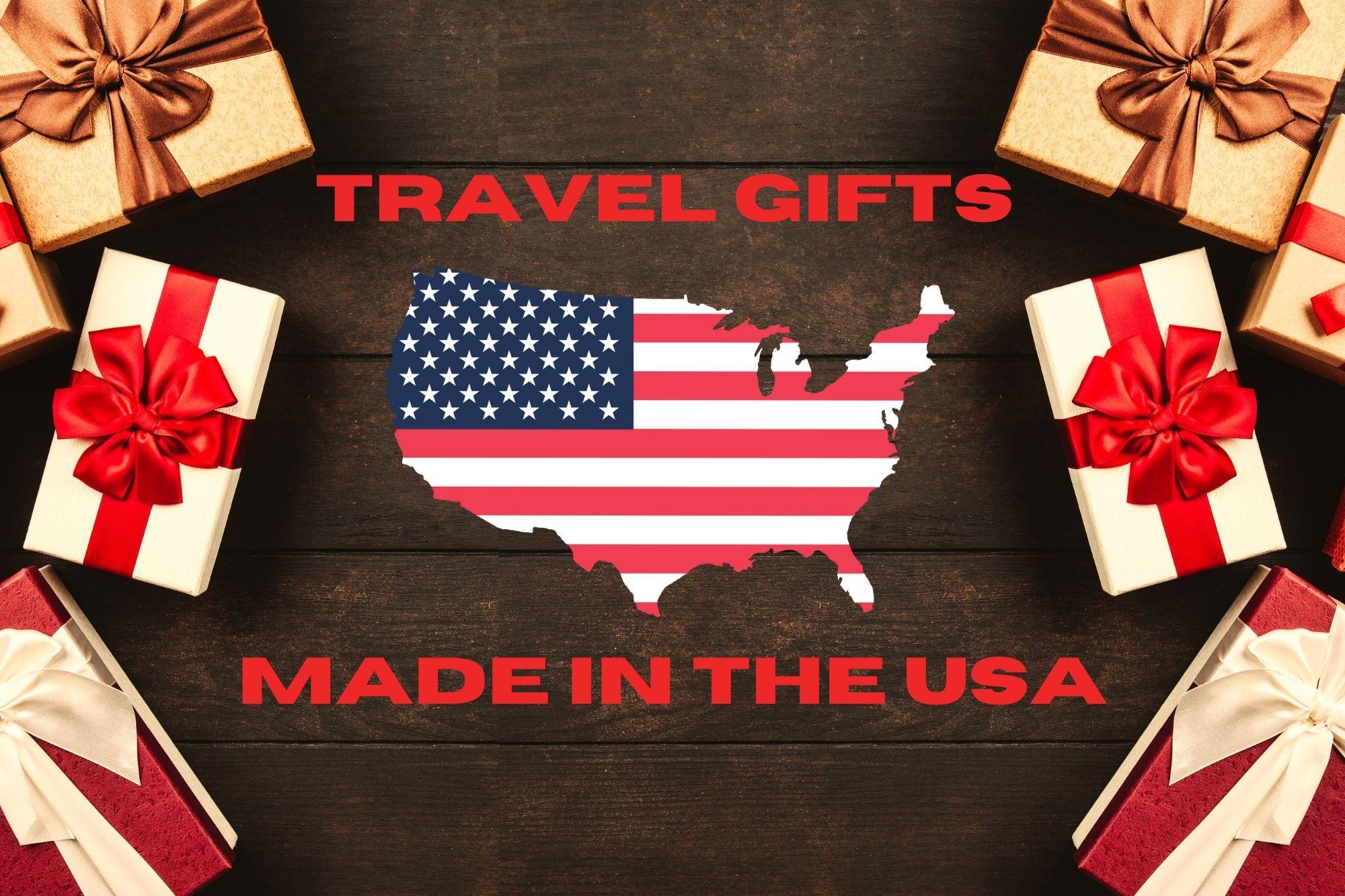 So that is our guide to travel products made in the USA, and hopefully we have helped you find the perfect American made gift for that special traveler in your life!
If you don't find what you are looking for in our USA made travel gift guide, we have several other travel gift guides, including our really comprehensive gifts for travelers guide that includes products made worldwide. For those in the UK, Laurence has put together a wonderful guide to British made travel gifts.
Think you'll want to buy American-made gifts for a traveler in the future? Just PIN this article to Pinterest to save it so you can come back and read it again later: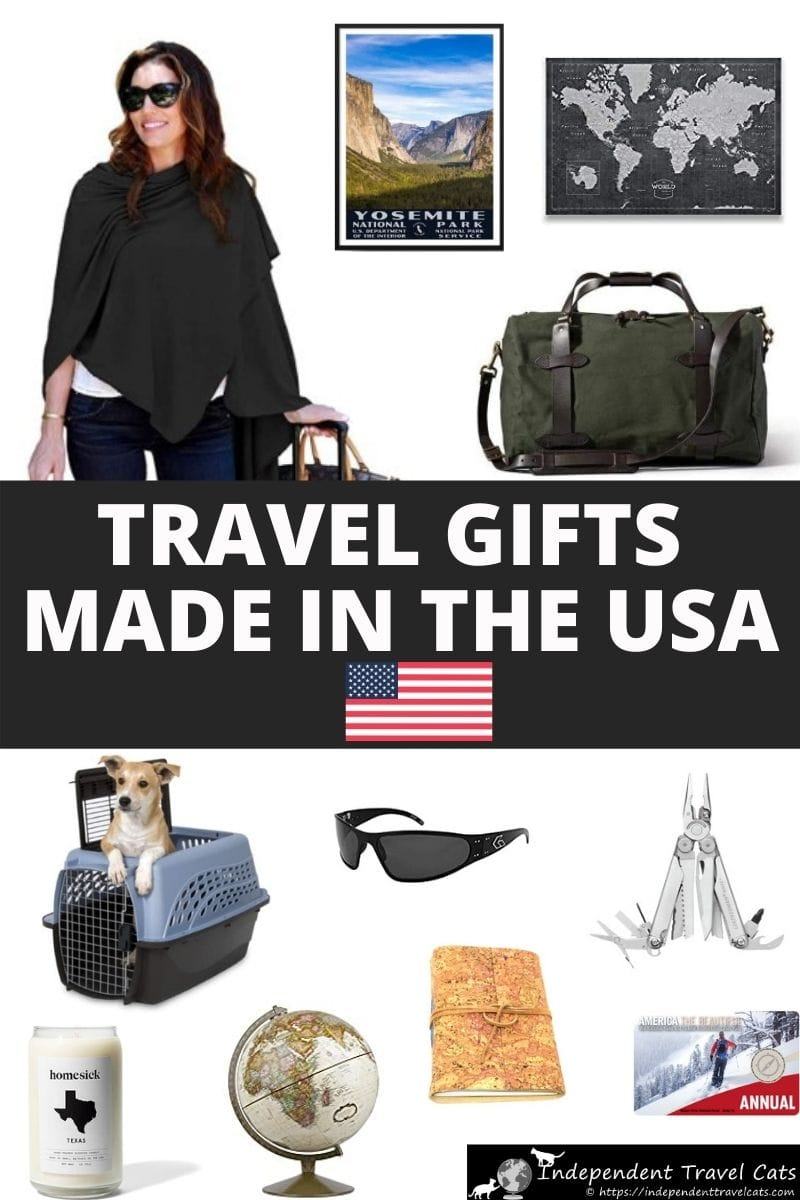 Did any of these travel gift ideas catch your eye? Or have some favorite American made travel products or travel-inspired gift ideas to share? Just let us know below in the Comments section.
If you have any questions about any of these travel items, just ask us and we're happy to share our thoughts or provide any advice.
Credit: Source link