It can be difficult to find the perfect pair of shoes for travel, so we've put together a comprehensive guide to the best travel shoes for women. We recommend shoes suitable for all budgets, travel styles, and trips so you can find the perfect shoes for traveling
We believe that shoes are one of the most important investments you can make for your trip. A good choice in travel shoes can help you to do all the things you have planned on your trip in comfort, whereas a poor choice in footwear can mean pain, blisters, and misery.
You want shoes that are comfortable for all-day wear, aren't too bulky or heavy to pack, and are durable enough to withstand the rigors of travel. You also want shoes that fit your travel style, and ideally, a versatile pair of shoes that can be worn for both daytime sightseeing and classy evenings out.
Based on our many years of traveling (and wearing many pairs of shoes!), we've put together this list of the best travel shoes for women. Whether you are looking for a travel sneaker or a pair of snow boots, this article should help you find a pair of travel shoes that are perfect for you and your travels.
First, we list factors to consider when choosing a pair of shoes for travel to help you better evaluate your options. Next, we list the best travel shoes for different travel situations, including our picks for the best all-round travel shoes for women. Finally, we list some shoe accessories you may need and tips for packing and traveling with your shoes.
So let's get started, on with the travel shoes!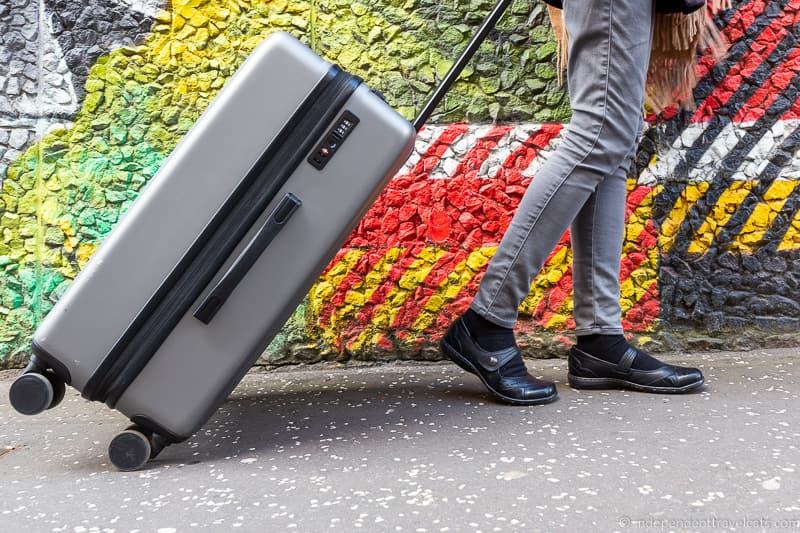 There are a lot of things to consider when shopping for a good pair of shoes for traveling. Looking online and shopping in stores can be overwhelming with all the options out there!
Here is a list and some guidance about some important factors to consider when choosing a pair of travel shoes.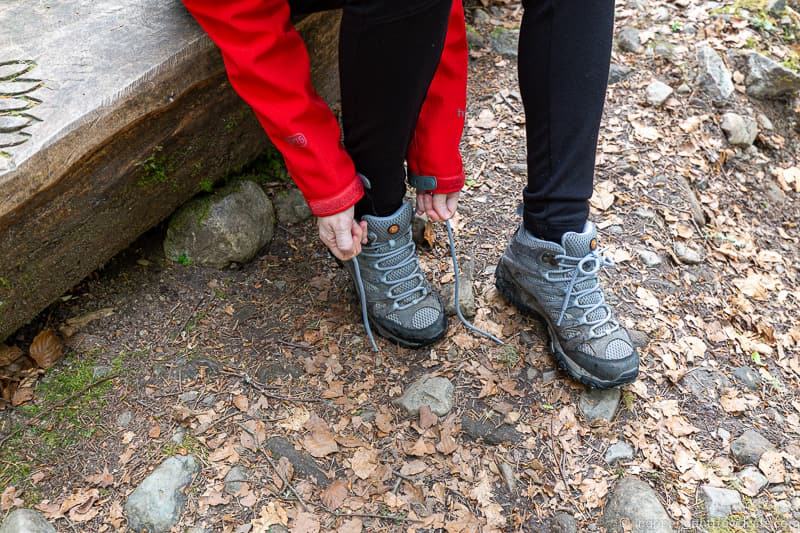 Comfort
We would argue that comfort is the most important thing to consider when choosing shoes to pack for your next trip. Whether your next adventure is going to involve hours of city walking, long hikes up mountains, or navigating slippery boat decks, you want something comfortable on your feet.
You may have found the most sexy shoes you've ever laid eyes on, but if they are not comfortable, they certainly aren't worth the pain they will inevitably cause you during your trip. Shoes that pinch, rub, and don't fit right will likely lead to blisters, sores, and lots of discomfort.
If you are wearing a comfortable pair of shoes, you'll probably barely think twice about your footwear. But an ill-fitting or uncomfortable pair of shoes is going to remind you of their presence all the time!
Know your feet and what kind of support you need in a shoe to be comfortable. For example, this might mean a cushioned insole, arch support, an instep strap, or a wide toe box. Know what you need to be comfortable and don't compromise on important features.
You also want something practical. Recently we were in Paris and watched this woman in high heels try to navigate her way across a cobbled street; she wobbled by in front of our taxi and had to keep her arm around her husband's arm to keep from falling forward. We imagine she packed the shoes in hopes of looking sophisticated but instead managed to look uncomfortable and clumsy. I strongly recommend putting comfort and practicality first when choosing travel shoes.
A big trip is also probably not a good time to try a new style of shoes or break in a new pair of shoes. So be sure to take a pair of shoes you've tested at home before packing it in your suitcase. Many types of shoes, particularly hiking shoes and stiffer shoes, require some breaking in first, so be sure to do that at home rather than take the risk of rubbing and blisters on your trip.
Also, be sure to test out the shoes in the same way that you plan to wear them on your trip (e.g., without socks, with socks, with insoles) to make sure they are comfortable and fit well. Some shoes can work well with or without socks whereas other shoes may not be comfortable without them.
Function
You want shoes that are going to function as needed on your trip. This is going to depend on your destination, climate at the destination, and what activities you plan to do while on your trip.
Where are you going? Are you heading to a tropical beach, big city, rural farmland, frozen tundra? Are you going to a wet climate where waterproofing is going to come in handy? Is it going to be a humid climate where breathability and lightweight shoes are needed? Do you need warm boots with good traction to handle snow and ice?
What will you be doing? Are you going to be city sightseeing all day? Are you planning to go hiking or running? Will you be doing water sports like snorkeling or kayaking where water shoes may come in handy?
Think about your coming travel plans and come up with a list of requirements for your shoes. In some cases, you might be able to find a shoe that performs all the functions you need and in other cases you may need to pack a pair or two to best suit your trip.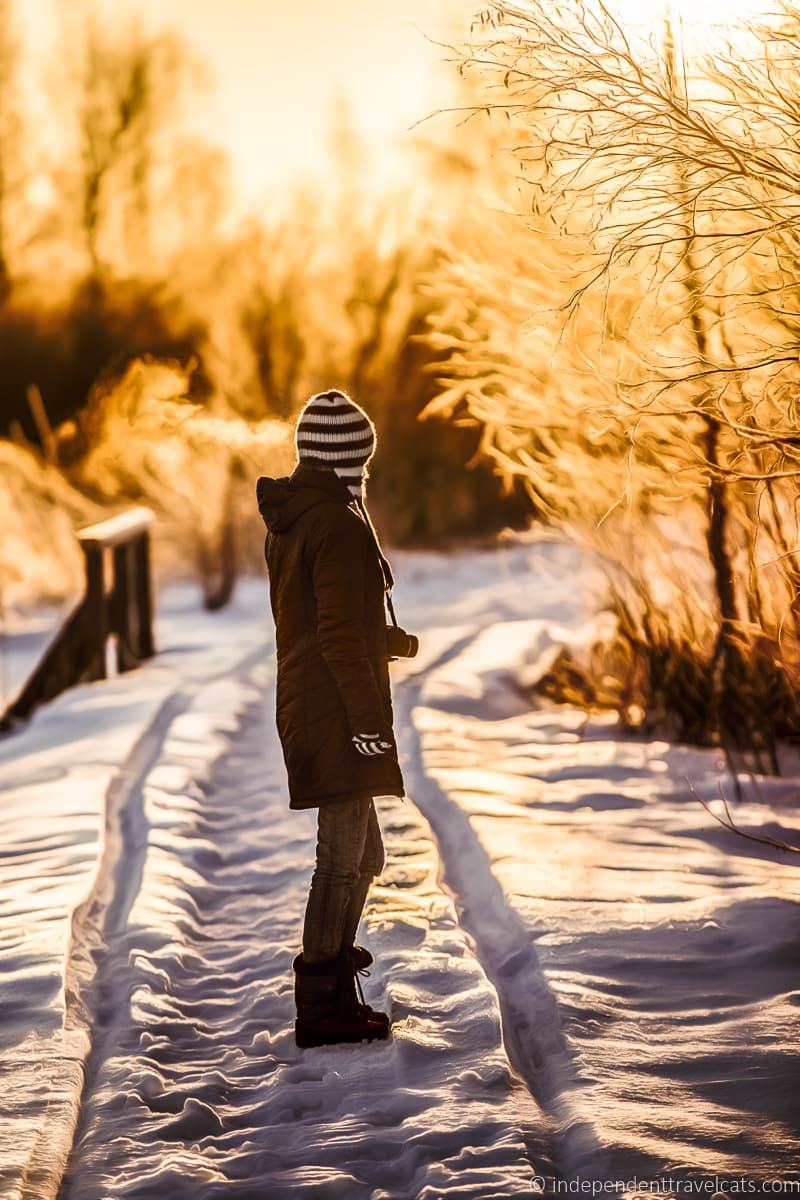 Space
One thing to consider when choosing shoes for travel is how much space they will take up in your luggage.
The size and "squashability" of your shoes is going to help dictate how much you can fit into your luggage. For example, it is fairly easy to fit in a pair of flexible flip-flops (thong sandals) into your luggage, but it is not going to be so easy to squash in a pair of hiking boots into an already full bag.
The amount of luggage you plan to take on your trip is really going to impact how many pairs of travel shoes you can take with you. If you choose to travel with a backpack or carry-on suitcase only, chances are you'll be limited to one or two pairs (one on you feet, one in your bag), so it's important to pick the best shoes for the trip!
Although more luggage space means you can carry more shoes (or larger and more bulky shoes), usually one or two pairs of high-quality footwear is generally all you need for a trip.
See our tips for packing and protecting your shoes at the end of this article.
Weight
In addition to size and space, a related factor is the weight of the shoes. Weight is important both for making sure you meet airline (and sometimes train) luggage weight requirements as well as being able to easily lug your luggage around as you travel.
With airlines cracking down on maximum weight allowance, less really is more when it comes to packing your travel shoes. The lighter the shoes, the more pairs you can bring with you, or alternatively, the more space you will have for all your clothes, accessories, electronics gear, souvenirs. etc.
Even if you meet the airline requirements, it is also important that you are easily able to carry your own luggage. A suitcase or backpack that is too heavy can make for an uncomfortable journey. While most suitcases have wheels these days, chances are that you'll still be needing to carry it up flights of stairs, placing it in overhead luggage storage areas, carrying it onto public transit, and dragging it over cobbled streets.
It can become a little bit more difficult during the winter months or when you are doing a trip that requires special footwear such as snow boots or hiking boots, which tend to be more heavy.  But you should still keep weight in mind as a factor when selecting the best footwear for your trip.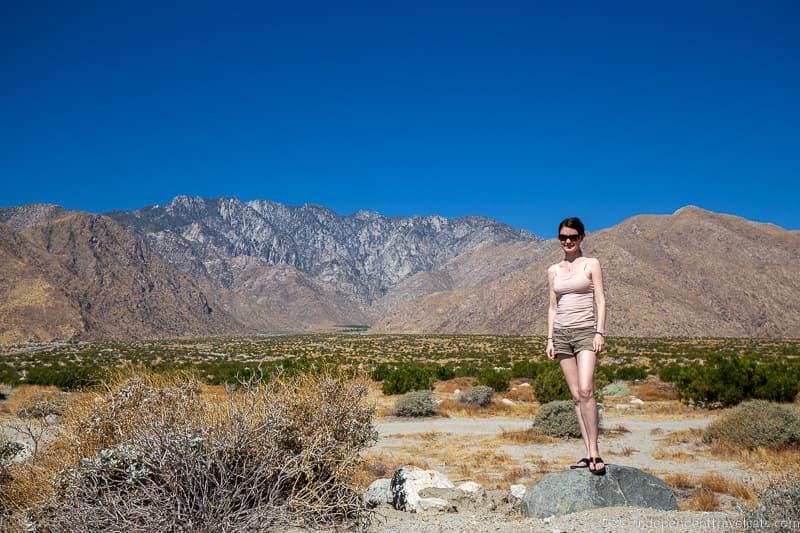 Budget
If you are looking for new travel shoes, one factor in most people's decisions is the price of the shoes. It is good to set a budget for your shoes.
If you have a smaller budget, it might be easy to look for a cheap pair of shoes but we recommend that you seriously consider balancing cost with quality and comfort.
If you've ever taken an uncomfortable pair of shoes on a trip, you'll know that your choice of travel shoes really can make or break your holiday. Sometimes you have to make a bit of an investment to ensure that your sightseeing goes as smoothly as it possibly can.
That being said, you don't want to sacrifice your grocery budget to buy a great pair of travel shoes, so we've tried to include shoes across a whole range of budgets in this list. However, do bear in mind that shoes can be a real investment and a good pair of travel shoes can last for many years!
You can often find great in-store and online discounts on shoes, especially on last year's styles and end of season sales. For example, try looking for sandals in September or October or for snow boots in April. You can also check for gently used shoes at secondhand and vintage shops as well as online marketplaces like ebay.
Durability
Another factor to consider is the quality and durability of a pair of shoes. Consider the quality and durability of the material and sewing. Look for qualities like grip, reinforcement around the toes, flexibility in the soles, and weatherproof features. A good pair of shoes from a well-known manufacturer should last for many years.
We are often tempted to purchase the "better deal". For example, last year I purchased a cheaper version of a pair of shoes I wanted that were made of a less quality material. The shoes looked and fit great, but the strap broke after just 2 months of use, making them unwearable. Lesson learned.
Of course, if your budget means you can't afford the best quality shoes, that's fine. I used to buy fairly inexpensive shoes for travel when I was a student and just knew that I would have to replace them every couple of years as they wore out fairly quickly.
One type of shoe I would strongly recommend not skimping on quality is hiking shoes and hiking boots, particularly if you plan to do a lot of hiking on your trip. Trust us, you don't want to be halfway through a hike suffering with wet feet or blisters because you cut costs on your hiking shoes.
Also some shoe manufacturers (and stores) offer warranties or money-back guarantees for their shoes if you don't enjoy them or there are any defects. This is always a good sign and the longer that warranty, the better.
Orthotic Device Fit
In relation to comfort above, some people will need extra comfort and support in their shoes and may need to be able to fit orthotic devices (heel inserts, insoles, inlays, etc) into their travel shoes. So this will be an important consideration in the type of shoe you choose and you should definitely test out the shoes in advance with any orthotic devices you may need to add.
So if you have bunions, plantar fasciitis, diabetic neuropathy, a sport injury, legs of different lengths, or some other foot problem, you'll want to take extra care in choosing your travel shoes.
For instance, a few years ago I began to develop arch pain (likely due to plantar fasciitis) that occurs whenever I wear shoes for longer lengths of times that don't have adequate arch support. So I have had to stop wearing certain kinds of shoes to accommodate this and I also add these little sole inserts to some of my shoes.
Some brands of shoes are particularly designed for those with certain kinds of foot problems. Some brands that have good reputations for quality footwear for those with foot issues include Aetrex, Vionic, Birkenstock, Clarks, Orthofeet, Chaco, Therafit, and Drew.
If you have a more serious foot issue and are not sure about the best way to care for your feet, I would consult a podiatrist about what they recommend.
Versatility
Versatility is important when it comes to travel shoes. Ideally, you want a pair of shoes that will fill a variety of roles, so you can minimize how many pairs you need to pack. For example, a pair of shoes that can work for city walking, short easy hikes, and a visit to an amusement park may allow you to only pack a single pair of shoes for your trip.
Having shoes that will go with all, or most, of your travel clothing is also important. Think about what you plan to wear on your trip and where you plan to go. Can you wear the shoes with pants, shorts, dresses, leggings, etc. Will they work for casual daytime as well as more dressy nighttime situations?
We also recommend sticking to more neutral colors, like black, tan, navy, grey, or brown, as this will help ensure that your travel shoes will go with whatever clothes you wear each day. Although you can also probably find a red or purple pair of shoes that will work too, depending on your style!
If you choose a fairly versatile pair of travel shoes, you should be able to also make good use of the shoes at home. So if you are choosing between a couple of pairs, you might also consider how much you'd wear each of them when not traveling. Would you wear them at the workplace, to go out to dinner or dancing, to go shopping, to take a walk in the park, etc.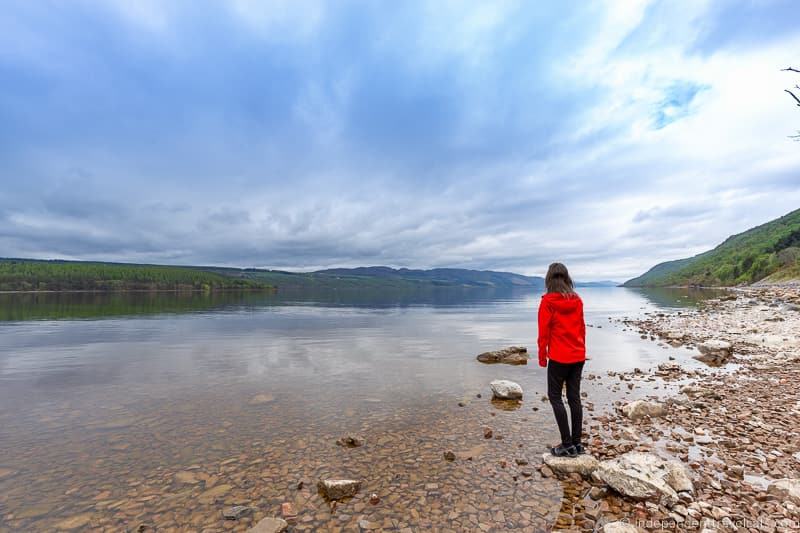 Vegan Friendly
For those looking for vegan-friendly shoes, many shoe brands offer shoes that do not use any animal products or by-products. There are also several brands that only produce vegan shoes.
Some popular vegan-friendly shoe brands include Ahimsa, Will's Vegan Shoes, Matt & Nat, Okabashi, Bourgeious Boheme, Native Shoes, Blowfish, and Beyond Skin.
More mainstream brands that carry vegan shoe lines include Tom's, Birkenstock, Reef, Merrell, and Dr. Marten's. Many of these brands have designed vegan-friendly versions of some of their most popular shoes and we try to note when vegan versions of a shoe are available throughout our post.
If you are looking for something 100% vegan be sure to check on what is used for the glue and soles of the shoes as some shoes that appear vegan may still contain animal by-products.
Style
Once you've ticked the boxes for all of the above, it's time to think about the overall style of your new travel shoes. If you choose a pair of shoes that you love the look of, you'll enjoy wearing them even more!
You might find the most comfortable pair of shoes in the world, but if you feel they make you look terrible, you probably won't be excited to wear them. We definitely think comfort and practicability are more important than style, but you certainly want to find a good balance.
The style of the footwear will also impact how many different types of outfits you can wear them with and how easily you can take your shoes from day to night. It will likely also affect how often you choose to wear them at home as you are more likely to wear a pair of shoes you feel good wearing.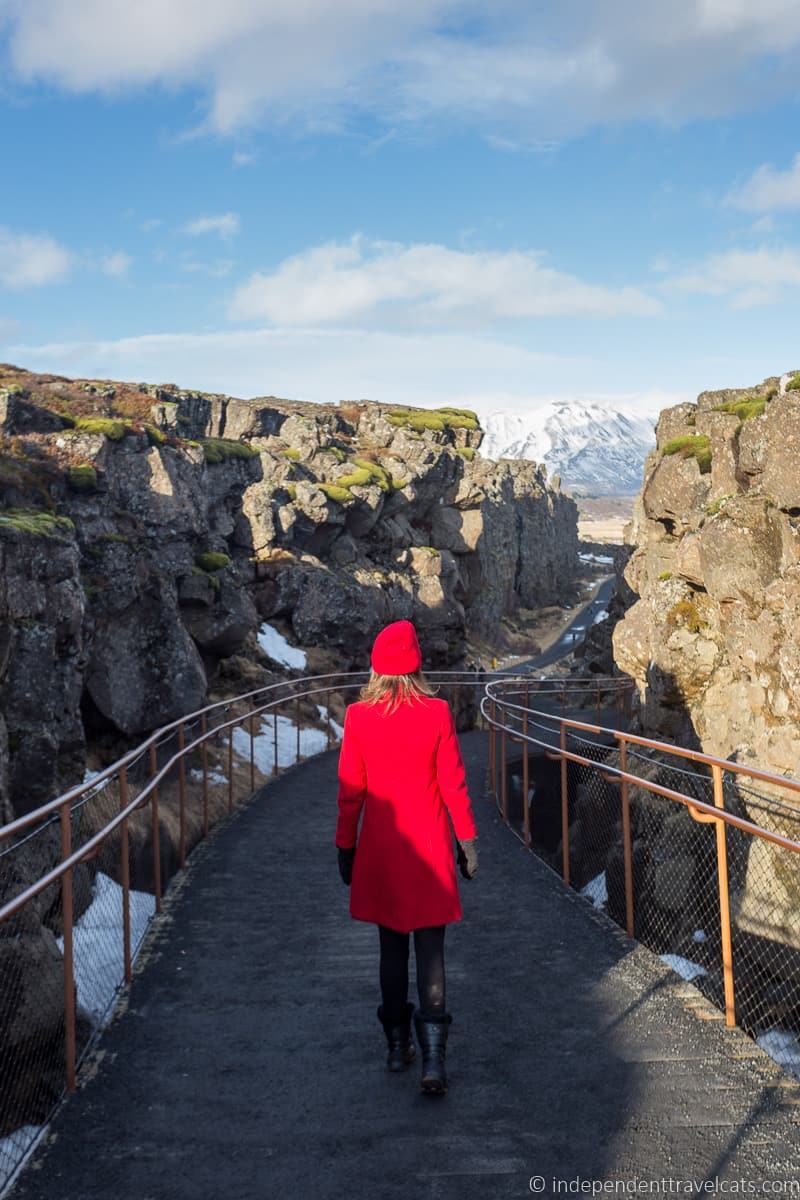 Finding the perfect travel shoe is not easy. You have lots of criteria to consider (i.e., comfort, style, durability, budget) and you only have so much space in your luggage! Hopefully, our travel shoe guide for women will help you choose the best travel shoes for you.
We've included some of the most comfortable and stylish travel shoes below to cover you for any travel occasion, at any time of the year. We also list a range of shoes and you should be able to find a pair that will work for you whether you are 18 or 80 years of age.
Note, in my shoe picks, I valued comfort and durability over style. I spent my teens and 20's wearing unsupportive shoes (I primarily wore flip-flops for 5 years!) and making bad shoe choices (prioritizing budget and style over comfort and fit). In my mid-twenties, I began getting foot pain and plantar fasciitis, so I am definitely now a firm believer in taking care of one's feet and choosing supportive shoes!
Given the amount of walking and time spent on one's feet while traveling, we think comfort and support should be your main priority when choosing a travel shoe. We know many women go for style, but we think that you can find a stylish shoe that also provides good comfort and support.
Coming up with a comprehensive guide to the best shoes for travel for women is not an easy feat! If I missed out on your favorite travel shoe (that is still available on the market), take a minute and let us know in the Comments section and tell us why they are your favorites. We'll be updating this list on a regular basis and value feedback from real women travelers of all ages!
By the way, if you are looking for travel shoe recommendations for men, check out Laurence's comprehensive guide to the best men's shoes for travel.
Our recommendations begin with some shoes that might serve as good versatile shoes for women looking for a travel shoe that can work in many situations, and then we move onto specific categories of shoes ("best travel sandal", "best sneaker", "best snow boot", etc.).
Best Versatile Travel Shoes for Women
The best travel shoe for you is very likely going to be a different shoe than another traveler. It is going to depend a lot on your preferences, style of travel, your feet, and other factors.
Personally, I have found that a mary jane style shoe has been the best versatile travel shoe for me and I have worn mary jane style shoes for over 8 years. I find that they are suitable for a variety of travel situations and go well with a variety of travel clothing options.
Of course, the perfect travel shoes for one destination may not work well for another. For example, the perfect shoes for a trip to NYC are not likely going to be the same one for a tropical beach destination or a camping holiday.
Below we have chosen some shoe options that we feel are good all-round travel shoes that work well in many travel situations, have good ratings for comfort and durability, and work well with lots of travel clothing options (pants/shorts/dresses).
We've chosen a variety of shoe styles, including mary janes, sneakers, and boots to help give you a range of ideas. Note most of these shoes appear again under specific sections of the post focused on "travel sneakers", "travel sandals" etc.
Note, that shoes are not ranked in any sort of order within this post, the numbers are just used to make the post easier to navigate.
Here are our current choices for most versatile travel shoes:
1. Rockport Cobb Hill Petra Mary Jane Flats
These mary jane shoes from Rockport are made of leather uppers and synthetic soles with a cushioned insole. The strap is attached by Velcro, making it easy to remove and slip them on. They come in several colors.

These are currently my everyday traveling shoes. I find these to be comfortable and versatile for traveling, and they can be worn with pants, skirts, dresses, leggings, etc. I can also wear them with my mini orthotic insoles.
I previously wore Sketchers Bikers Step-Up Mary Janes for several years and the Rockport shoes are a definite step up in quality. However, if you are looking for something more budget-friendly shoes under $50, take a look at the Sketchers Bikers, Active, and Sport ranges.
2. Ecco Soft 7 Sneakers
These Ecco Soft 7 sneakers have a contemporary look and upscale feel for a pair of sneakers with soft leather uppers. They have removable insoles and are well-rated for their comfort and durability. They come in a wide range of colors.
If you are looking for a stylish pair of sneakers that can work well with a variety of travel outfits, this may be the shoe for you!
3. Teva De La Vina Dos Chelsea Boot
These no-fuss leather Chelsea boots are lightweight, easy to slip on, and come with a cushioned insole. They are also waterproof and feature a soft canvas lining and a rubber bottom for good traction.
These boots are cute, comfortable, and functional, and are versatile enough to go with a lot of clothing options.
4. Naot Kayla Sandal
If you are looking for a comfortable  sandal, check out these supportive Naot Kayla wedge sandals. They have soft suede or leather straps, a cork and latex footbed, and synthetic sole. Unlike many sandals, these provide arch support and the instep and back heel straps help support your foot and keep it in place.
These sandals are versatile and comfortable enough to wear all day. Available in a wide array of colors.
5.
Clarks Janey June Mary Jane Flat
These funky mary jane flats by Clarks have an adjustable buckled strap closure, a wide toe box, a cushioned insole, and rubber sole. They also add a tiny bit of height with a 0.5 inch raised "heel". These shoes have high ratings for comfort, quality, and durability.
If you like Clarks and are looking for other style options, another very well-rated pair of Clarks mary janes are these Sillian Bella ones.
6. Ecco Yucatan Outdoors Sandals
This versatile sports sandal has a nubuck leather upper, three adjustable straps for a good fit all over your foot, a comfortable footbed, and traction to handle uneven outdoor terrain. Available in a ton of colors and designs!
If you need a pair of sandals that can handle lots of walking plus some light adventuring and hiking, this is a pair to consider. This pair of sandals is an ECCO classic with over 10 million pairs sold!
7. Blondo Villa Waterproof Bootie
These Blondo waterproof booties are a popular travel boot recommendation for their stylish classic profile. They have a soft suede or leather upper, a low stacked heel, and a rubber sole. Take them on and off via a side zipper.
The Blondo Villa Booties come in several colors, and will go with a lot of clothing options from casual to dressy. Note, however, that these have minimal arch support and cushioning, so if you have any foot issues, these may not be the best shoes for you.
Best Travel Walking Shoes / Sneakers for Women
If you are looking for a comfortable shoe for travel, many people choose sneakers or tennis shoes. Most sneakers were designed for all-day wear so are perfect shoes for all day sightseeing adventures.
When choosing a sneaker for travel, look for ones that have a lightweight design, support your arch and heel, have a cushioned insole, and have a sole with good traction to prevent slips. We also recommend sneakers with laces as this allows you to get a better fit than slip-on or velcro styles.
It is also good to think about what color and style will go well with your travel clothing on your trip. A sneaker may not be best-suited for the opera or a fancy restaurant, but they can be styled to work with a number of outfits.
1. Ecco Soft 7 Sneakers
These contemporary Ecco Soft 7 sneakers have a soft leather upper, long laces, comfortable insoles, and synthetic soles. Available in a wide array of colors to suit any travel style.
The soft leather uppers and contemporary design makes these sneakers a great pick for travel. They offer comfort, durability, and style.
2. TOMS Cabrillo Sneakers
These TOMS Cabrillo sneakers have a canvas upper, removable antimicrobial-treated cotton twill footbed, and a rubber sole. These stylish and comfortable sneakers are lightweight and perfect for squeezing into a carry-on bag!
A great thing about buying TOMS shoes is that for each shoe you purchase, they donate a pair of shoes to children in need through their One for One program. For more lightweight travel-friendly shoes by TOMS, check out their TRVL Lite collection.
3. Superga Women's Cotu Classic Sneaker
The Cotu Classic sneaker is a classic sneaker produced by Italian shoe brand Superga. They feature a 100% cotton canvas upper and vulcanized rubber sole. The brand is famous for its white tennis shoes, but you can now get these popular sneakers in over a dozen different colors.
These classic European sneakers are perfect for those wanting to be comfortable on a tour of Europe!
4. Vionic Hattie Sneaker
These Vionic Hattie sneakers have a soft canvas upper, a podiatrist-designed removable supportive EVA footbed, and rubber sole. The twill detail around the shoes gives them a little something extra.
These shoes are meant to be comfortable even for those with foot problems, and are designed to hug your arches. The shoes received a seal of acceptance by the American Podiatric Medical Association.
5. Merrell Vapor Glove 4 Shoes
Those who prefer barefoot style shoes, might want to consider these Merrell Vapor Glove 4 shoes. They have a sporty look and minimalist design. They have a breathable mesh upper, cushioned insoles, and anti-slip soles. They are also vegan-friendly.
These shoes are designed to fit like a sock while still protecting your feet. Perfect for sightseeing  and exercising. They are also very lightweight and easy to squeeze into your luggage.
Best Travel Boots for Women
If you are more of a boots kind of a gal, we have you covered. Just note that finding a comfortable boot for all-day wear can be a little more challenging than finding a comfortable sneaker or mary jane.
When looking for travel-friendly boots, we recommend looking for a boot with a low heel, a cushioned and supportive footbed, and good traction. If flying, we recommend one that isn't too difficult to take on and off (if needed for airport security) and one that doesn't take up a ton of space when packed.
Note that many boots are designated as waterproof, but note that if you expect to be in the rain or snow in them, I'd definitely use a waterproofing spray or wax on them first.
1. Teva De La Vina Dos Chelsea Boot
These leather Chelsea boots are cute, comfortable, and functional. Easy to slip on with a soft canvas lining and cushioned insole. They have a rubber bottom for good traction and are waterproof.
These boots are a great pair to look at for those looking for a no-fuss but fashionable pair of ankle boots.
2. Blondo Villa Waterproof Bootie
These attractive waterproof booties feature a low stacked heel and classic silhouette. They come in soft suede or leather and they have a rubber sole for better traction. Side zipper.
The Blondo Villa Booties come in several colors, and have become a travel boot staple for many women.
3. Rockport Cobb Hill Caroline Waterproof Boot
If you like your boots to be a bit more motorcycle boot inspired, these Rockport Cobb Hill Caroline boots may be just your style. They are made of seam-sealed waterproof leather with a cushioned EVA footbed, microfiber lining, short heel, and rubber soles. They feature a decorative buckle strap but have a full length side zipper for easy removal.
I don't have these boots, but I do have shoes from the Cobb Hill collection and I have found them to be comfortable and supportive. So if you are looking for a refined motorcycle inspired boot with good support, try these.
4. Clarks Clarkdale Arlo Boot
The Clarks Clarkdale Arlo Boot is an ankle boot offering a suede upper, low stacked heel, full soft leather lining, removable Ortholite insole, and rubber sole. The elasticated side panels and heel loop tab make them easy to take on and off. They are available in several colors.
Clarks is well known for making shoes like this that are comfortable, practical, and stylish. If you like this style, you might want to also check out the rest of their boots.
5. Vionic Women's Upright Jessie Ankle Boot
These adorable Vionic ankle boots feature a suede upper, removable EVA footbed, 2.4″ stacked heel, and rubber sole. Full length side zipper.
If you are looking for boots with a bit of a heel, you might to consider a pair of Vionic boots like these ones as they feature a podiatrist-designed footbed and are approved by the American Podiatric Medical Association.
6. Hush Puppies Women's Cyra Catelyn Chukka Boot
These Chukka inspired boots by Hush Puppies have suede uppers, an anatomically molded footbed, and rubber soles. They feature laces with decorative tassels. They are available in several vibrant colors.
If you are looking for a comfortable boot with laces that you can walk and stand around all in day in, these Cyra Catelyn Chukka boots may be the boots for you.
Best Travel Sandals for Women
If you're traveling to a hot weather destination, you might consider packing a pair of travel sandals to keep your feet cool. While some sandals are best worn only on the beach, there are some sandals out there that can also offer support for sightseeing and even light hiking.
We recommend a range of sandal options, whether your plans are to go hiking, city sightseeing, or relax on the beach.
If you plan to do a lot of walking, we recommend looking for a pair of sandals with a wide soft front strap, cushioned and supportive footbed, and back strap to keep your ankle in place.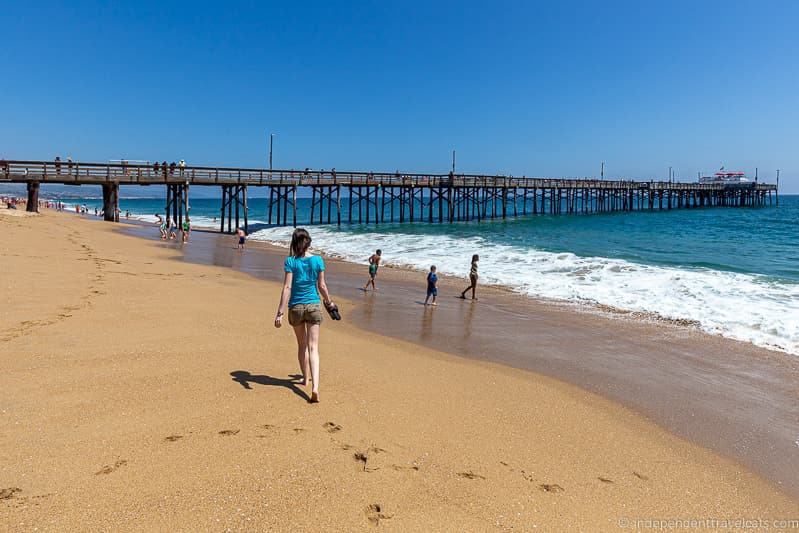 1. Ecco Yucatan Outdoors Sandals
The Ecco Yucatan sandals are a mix between a classic sandal and a pair of hiking shoes. They offer a nubuck leather upper, three adjustable straps, ankle support, a comfortable footbed, and rubber soles for great traction. Available in a ton of colors and fun designs!
If you are looking for sandals that will handle sightseeing as well as hiking and other outdoor activities, we recommend taking a look at these athletic sandals. They provide much of the stability and support of a hiking shoe while still allowing your feet to enjoy a bit of fresh air.
2. Teva Tirra Athletic Sandal
Another great athletic sandal to consider are these Teva Tirra sandals. They offer three adjustable straps made of quick-dry nylon and polyester webbing, EVA midsole, cushioned heel, and a rubber bottom for good traction.
These popular sporty sandals provide comfort and support while still looking feminine. Available in several colors.
3. Blowfish Women's Granola Fisherman Sandal
The Malibu-based Blowfish brand was created by travelers and their shoes are inspired by fashion trends from around the globe while still fitting in perfectly in a California beach town. One of their most popular shoes is the Granola Fisherman Sandal which is made from faux leather and cork with criss-cross straps and a lightly cushioned footbed.
These sandals are casual but stylish and work well with pants, dresses, skirts, and shorts. They are comfortable and secure, making them an excellent option for days by the beach or light city exploring. For those looking for vegan-friendly shoes, many of the Blowfish sandals are vegan certified.
4. Naot Kayla Sandal
If you are looking for a sandal with a bit of a wedge, you might consider these Naot Kayla sandals. They have suede or leather straps, a 1.25″ wedge heel, a suede-covered cork and latex anatomical footbed, and synthetic sole. The instep and back heel straps help support your foot and keep it in place.
These sandals are comfortable enough to wear all day and are versatile enough to work with a number of different outfits. Available in a wide array of colors.
5.
Birkenstock Women's Gizeh Thong Sandals
The Birkenstock Gizeh sandals are a travel sandal classic, having been worn by travelers for decades. The sandals have either a leather or synthetic upper (vegan versions available) thong upper with adjustable buckle, a suede-lined anatomically shaped cork-latex footbed, and an EVA sole.
The well-known Birkenstock cork footbed is designed to contour to the shape of your foot after a little wear, giving you customized support to your arches and rest of your foot. Note that these sandals, like most Birkenstock shoes, do take a little bit of time to break in, so be sure to wear them a bit before you take them on a trip.
They are made in Germany from natural, renewable, and non-toxic materials, making them an eco traveler fan favorite. You can also see the vegan versions of the Gizeh sandals here and here.
The only thing I don't like about these iconic Birkenstock sandals is that they don't have a back strap around the ankle for more support. If you are looking for more support, consider the Birkenstock Kairo sandal, which is very similar to the Gizeh, but has an adjustable heel strap which provides additional grip and stability.
6. Reef
Women's Cushion Threads Flip-Flop
These Reef Cushion Threads flip fops have a soft wide cotton and polyester woven strap, a suede toe post, soft cushioned footbed, and rubber outsole. They provide some arch support and have a contoured heel cup.
These are my current favorite flip flops and I've even bought a second pair since I love them so much. I love the soft wide woven straps and cushioned footbed. I find they are comfortable enough and have enough arch support to wear all day at the beach or for sightseeing in hot weather destinations.
However, like many flip-flops, I have not found them to have the best traction on wet surfaces. So do be careful when walking across slippery surfaces.
Reef also has a line of vegan sandals, and you can search those here.
7. Okabashi Maui Flip-Flop
These popular eco-friendly American made flip flop sandals are made from a combination of bio-based material and recycled materials. Their design was inspired by reflexology, and the Maui sandals feature massaging beads on the footbed, arch support, a heel cup, floral design insole, and anti-slip bottoms.
These sandals are designed to be comfortable for those with foot issues such as plantar fasciitis, flat feet, and high arches. Available in several colors.
There are so many other awesome things about these flip-flops: they are made of recycled materials, easy to clean (even dishwasher safe!), recyclable, 100% vegan, and 100% made in the USA! You can even mail your old used pair to get 25% off your next pair!
Best Travel Sports Shoes for Women
If you like to be active when you travel, these sports shoes might be ideal for you. They are also great if you prefer the athleisure look and just want a pair of comfy shoes. These shoes are also fairly lightweight, so won't weigh down your luggage.
These athletic shoes are perfect for running, exercising at the hotel gym, playing sports, and light hikes. If you are doing more challenging hikes, or expect to hike in wet conditions, we'd recommend a proper hiking boot with ankle support and waterproofing instead.
1.
Nike Women's Free RN Flyknit
Nike is the world's best known athletic shoe brand and for travel we really like the Nike Free RN Flyknit shoes. These modern shoes have a breathable knitted upper, lace-up design, and rubber sole. They are lightweight, comfortable, and stylish and the sock-like upper gives them a barefoot feel.
These shoes are lightweight and flexible so fairly easy to squeeze into your luggage. If they look tempting, "Just do it!" and give them a try.
2.
ASICS Gel Venture Running Shoe
Designed for trail runners, these popular ASICS running shoes have lace-up synthetic mesh uppers, lots of gel cushioning, and high abrasion rubber soles that are perfect for rugged terrain. A removable sockliner makes it easy for those who want to insert orthotics. Available in an array of fun colors.
These running shoes provide lots of support and are perfect for travelers wanting to go on longer runs while on their travels. They can also easily withstand hours of standing and walking while you explore a new place.
3. Adidas Performance Women's Pureboost X Atr
These Adidas Pureboost adaptive running shoes have a knitted upper, cushioned sole, soft molded sock liner, floating arch support, heel plate, and high-grip rubber sole. These shoes were designed to handle all kinds of terrains while still being comfortable.
For those of you who don't let travel get in the way of their exercise routine, these comfy running shoes may be a good bet. They are also very lightweight and easy to pack.
Best Travel Hiking Boots for Women
There are three main categories of hiking boots. The first is regular low-rise hiking shoes which are great for less strenuous trail hiking. These are great for those planning to do light hiking and who plan to stick to the trails. Some of the athletic sandals and shoes we mentioned earlier in the post could also be used for light hiking.
The second category is mid to high-rise day hiking boots which are great for low to moderate grade hikes and day hiking. We will focus our recommendations mostly on day hiking boots as these should fit the needs of most hikers.
Finally, there are backpacking boots which offer more support and durability than day hiking boots and are designed for those doing multi-day hikes, carrying heavier loads, and going off-trail. They are generally going to be heavier and stiffer than day hiking boots.
For those planning to hike in cold weather, there are also winter hiking boots designed with extra insulation to keep your feet warms in more extreme cold temperatures. Many of these are also designed to fit into crampons for those hiking in snowy and icy conditions.
Any good hiking shoe needs to feel comfortable and fit snugly when laced up, although not be too tight or pinch anywhere. You want a little extra room for your toes as you don't want your toes to rub the front of the shoes when walking or hiking downhill.
Most people, myself included, need to go up at least a half size for hiking shoes (compared to normal athletic or running shoes) to accommodate thicker hiking socks, normal feet swelling, and toe space. When trying on a new pair of hiking boots, be sure to test them with a proper pair of hiking socks and any needed orthotic devices as it can change the fit.
If you have never purchased hiking boots before, especially if you are buying hiking boots for more long-distance hiking, I would recommend going to a store, having your foot measured, and getting recommendations from a store that specializes in sports and outdoor shoes.
A good pair of hiking socks is almost as important as the shoe itself as poor quality socks can lead to rubbing, discomfort, and blisters. You'll want quick-drying moisture-wicking hiking socks, and we recommend those made of wool, quick-drying synthetics, or wool blends. See our hiking sock recommendations later in the article.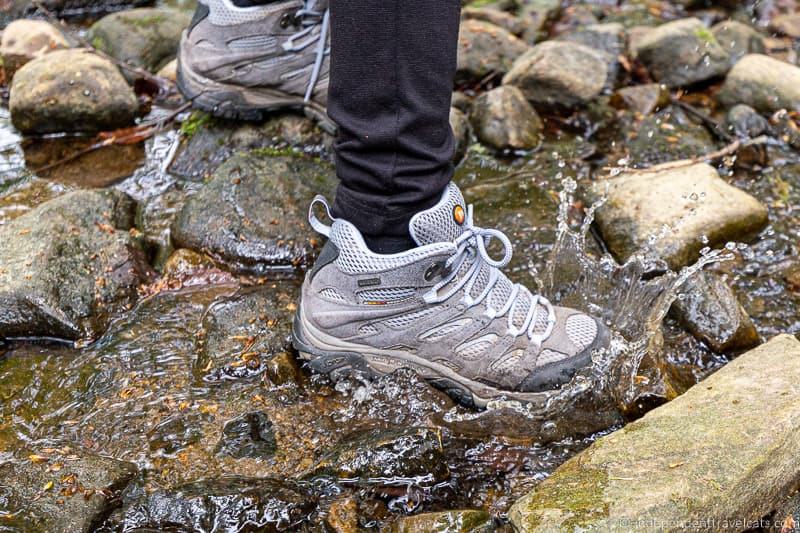 1. Merrell Moab Ventilator Hiking Shoes
Merrell makes some excellent shoes, and I am a long-time fan of their hiking shoes and boots. If you are looking for a pair of low-rise hiking shoes for less strenuous hiking, I recommend taking a look at the Merrell Moab Ventilator hiking shoes. I have owned my pair for several years.
These low-rise hiking shoes have a suede and mesh upper, a cushioned insole, nylon arch shank, and rubber Vibram sole. They are ventilated to be breathable and allow airflow through the shoes.
There is also a vegan version and waterproof version of these popular day hiking shoes available as well.
If you like these shoes but are looking for something with more support and protection for more strenuous hikes, we recommend the next shoe on our list.
2. Merrell Moab 2 Mid Waterproof Hiking Boot
The Merrell Moab 2 Mid hiking boots are mid-rise boots with a suede and mesh upper, a cushioned removable insole, a rubber toe cap for protection, and rubber sole. They are also waterproof and provide excellent ankle support.
These Merrell Moabs are also surprisingly light, considering just how well-constructed and durable they are. So although they take up some space, they don't weigh a ton to pack.
These are my current hiking boots and I have had them for several years, they have been with me  on hikes around the world, including in California, Iceland, Scotland, and up Mount Kilimanjaro. I have found them to be really comfortable hiking shoes and can highly recommend them.
If you don't care about the waterproofing and are planning to hike in hotter temperatures, I'd also look at the ventilated version of this hiking boot.
3. Columbia Newton Ridge Plus Boots
These travel hiking shoes are the ultimate companion for a rigorous day out on the trail.  With features like a waterproof mesh, leather exterior, cushioning for better shock absorption, and advanced sole traction to prevent slipping, Columbia knows how to put together a great pair of hiking boots.
These Columbia boots combine durability and comfort seamlessly while remaining relatively lightweight and stylish. You can also find them in multiple colors to suit every hiker.
4. Ahnu Montara Boot
These mid-rise Ahnu Montara hiking boots have waterproof uppers, supportive and cushioned midsoles, and grippy outsoles to provide great traction. An extra eVent bootie provides extra water protection when out in rain or snow.
These hiking boots made the list because they were recommended by Cheryl Strayed, the author of Wild and hiker of the 1,100 miles Pacific Crest Trail. If you've read the book or watched the film version with Reese Witherspoon, you'll know Strayed had a bad first choice of hiking boots and has been much more careful in choosing boots since!
5.
XPETI Thermator Mid High-Top Waterproof Hiking Boot
These vegan-friendly hiking boots have waterproof synthetic mesh uppers, rubber toe caps and heel protection, cushioned EVA midsole, and rubber soles for optimal grip. They also feature 200 grams of Thinsulate Insulation and are suitable in temperatures as low as -30℃, so can also make a perfect winter hiking boot.
These are great hiking boots to consider for those looking for all-climate hiking boots with great ankle support.
If you prefer a leather/suede version of these boots, you can see the non-vegan leather version of them here.
6. Keen Women's Terradorra Wintershell Boots
Another good winter hiking boot option is the Keen Terradorra Wintershell boots which are a winter version of one of Keen's popular Terradorra hiking boots. They are designed for all-season hiking, and feature lace-up closure, warm lining, a EVA midsole, toe guard, and rubber soles which have a great grip to protect you on slippery surfaces. The boots are waterproof and ready for wet or snowy landscapes.
These are a great pair of shoes to consider if you are going to a cold-weather destination and plan to hike. Comfortable enough that you can wear them all day long. They are also snowshoe compatible.
6. Salomon QUEST 4D 3 GTX W Backpacking Boot
If you are looking for a heavy-duty backpacking boot, we recommend taking a look at the Salomon Quest 4D 3 GTX W hiking boot. These boots are designed to protect your feet, prevent fatigue, and provide comfortable support in even the roughest terrains. Features include a GORE-TEX membrane for waterproofing, a gusseted tongue, protective toe caps, high-performance EVA midsole, and lug patterned sole for great traction.
If you are looking for long-distance backpacking hiking boots, these well-rated boots are definitely a pair to consider.
Best Water Shoes for Women
Water shoes, also known as reef shoes or aqua shoes, are great for protecting your feet from rocks, rough terrain, and jagged objects when in the water.
They are ideal for snorkeling, surfing, wake-boarding, rafting, sailing, water skiing, water aerobics, walking across hot sand at the beach, boating, canyoneering, and other water activities. Some water shoes are even designed for hiking and are great when hiking in wet climates, doing stream crossings, hiking upstream, etc.
Some water shoes are just designed for more low-key water sports and others offer more protection and features and can handle more adventurous water sports and hiking. We list a range of options to help you find one that best matches your needs.
When looking for any kind of water shoe, you want it to fit more snugly than a regular pair of shoe as you don't want it to come off in the water. If it is a slip-on style, you want it to hug your foot like a sock. They should be snug but not so tight that it is uncomfortable.
1. Speedo Women's Tidal Cruiser Watershoe
These Speedo Tidal Cruiser water shoes have all of the key features required for a great day out on the water. They are soft, lightweight, padded, have a breathable upper mesh and have protective non-slip soles. They also have great water drainage systems for quick drying and a slip-on design with pull tabs for easy access.
Speedo has been the brand of choice for my water shoes over the years. These simple but well-made reef shoes are ideal for snorkeling, boating, beach time, water aerobics, and general water activities.
2.
WXDZ Water Sports Shoes
These Sport.z Barefoot water shoes are made to last, with breathable ultra lightweight fabric for fast draining and cross ventilation and anti-slip rubber soles. Not only can you wear them as water shoes, but also for walking and light hiking, which adds to their versatility on your next trip.
These come in a variety of colors. All of these water shoes are slip on styles, but some also have laces or velcro straps to get a closer fit.
3. Aleader Aqua Water Shoes
These vegan-friendly Aleader water shoes feature a breathable engineered mesh upper, lightweight midsole, comfortable sock liner, and rubber outsole with hole for water drainage. These water shoes are quick-drying and good for water activities as well as walking and light hiking.
These shoes come in a variety of colors and go well with lots of clothing styles. They would be perfect for a water park or amusement park with water rides.
4. Keen Women's Newport H2 Water Sandal
If you want to do longer hikes and more adventurous water activities, I'd take a look at these Keen Newport H2 water sandals. They are a hybrid between a sports sandal and a water shoe, and have features such as a molded EVA midsole, toe guard, and secure fit lacing system.
A great thing about these shoes is that they are easy to clean and are even machine washable.
Best Travel Snow Boots for Women
If you heading to a cold weather destination where you'll be spending some time in the snow, you'll  probably want to bring along a warm pair of snow boots.
Snow boots are designed to keep your feet warm and protect them from the harsh conditions of snow and ice, a well as rain and sleet.
Note that there is often a distinction between "winter boots" and "snow boots" with snow boots generally being more durable and weather-resistant. So it just depends on where you are going and what you plan to do. Winter boots may be fine for those who just plan to go to a cold weather destination but don't plan to spend a lot of time doing activities in snow or ice.
You want snow boots that are water-resistant or waterproof, provide good ankle support, and have thick rugged soles with good traction. Faux fur collars at the top help keep out snow. Lace-up styles are best to ensure a close fit.
Note that many "waterproof" winter boots and snow boots are only waterproof up until a certain level. Some are only waterproof until the tongue of the boot. So if you really need waterproofing (e.g., going to be in rain or walking in deeper water) be sure to read reviews and product information carefully. You may also want to add additional waterproofing to them (e.g., wax or spray).
Snow boots are generally made a bit larger to accommodate fleece linings and thick winter socks, but they should still hug your feet and be comfortable. You want room to wiggle your toes, but you don't want them to feel loose when walking. We recommend pairing your snow boots with a thick pair of ski socks or winter hiking socks to keep your feet warm and dry.
Most of the boots on our list are designed for general wear in the snow, but if you plan to do more adventurous stuff, you might want to look into a warm winter hiking boot rather than a snow boot.
If you are going skiing or snowboarding, you need to buy or rent ski boots or snowboarding boots for those activities. Many people rent their ski and snowboarding boots unless they are regular skiers. If you are planning a ski trip, you might to check out our ski trip packing list.
If you are going to be walking around in more extreme cold temperatures be sure to look for boots with matching temperature ratings.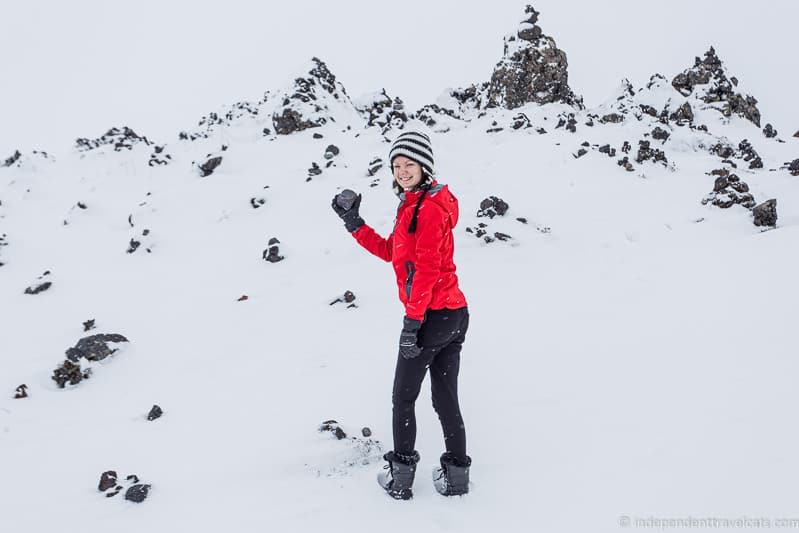 1. The North Face Women's Shellista II Shorty Boot
I have worn snow boots from The North Face for several years. These lace-up waterproof Shellista Shorty snow boots are made of suede and water-resistant rip-stop material and rubber outsoles that provide good traction. Faux fur lining and added insulation keep your feet warm and cozy when out in the cold.
I own a very similar pair of shorty boots by The North Face and they have served me well in the winter wonderlands of Finland and Iceland and closer at home in the Scottish Highlands. They are pretty lightweight for snow boots and I think they are the perfect boots for walking and playing around in the snow.
2. Columbia Ice Maiden II Insulated Snow Boot
The Columbia Ice Maiden snow boots are one of the most popular women's snow boots out on the market. They have a leather and textile upper, faux fur detail at top, lace-up ties for a good fit, cushioned midsole with arch support, 200g insulation to keep you warm, and an advanced traction rubber sole. These feminine snow boats come in several colors.
Sure-footed, lightweight, and ready for winter's worst, these Ice Maiden boot lets you enjoy the snow in style. If I was looking for a taller snow boot, this would be my choice.
3. Sorel Joan Explorer Winter Boot
If you are looking for a pair of lightweight winter boots that fit like a pair of sneakers, consider the Sorel Joan Explore winter boots. They have full-grain leather lace-up uppers,100g of insulation, a faux fur boot collar, microfleece lining and EVA footbed, and a chunky rubber outsole with rubber pods for extra traction.
They are a comfortable and lightweight boot and great for general winter and snow activities. If you like Sorel shoes but need something warmer and more weather-proof, I'd recommend taking a look at the Sorel Joan of Arctic snow boots.
4.

Columbia Women's Minx Mid III Winter Boot

These popular Columbia Minx Mid III are somewhere between a winter boot and a snow boot. They have woven synthetic uppers, ghillie lacing, a faux fur boot collar, waterproof membrane, 200g insulation for warmth, contoured polyurethane footbed and a rubber sole. They are waterproof and their temperature rating is -25 F/-32 C.
These are great boots, and great for enjoying the snow and weathering the elements. However, they are not designed for more hardcore outdoor activities.
5. Columbia Bugaboot Plus III XTM OH
If you are looking for a Columbia boot that can handle more extreme cold weather temperatures, you might consider Columbia's Bugaboot Plus III XTM OH snow boots which have 600g of insulation and are rated for up to -65 F / -53 C! They are also waterproof, feature leather and non-rip nylon uppers and reflective heat material, and have tough rubber outsoles.
These aren't exactly lightweight or small boots for travel, but they are great boots to consider for those planning a vacation to a really cold place!
Best Travel Dress Shoes for Women
Although we don't really recommend dress shoes or heels as the best shoes for travel, they are sometimes a necessity. You may be traveling for business, have formal nights on a cruise, or need them to go to a nice dinner or evening event like a concert or opera. Or you may just be the kind of woman who likes wearing heels!
The big issue is finding dress shoes that look good, feel good, and travel well. Most heels are not super comfortable and there is a body of research showing ill-effects of heels on one's feet (e.g., Cowley et al., 2009 and Barnish & Barnish, 2016) and many dress shoes can rub one's feet.
If you only need a pair to wear for a few hours, you probably have a pair at home that will work. For space-saving, a pair of slingback heels are great because they take up minimal space and are easy to toss in your luggage.
If you need to wear them for longer, such as a full day, we recommend making sure you get a really well-fitting and comfortable pair. Consider adding insoles or heel cushions if you need extra support or cushioning. Also, look for shoes with a bit of traction (many dress shoes have very smooth soles) or add anti-slip pads to them to help prevent slips.
If you want to wear something with heels, we recommend looking for something with a relatively low heel. I would try to stick to something under 3 inches (7.6 cm), and ideally at 2 inches or less. If you want to add height, chunky heels, kitten heels, wedges, clogs, and platform shoes are better for your feet and more stable than high-heeled stilettos.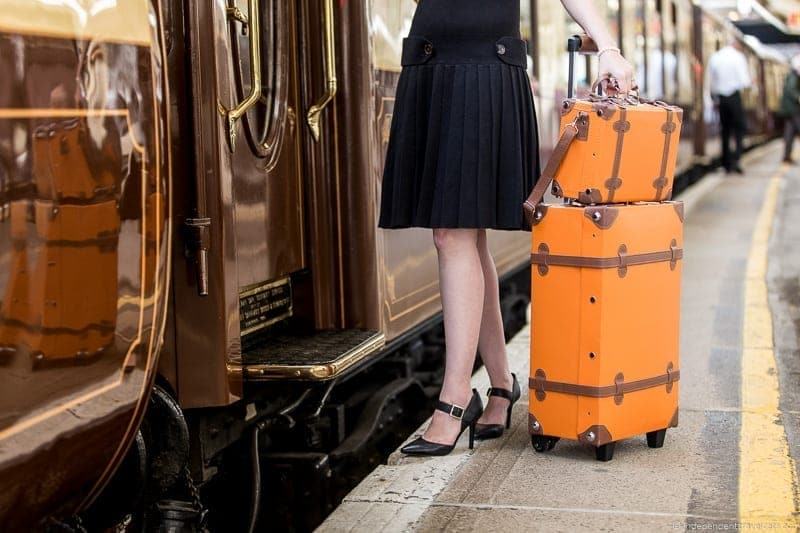 1. LifeStride Women's Parigi Pumps
If you are looking for a classic pair of pumps, these LifeStride Parigi pumps may be a good fit. They have a classic dress shoe silhouette with a rounded toe and 2.6 inch heel. They have a faux leather or fabric upper (depending on style), soft flexible insole for comfort, and a traction sole. Available in a very wide range of colors and sizes.
These are good-value shoes and are one of the best-selling dress shoes in the United States! If you buy them in a neutral color (nude, brown, black, etc.) they can be used for many occasions both at home and away.
2. Rockport Cobb Hill Salma-Ch Dress Pump
If you want to wear pumps but need more support, you might want to check out these Rockport Cobb Hill Salma pumps. These shoes are a cross between a dress pump and a mary jane style shoe with solid leather uppers, wide instep strap that attaches with Velcro, comfortable insole with arch support, 2 inch heel, and rubber sole.
These shoes are surprisingly lightweight given their size. They are a heeled version of the Rockport Cobb Hill mary jane shoes that I currently wear as my primary travel shoe.
3. Vostey Women's Slingback Dress Shoes
If you're searching for something a little more sleek and elegant for an event or dinner date, these Vostey slingback dress shoes have a classic style, while still emphasizing comfort and fun. With a 2.5 inch heel, padded leather insole and adjustable buckle closure, you can enjoy your night in comfort.
I like slingback shoes for travel because they take up less room in luggage and are easy to pack. That said, they may not provide as much support or comfort as some of the other options depending on your needs.
4. Clarks Rosalyn Belle Dress Pumps
If you are looking for something with a bit more support and a chunkier heel, these Clarks Rosalyn Belle dress pumps may be a good fit. They feature a rounded toe, leather upper, comfortable insole with OrthoLite footbed, 2 inch chunky stacked heel, and rubber outsole.
If you need a dress shoe but need more comfort and support, these may be a pair of shoes to consider! These are particularly recommended by people who have foot issues.
5. Vionic Josie Kitten Heels
Another good pair of heels to consider for those who need a support insole are these Vionic Josie kitten heels. These shoes feature a leather upper, podiatrist-designed contoured footbed, 1.93-inch kitten heel, and rubber outsole.
These kitten heels are designed to be comfortable even for those with foot problems, and are designed to support and hug your arches. The shoes received a seal of acceptance by the American Podiatric Medical Association.
6. Anne Klein Sport Wisher Wedge Pump
If you need a shoe that can work for both business meetings and a full day of city sightseeing, this may be a shoe to consider. The Anne Klein Sport Wisher wedge pumps combine a dress shoe with the comfort of an athletic shoe. It includes a fabric upper, padded sports shoe style insole, 2 inch wedge heel, and rubber traction outsole.
This is a great shoe to consider, especially for business travelers. Whether you want to wear this with your pants suit, jeans, or a dress, this shoe can complete just about any outfit!
Best Travel Shoes for Airplanes
You want to choose a comfortable shoe to wear at the airport and during your flight if you can. But if you are the kind of woman who likes to kick off your shoes as soon you get inside a plane, you might want to consider bringing along a pair of travel shoes or slippers.
These comfortable shoes can allow for feet swelling and will protect your feet from the grubby plane floor on long flights. These flexible slip-on shoes are designed to take up little space and can fit easily in a purse or carry-on bag pocket. They can also be worn at home, for yoga, or behind your office desk.
Just note that most of these kinds of shoes offer little foot support and are not designed for any kind of long-distance walking or activity. Some are also designed primarily for indoor use, so be sure to check the description.
1. NuFoot Slipper Socks
These NuFoot slipper socks are made of neoprene and are easy to slip on. They take up little space so easy to bring with you on the plane. Also perfect for slipping on to go through airport security, lounging in the hotel room, going to the gym, yoga, and relaxing at home.
Available in several vibrant colors. These are machine washable and air dry quickly.
2. Secret Weapons Foldable Ballet Flats
These ballet flats are made of faux leather (polyurethane coated fabric) and have an elastic trim and skid-resistant split sole. They fold up and come with a convenient foldable tote carrier bag so that you can easily store and carry your other shoes in the bag while you are wearing them.
These shoes are also perfect for situations where you need to wear heels and want to take them off for foot relief after an event or dinner.
3. FitKicks Foldable Barefoot Shoes
If you are looking for shoes you can walk a bit further in, take a look at these FitKicks barefoot shoes. These Spandex blend minimalist shoes have a bit more cushioning and support and even a bit of toe protection compared to the other options listed. Flexible and easy to stuff in your bag. Available in several colors.
These are great for short walks, exercise, traveling, yoga, and just relaxing indoors when you don't want to wear "real" shoes but want a little foot protection. They are also great for situations you need to wear heels, but you can slip these on before and after an event or business meeting.
**You can also see all the travel shoes for women we recommend above in a single page on Amazon here with current prices for a handy reference.**
So hopefully you now have a good idea of which shoes you want to take! Next step is efficiently packing your footwear and making sure your shoes are protected in your luggage. Here are some tips for packing your shoes for travel.
How Many Shoes Should I Pack for Travel?
I would try to choose only two pairs of shoes to take on your trip if you can. That means one on your feet and one in your luggage. Shoes are heavy and take up a lot of space, so the fewer pairs you need to pack, the better.
If you have a versatile travel shoe, you can probably get away with just wearing one pair of shoes throughout your trip. This is great for space-saving and means you don't actually have to pack any shoes as you just need the ones on your feet.
However, there are a few reasons you may want to consider packing an extra pair.
First, if you are going away for more than a couple days, you might want to have a back-up pair of shoes available in case of a broken strap, damaged sole, or drenched pair of sneakers. I was recently on a trip in Scotland where I had the instep strap on a pair of mary janes snap in half, making them unwearable. Luckily I also had a pair of hiking boots with me that I could wear for the rest of the trip.
Second, lots of walking, activities, and sightseeing can lead to unforeseen rubbing, blisters, and foot pain. Having another pair of shoes in your bag, even if it is a pair of supportive flip-flops gives you an option to give your foot a break.
Finally, if you are going on a longer trip (a few weeks or more), it is good for your foot health to wear different footwear over time. This can lead to fewer foot issues and less foot fatigue. So you may want to pack a second pair and rotate them over your trip.
We recommend picking a versatile and comfortable travel shoe that goes well from daytime to evening, and will work with most of the clothing you plan to pack. This shoe can then be your primary shoes for travel.
Then you can choose a second pair that fits any other travel needs (e.g., sandals for the beach, hiking shoes for trails, dress shoes for evening events, water shoes for snorkeling, etc.).
Try not to pack shoes that serve duplicate purposes. You don't necessarily need to pack a pair of flip flops on your beach holiday if you are already bringing some comfortable walking sandals – the sandals can probably also work fine on the beach or at the pool.
But no matter where your travels are taking you, we can't imagine many trips where you would need to take more than 3 pairs of shoes.
Preparing Shoes for Travel
Here are a few tips for preparing your shoes before your trip:
If you are traveling with a new pair of shoes, make sure they are comfortable and you have broken them in before you leave. You don't want to find out they don't fit well on your big trip!
If they are going in your luggage, wipe them off so that they won't get dirt on any of your clothing or gear in your bag. Consider wrapping them in paper or plastic, or placing them in waterproof shoe packing bags.
Inspect them to make sure there is nothing wrong with them. Replace fraying shoelaces, unsupportive insoles, or worn down heel tips.
If you are going some place where it is likely you'll be wearing your shoes in rain, snow, or tropical settings, you may want to coat them with a water resistant or waterproofing wax or spray. Just be sure you use a product designed to treat your particular shoe's material. Two brands we personally use are Nikwax and Scotchgard.
How to Pack Shoes for Travel to Maximize Space?
Once you have your travel shoes selected, you want to try to pack them in a way that takes up the least among of space in your luggage as possible.
Here are some tips for maximizing space when packing shoes:
Wear the shoes that take up the most space in your luggage on days of travel between destinations. If you are traveling with a pair of hiking boots and a pair of mary janes, consider wearing the hiking boots to save space in your suitcase or backpack.
Stuff your shoes with your socks, underwear, hosiery, or other small soft squashable items. Not only does this save space in your luggage, but it will also help the shoes retain their shape while packed in your luggage.
If you are packing any flexible, foldable, or stackable shoes, such as flip-flops, slingback heels, or foldable ballet flats, be sure to place them together in a way that creates the least amount of space.
Place shoes at the very bottom of your luggage. It can also help to place them along the edges of your case with the soles touching one of the sides.
Pack soft flexible stuff on and around them to utilize the uneven areas of space created in between and around the shoes.
How to Protect Shoes in your Luggage?
Shoes can get damaged when jumbled around in your luggage, especially in checked luggage which can get some rough treatment by airline baggage handlers! We've had shoes scuffed, squashed, and a heel broken during our travels.
To protect shoes while in your luggage, we recommend stuffing them (if applicable) so they retain their shape. We also recommend packing them in tightly with soft items so that they are packed snugly in your bag without anything heavy or pointed near them.
We then recommend wrapping them in paper or a plastic wrap before placing them in your bag. Take extra care to wrap any thin heels to prevent them from breaking.
Consider using shoes bags to help protect your shoes, especially if you are concerned that your shoes may get dirty or wet during your travels. We recommend these waterproof bags which come in sets of two, four, or 10 bags.
Not only will wrapping and/or using shoe bags help protect your shoes, but it also will help protect your clothing from getting dirty or torn from your shoes. Shoe zippers, buckles, and pointy heels can rip clothing, and dirty shoes can leave stains on your clothes.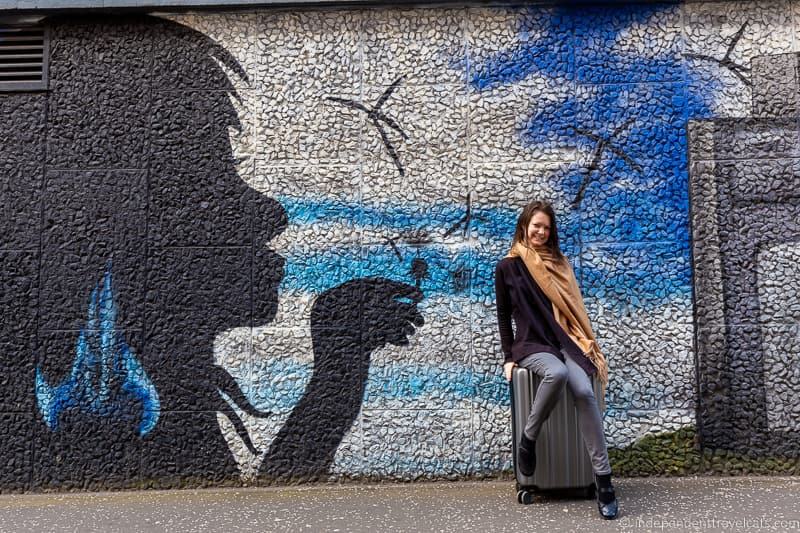 In addition to the shoes, you may also need to pack some other things like socks, orthotic insoles, heel cushions, or moleskin.
Here are some footwear related items to consider packing for your trip:
High Quality Socks
We've all suffered from blisters and disintegrating socks at some point. The truth is, a great pair of shoes won't get you far without a good pair of socks inside them.
So we recommend making sure you bring along some good socks (or bring shoes you know do well worn without socks). A trip is not the place to wear your threadbare socks with holes in them!
Be sure to bring socks that work with all the shoes you are bringing along. Hiking boots and snow boots may need different socks than your sneakers. If you know there is an area of your foot or ankle that is prone to rubbing or blisters or a spot that needs extra protection, make sure your sock covers it!
We normally pack enough socks for about a week of travel. If you are gone longer you can always do laundry as you travel and socks can be easy to wash in hotel sinks.
Regular Socks
Socks are generally made of cotton, wool, synthetic materials, or blended materials. The best socks for travel are generally those made of wool, synthetic materials, or blends. These materials tend to wick moisture away better and dry faster than other materials such as cotton.
Good quality cotton socks can still work, but I would not wear them on days when you know it is likely your feet may sweat, you are going to be very active, or there is a chance your feet could get wet. Cotton doesn't do well with dampness and can increase the chances of getting blisters.
Look for socks that are made of breathable materials, fit well, and feel thick enough to protect your feet. Other features you may look for depending on your needs are the ability to dry quickly, cushioning, compression, and anti-microbial / anti-bacterial properties.
If you are not sure what kind of sock to wear, an example of a pair of socks that can work for both general sightseeing as well as running or sports are these Rockay Accelerate anti-blister socks, these Balega no-show socks, or these Farm to Feet crew socks.
These socks are built to prevent blisters and to provide comfort, breathability, durability, and odor control.
Hiking Socks
If you are planning on going hiking, you'll want to make sure to pack some proper hiking socks. Good hiking socks should be warm, durable, antibacterial, breathable, quick-drying, and have a bit of stretch for a good fit. Many also have reinforced toes and heels to make them last longer.
Generally, merino wool (often blended with some synthetic materials to make it more durable) is considered the best material for hiking socks. Merino wool is soft, warm, and good at controlling both moisture and temperature, and we normally buy merino wool blend hiking socks. But synthetic socks can also work great and most are made from polyester blends.
Hiking socks are often labeled as lightweight, mediumweight, or heavyweight and this tells you how thick and warm the sock will be. So if you are doing hot weather hiking you'll want lightweight or mediumweight and if you are going to more frigid places, you might want heavyweight.
A good pair of mediumweight hiking socks can be used in most conditions, so are a good option if you are not sure where you'll be wearing them.
Some brands we recommend for hiking socks are Darn Tough, Ballston, Wigwam, SmartWool, and Farm to Feet. If you want some suggestions to get you started, check out these ones from Darn Tough, this pair from Wigwam, and this summer hiking pair from SmartWool.
If you are looking for American-made socks, you have lots of options! In fact, American made socks are some of the most popular and best on the market.
Check out the hiking socks made by Farm to Feet (made in North Carolina, USA from 100% American materials!), Ballston (made in USA since 1918, but raw materials sourced worldwide), Wigwam (made in Wisconsin, USA since 1905, but some raw materials sourced worldwide), and Darn Tough (made in Vermont, USA, but raw materials sourced worldwide).
For those who don't or can't wear wool, or are looking for a vegan alternative, we recommend taking a look at these polyester Darn Tough hiking socks, these Thorlos padded crew socks, and these EcoSox bamboo socks. Just note that wool-alternative socks don't tend to be as durable as wool socks.
If you are really blister prone, you might consider also getting sock liners. Sock liners are worn inside a pair of hiking socks to help prevent blisters as they help prevent friction against your skin. On really long hikes we wear sock liners by Wigwam.
Compression Socks
Many people, especially those with circulation issues, like to wear compression socks or stockings when traveling on longer flights. Compression socks are designed to compress the ankle and lower leg which causes an increase in venous blood flow and a decrease in pressure. This helps increase circulation, prevent the formation of blood clots, and prevent pooling of blood in the feet.
Some people may be encouraged to wear compression socks on long flights such as those with edema, diabetes, deep vein thrombosis (DVT), varicose veins, and women who are pregnant. But even in healthy men and women, it can help prevent risk of DVT, reduce feet swelling, and relieve aching in the legs.
Compression socks are generally made primarily out of nylon and come in a variety of gradients, indicating how much compression they put on the leg. Those with medical issues should consult a healthcare professional for advice. Those without medical issues should look for the lower to moderate gradients.
Most compression socks and stockings are knee-high but you can also get compression socks that go to the ankle, calf, thigh, etc. We recommend knee-high compression socks as they have been shown to be most effective.
A few brands that made good-quality compression socks are Dr. Scholl's, Sockwell, Zensah, and Travelsox. Some options include this knee-high pair by Sockwell, these ones by Dr. Scholl, and these ones by TravelSox.
Extra Shoe Cushioning
If your shoes don't have enough cushioning, they can cause rubbing, pressure, blisters, and pain. Some shoes may also be a tad too big, especially in the heel area. This is particularly true for heels and dress shoes. Luckily, it is pretty easy to add in a bit of cushioning or padding to one's shoes.
The two main places people need extra cushioning is in the heel and the metatarsal area (forefoot / ball of the foot). You can buy inserts for both of these areas and they are typically made of some sort of gel and have a sticky adhesive backing that will stick to the inside of your shoe.
For those looking for heel cushioning, we recommend checking out these gel heel cushions and these heel inserts. For those needing some cushioning in the forefoot, we recommend checking out these metatarsal pads.
Just remember that when traveling, you want to bring your most comfortable shoes. So if you have a pair of shoes that need inserts, be sure they will be comfortable enough once you've added them to wear on your trip.
Orthotic Insoles
Orthotic insoles are shoe inserts that can be used for a variety of purposes such as treatment for a condition like plantar fasciitis, arch support, joint pain relief, orthopedic correction, a discrepancy in leg length, or just general comfort.
Some people may have a custom insole prescribed by their podiatrist, but most people buy shoe inserts in the store. Whether you need an insole and the type of insole that is going to be most suitable is going to depend on your foot, your needs, and your shoes.
But if you think you need an insole in your shoes, be sure to purchase and fit it into your shoes before your trip. If you are buying a new pair of shoes, I'd make sure there is room for an insole before you buy them. For instance, many shoes have a removable insole that makes it easy to fit in a custom orthotic insole.
Insoles can fit the entire length of your shoe, like these ones, or may only fit into one part of your shoe like this one. They can be made of different materials including medical-grade gel, plastic, silicone, and foam.
Although I don't have any major medical or foot issues, I started developing arch pain several years ago, likely due to plantar fasciitis. The pain was being exacerbated by my wearing flip-flops and other non-supportive shoes too much.
What has worked for me is these Soul Insole mini orthotic inserts which I place in my shoes under my arch. They have helped reduce pressure from my forefoot and heel and redistribute the pressure evening across my entire foot. I get no arch pain when I wear these.
A big bonus for me is the fact that they are washable and reusable so one pair can last a fairly long time. Their medical-grade gel is antibacterial, odorless, soft and flexible. If you are having some arch pain, they may be worth a look.
Non-slip Pads
When choosing shoes for travel, you want shoes that have decent traction and grip. Some women's shoes, particularly heels, dress shoes, and fashion boots, often do not have good traction on smooth surfaces.
You don't want to pack shoes that have really smooth bottoms. This increases your risk for tripping and falling, and you don't want to end up spending your holiday in a hospital!
But there is an easy way to fix this, you just need to add some anti-slip pads to your shoes, such as these ones. They just stick to the bottom of your shoes. Just make sure to fully clean your shoe's outsole before applying for the best results.
If you are packing along shoes for your trip that have non-slip pads, you may want to pack a couple extra in your bag in case they peel off during your trip.
Blister Prevention and Protection
Generally, a good quality pair of socks, well-fitting shoes, and good foot care will be enough to prevent blisters, but sometimes in situations like long-distance hiking or sports, you may need a little extra protection. Some people just have more sensitive skin and are more prone to blisters.
Here are some options to help prevent blisters:
Anti Blister Balm
If you need a little extra help to prevent rubbing, you might consider something like Foot Glide. It is a balm designed for your foot that you apply before you put on your socks or shoes and is designed to reduce friction and rubbing that causes blisters.
It comes in a deodorant stick balm form, and is made of plant-derived ingredients and is vegan-friendly. It also has Vitamins A and C to help soften your feet.
We haven't personally used this product, but we are longtime fans of their popular Body Glide balm which is a similar product designed to prevent chaffing and rubbing all over the body.
Sock Liners
One way to reduce friction and prevent blisters is to wear two pairs of socks. This is often done by hikers to prevent blisters on longer distance hikes.
Sock liners can be worn inside a pair of hiking sock to help prevent blisters as they help prevent less friction against your skin. As mentioned earlier, on really long hikes Laurence and I often wear sock liners by Wigwam, which we have found to work great. You may also want to check out sock liners by Fox River.
Sock liners are probably not necessary for most people with regular shoes as wearing too much sock can make your shoes fit too tightly and cause discomfort. So a sock liner is more commonly worn when hiking, climbing, etc.
Moleskin
Hopefully you have fully broken in your shoes and have a well-fitting pair of shoes packed. However, sometimes even the best shoes can rub your feet if you are walking much further than usual or doing things you don't normally do at home.
So you may want to bring along some Moleskin or bandages / plasters just in case. Some bandages are made specifically for toe blisters (such as these) or heel blisters (such as these).
We recommend taking a roll of moleskin that can be used to place on your feet as soon as you notice rubbing or blisters. We recommend using it preventatively if you can and start using as soon as you notice your shoe rubbing to prevent blisters.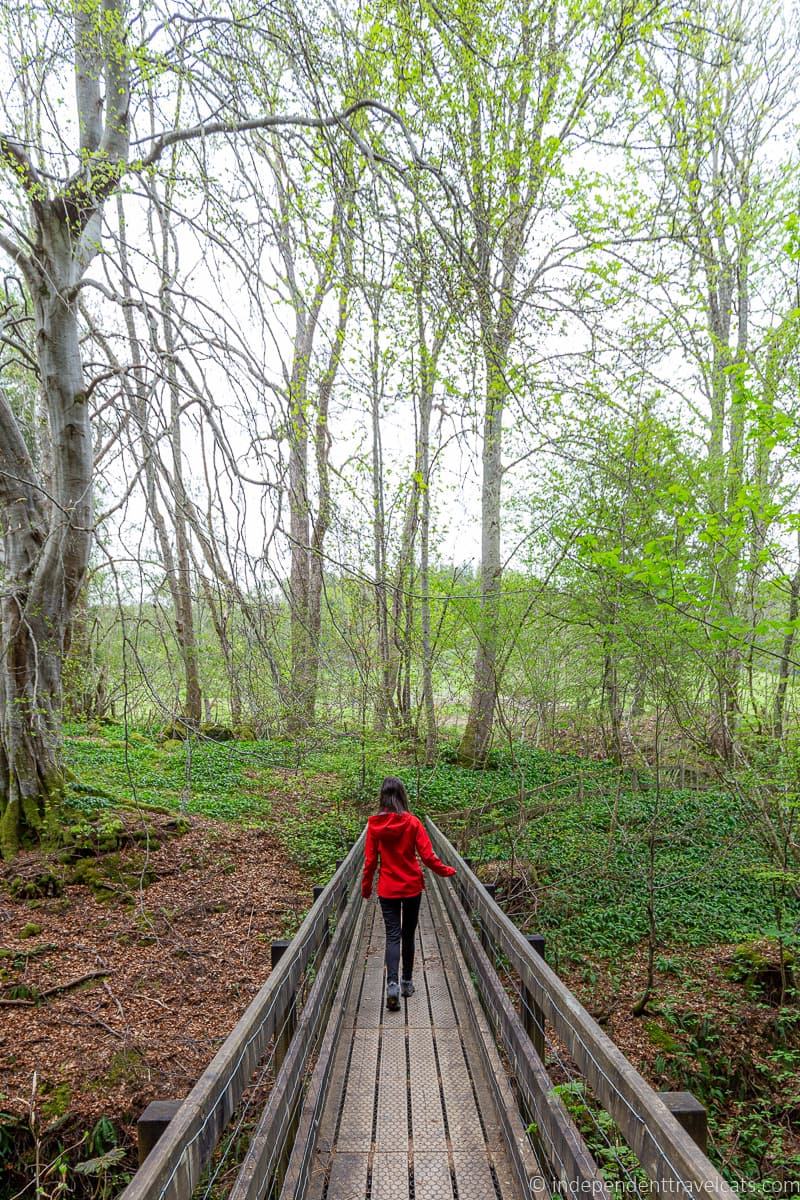 So that is our guide to travel shoes and our list of recommended shoes for traveling! What do you think of the list? If you are also looking for shoe recommendations for men, check out our guide to the best travel shoes for men.
Planning to purchase some travel shoes in the near future, but not now? Pin this article to Pinterest to read later: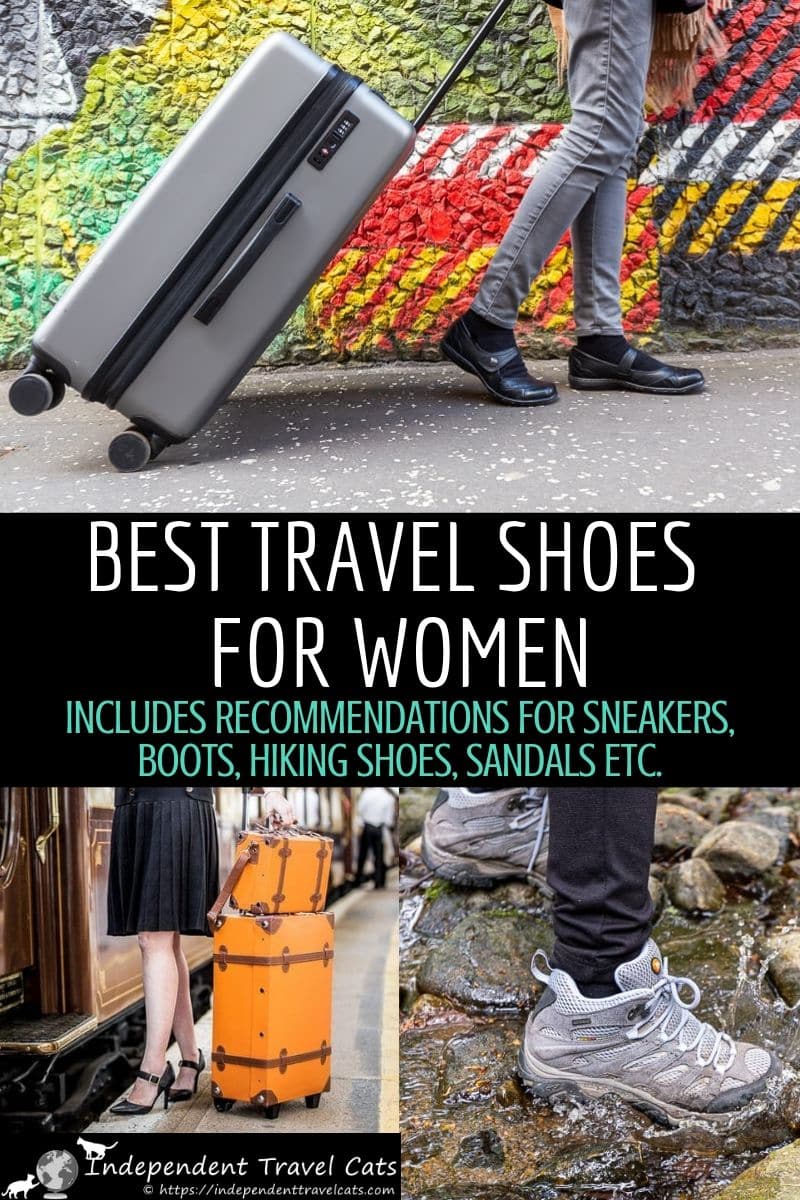 Have questions about choosing shoes for travel? Just leave us your question in the Comments section below, and we're happy to try to help.
Did we miss your favorite pair of travel shoes? If so, let us know. Feel free to share any tips or advice you have for us and future readers about choosing the best shoes for travel
Credit: Source link