Scotland is a magical destination for several reasons, one being that you can find many Harry Potter filming locations in Scotland. As any fan of the Harry Potter films will know, Hogwarts is located in Scotland and thus it is not surprising that a number of exterior scenes for the movies were shot in Scotland.
Some of most iconic are the Hogwarts Express train scenes and the location of Hagrid's hut. Lots of scenes involving lakes were also filmed in Scotland with several Scottish lochs appearing across the eight movies.
The dramatic Scottish scenery often provides a great backdrop for Hogwarts and the time the students spend at and around the school. It is often used in the Harry Potter films when it needs beautiful landscapes or a more wild and eerie location.
We provide a guide to all the top Harry Potter filming locations in Scotland, including the Hogwarts Express train (The Jacobite), the dramatic scenery seen from train, the location of Hagrid's hut (Glencoe) and the location of Dumbledore's grave (Eilean na Moine). We tell you where each Harry Potter movie location is located, how to get there, and other relevant information to visit.
So let's get started!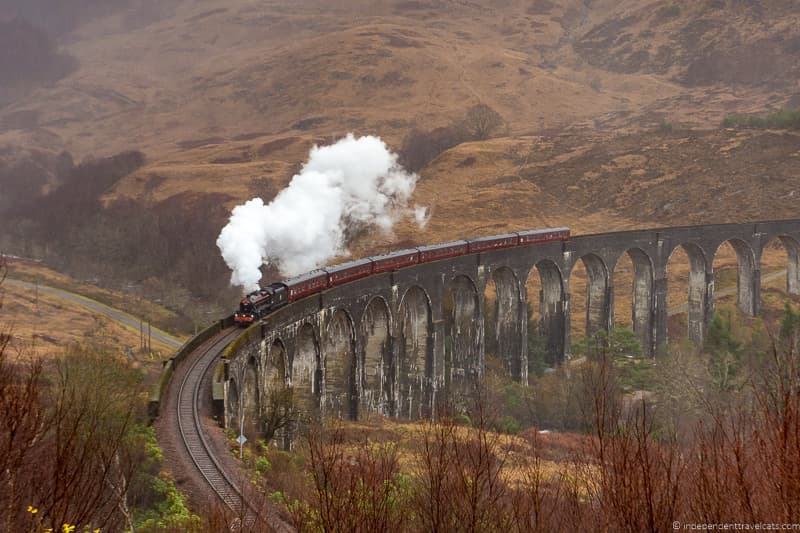 Although J. K. Rowling wrote only 7 books, there are 8 Harry Potter films as Warner Brothers decided to split the final book, Harry Potter and the Deathly Hallows, into two parts. Filming for the movies took place between September 2000 and December 2010.
Although most Harry Potter scenes were filmed at Warner Brothers Studio in Leavensden, England, the film team did use a number of real-life filming location throughout the UK. These primarily were in southern England, but there were also several notable scenes shot in Scotland.
Many of the scenes filmed in Scotland are related to the Hogwarts Express train journeys and the outdoor spaces around Hogwarts. The majority of these were shot around Fort William and Glenfinnan in the Lochaber area of the west Scottish Highlands.
All 8 of the films include some scenes shot in Scotland and we'll help you find them!
Here is our list of the top 12 Harry Potter filming locations in Scotland:
1. The Jacobite Steam Train (Hogwarts Express)
As any Harry Potter fan will know, if you want to get to Hogwarts you have to take the Hogwarts Express train. Thrillingly, the Hogwarts Express is a real train and you can ride it!
But it isn't really called the Hogwarts Express, its real name is The Jacobite. The now famous steam train has been operating since 1984 under different names and operators. The service was started as a way to boost tourism and to keep open the scenic train route between Fort William and Mallaig.
The steam train was used as the Hogwarts Express in the films, and the train and parts of its train route were shown in all 8 of the Harry Potter films. Scenes included exteriors, interiors, and scenery along the route. The most iconic is the train going over the Glenfinnan Viaduct.
Note that not all scenes featuring the Hogwarts Express were shot in Scotland. The main setting used for the London station was of course King Cross train station in London, and the main setting for the Hogsmeade stations was the Goathland train station in Yorkshire. The steam train locomotive was shot in these locations as well as in Scotland.
The locomotive used to pull the Hogwarts Express train in the movies was the GWR 4900 Class 5972 Olton Hall, and this is currently on display for those doing the Warner Bros. Studio Tour London. But the steam locomotive that is currently being used to The Jacobite is similar in appearance to the one used in the films.
The 42 mile route (84 miles round trip) taken by The Jacobite is very scenic, passing lochs, forests, mountains, and small villages. The route goes through the villages of Glenfinnan, Lochailort, Arisaig, and Morar before ending in the small port town of Mallaig. The train normally stops for a short break at the Glenfinnan station so people can take comfort breaks and visit the small railway museum here if they wish.
The Jacobite train is seasonal, running from April to October. It normally has two services a day between Fort William and Mallaig.
The best way to experience the train is of course to take a ride on it. The options are for open seating in a standard class carriage, open seating in a first class carriage, or a first class compartments "Harry Potter style". You can purchase a one-way ticket or a return ticket. You can book online, by phone, or purchase a ticket at the station.
If you want to take the train, we recommend booking well in advance as the Harry Potter style compartments are very popular and usually sell out months in advance. A quick peek at the calendar already shows that most dates are showing as "Fully Booked" or "Limited Availability" for the rest of the year.
If you can't get a ticket in advance, you can see if you can book a day tour that includes a ticket, such as this one. Or you can try you luck at the station on the day of departure if you are in the area. There are often a very limited number of first-come, first-serve tickets available at the Fort William station about 1 hour before departure.
Of course, you don't have to ride the train to see it. For instance, you can see the outside of the train at the Fort William train station platform before it departs. You'll need to check the train schedule to see when the train will be at the station.
Alternatively, you can see the train in the distance as it crosses the Glenfinnan Viaduct, our next Harry Potter filming location.
The ScotRail train service also operates regular trains over this same route, so you can book tickets for instance from Fort William to Mallaig (or Glasgow to Mallaig) to enjoy the same scenery at a lower price. You just won't have the steam train experience.
The Fort William train station is located in the center of the town, which is easy to reach by bus, train, or car from throughout Scotland. There is limited parking at the Fort William train station itself but there are several car parks in the town for both short and long term parking, most are pay and display.
You can also experience a ride on The Jacobite by taking a day tour from Edinburgh which also includes other Harry Potter filming locations such as this tour. Or you can join a longer tour such as this one which includes the train ride as well as visits to iconic places in the Scottish Highlands like Loch Ness and the Isle of Skye.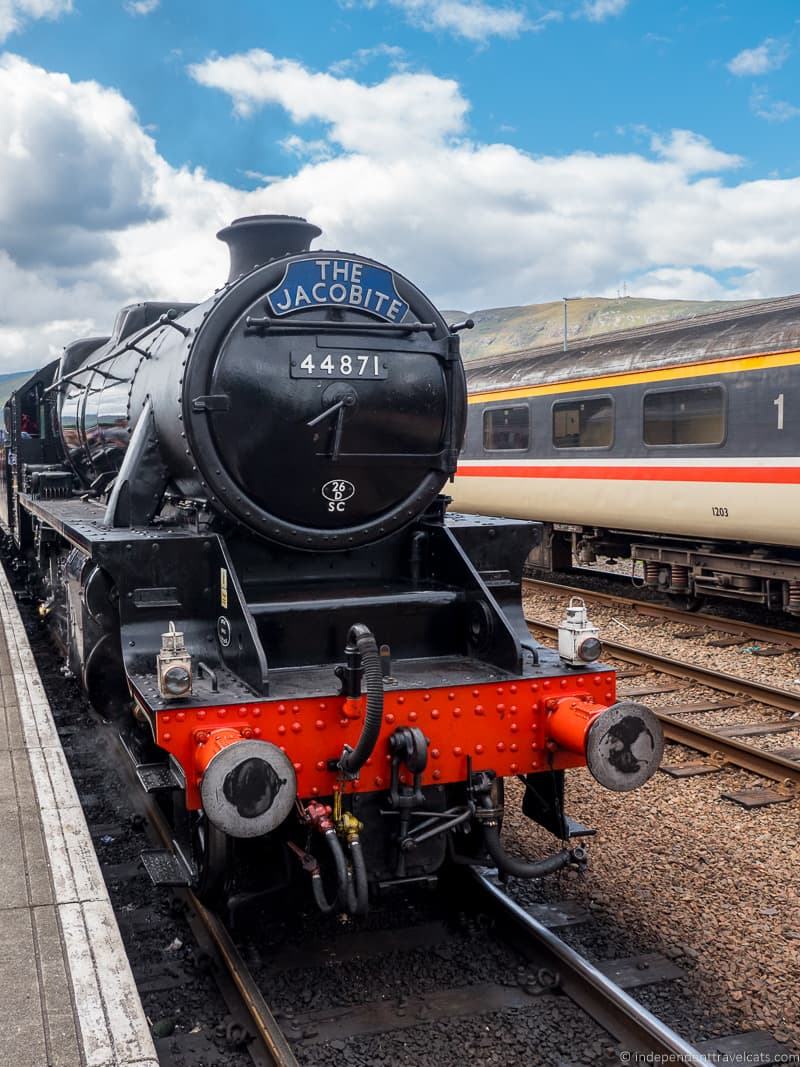 2. Glenfinnan Viaduct
One of the most iconic scenes in the Harry Potter movies is when the Hogwarts Express crosses a rail bridge on the way to Hogwarts. This location is used in at least three of the movies, but is perhaps most well-known because of the flying car scene in Harry Potter and the Chamber of Secrets, when Ron and Harry find themselves being chased across the bridge by the train.
In Harry Potter and the Prisoner of Azkaban, the train is also stopped here by dementors searching for Sirius Black. The experience causes Harry to pass out on the train.
The real world filming location for "the Harry Potter bridge", is the Glenfinnan Viaduct. This is a fantastic curving rail bridge that is over 1,000 feet long (416 meters), making it the longest concrete bridge in Scotland. It first opened for rail traffic back in 1901.
The viaduct crosses a pretty valley here, and it makes for some fantastic photography opportunities, especially if the Jacobite train happens to be crossing at the same time.
You can reach Glenfinnan by bus, train, or car. To reach the viaduct and get good views of it, you need to do a short hike. There is a Glenfinnan car park (location is here) for the hiking trail that is free from where the path to the viaduct starts, so this is where we'd recommend parking if there are open spaces.
But if that one parking area is full (which often happens in summer) there is also another parking lot nearby at the Glenfinnan Monument visitor center, which is operated by the National Trust. There is a small parking fee for those who are not National Trust members.
You can see the Glenfinnan Viaduct up close for free, and it's around a 10 to 15 minute walk from the start of the trail up to the viaduct itself. It's a bit uphill and steep in places, but the overall hike is not too difficult. Note that sections of the trail are often muddy and boggy so wear appropriate footwear.
The trail itself continues on and you can hike the full trail round trip in 1 to 2 hours. The higher up you go on the trail, the better the views looking back over the viaduct. You can keep following the trail for good views of Loch Shiel and the Glenfinnan Monument, which is a memorial tower erected in 1815 honoring those who died in the Jacobite uprisings.
In terms of photographing the "Hogwarts Express" crossing the viaduct, you'll want to check the Jacobite timetable. Usually, the train crosses the viaduct around 40 to 45 minutes after departing from Fort William on the outbound route, and around 35 to 40 minutes after departing from Mallaig on the return. There's more information on the West Coast railways FAQ page.
Please note that railways can obviously be dangerous places, and it is illegal to walk or trespass on the viaduct or tracks of the railway itself. The best views of the viaduct are from the hill up and behind the viaduct, where you can see the full curve of it.
It's also worth bearing in mind that the amount of steam coming from the engine will vary depending on a number of factors, including how warm it is (cooler days tend to give more of a steaming effect), and how heavily loaded the train is. The incline of the viaduct means that steam generally won't be visible until the train is at least half way across the viaduct on the way to Mallaig, which is where it starts to ascend.
If you see photos of the train in full steam before the half-way point, these are usually taken during professional photo shoots where the driver has started to increase the steam output for photogenic reasons!
If you want to see the flying blue Ford Anglia driven by Harry Potter and Ron Weasley along the Glenfinnan Viaduct in Harry Potter and the Chamber of Secrets, you might want to consider a visit to the Bo'ness Motor Museum. The museum, located about 35 minutes northwest of Edinburgh, has one of the cars used in the 2002 film as well as a number of other historic cars, including several used in James Bond films.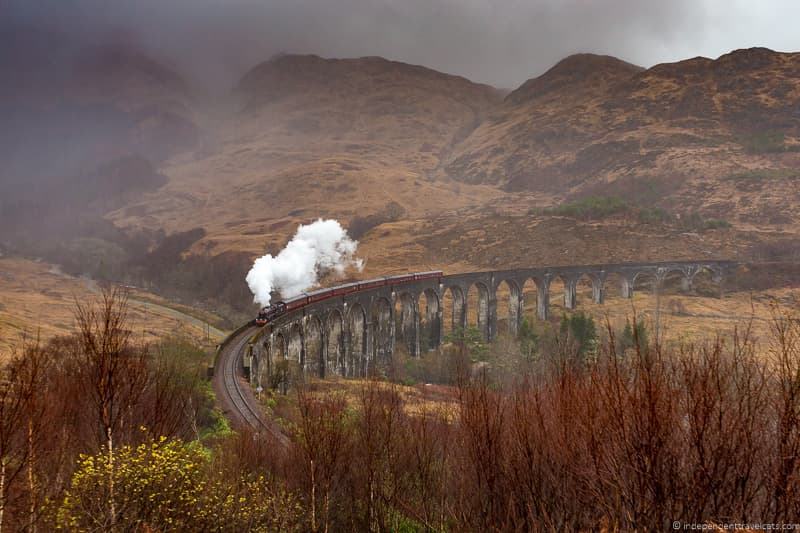 3. Loch Shiel
Loch Shiel is a freshwater lake and is the fourth longest loch in Scotland. It is located near both the Glenfinnan Viaduct and the Glenfinnan Monument.
Within the realm of Harry Potter, Loch Shiel can often be seen as background scenery in the films and we believe it shows up at least briefly in all 8 movies. It is also the setting for many of the scenes of the Black Lake (or "Great Lake") although directors often used several lakes to depict the same location depending on the scene.
It can often been seen in the background during Hogwarts Express sequences. For instance in Harry Potter and the Prisoner of Azkaban, you can see it both as part of the train journey as well as later when Harry Potter flies over it when riding Buckbeak the hippogriff.
Perhaps it is most recognized for being the setting for the underwater stage (Second Stage) of the Triwizard Tournament in Harry Potter and the Goblet of Fire. It is where the large towers for the three schools are seen in the shots, with Hogwarts in the background. The towers and Hogwarts were digitally added to the loch so you'll need to use your imagination!
One of our favorite scenes of the lake is in Harry Potter and the Chamber of Secrets. It is when Harry sits with Hedwig with a view of Hogwarts in the distance asking "Who am I, Hedwig? What am I?".
There's an excellent view of the loch from atop of the Glenfinnan Monument, from the Glenfinnan Monument viewpoint, and from the Glenfinnan Viaduct hiking trail (described in prior section).
There is a fee to climb the Glenfinnan monument which you can pay for at the visitor center next to the parking area. It is free to visit the Glenfinnan Monument viewpoint but there's a small parking fee to use the National Trust for Scotland parking lot here. Parking and entry is free for National Trust members and for those with a Scottish Heritage Pass.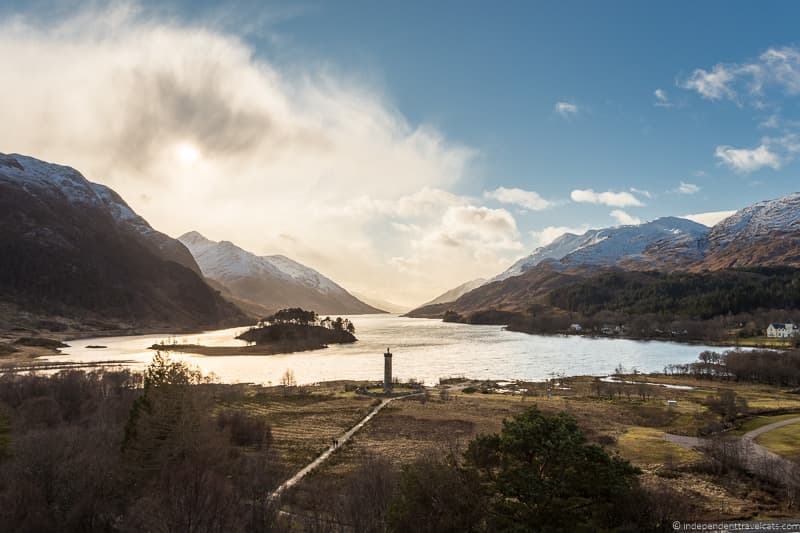 4. West Highland train line
The West Highland train line was opened in 1901 to connect rather remote parts of western Scotland. The train line runs from Glasgow and then branches off to terminate in either Oban or Mallaig.
This is considered one of the most scenic rail journeys in the UK, and even the world, as the train travels through scenic landscapes of mountains, lochs, rural farmland, heather moors, and small villages. 
In Harry Potter, many of the filming locations we list can be seen from or are located near this train route including Rannoch Moor, Loch Shiel, the Glenfinnan Viaduct, and Loch Eilt. Scenes shot from and along this line were used throughout the films, especially in shots of the Hogwarts Express.
For instance in the movie Harry Potter and the Half Blood Prince, the Hogwarts Express is seen traveling between Corrour and Rannoch stations through Rannoch Moor. In Harry Potter and the Deathly Hallows Part 1, the Death Eaters board the train around this same area.
Corrour train station features in the 1996 movie Trainspotting. Corrour is an interesting spot just because it is the highest railway point in the UK and it is also one of the most remote train stations. Corrour is only accessible by train, or by hiking as the nearest road is 17 miles away!
There is an unmanned train station at Corrour and a seasonal cafe called Corrour Station. It is a jumping off point for hikes in the area and there is a youth hostel as well as several guesthouses and cottages in this remote area. A perfect destination for hikers, hillwalkers, and those who want to enjoy some remote scenery for a night or so.
If you decide to stop here, a couple hikes you might consider are this one to Loch Ossian or this one which includes a climb of one of Scotland's munros Bein Na Lap. If you want to set off hiking from Corrour or Rannoch, we recommend getting an Ordnance hiking map of the area.
The best way to experience the West Highland route is to of course take a train. There are multiple trains that travel this route, and we've already talked about The Jacobite steam train ("Harry Potter train"). The Jacobite runs the section of this route between Fort William and Mallaig.
Regular trains travel the full West Highland line, including the branches to both Oban and Mallaig. The West Highland route takes about 5 hours and 30 minutes to go by train from Glasgow to Mallaig, or approximately 3 hours and 30 minutes if taking the shorter branch from Glasgow to Oban. You can of course also book to stop at any of the stations in between. You can check on route information and book tickets from Trainline or ScotRail.
Another option is to take the Caledonian Sleeper train as some services travel the stretch between Glasgow and Fort William. The overnight sleeper train travels as far south as London and as far north as Inverness. You can check the latest rates and schedules here.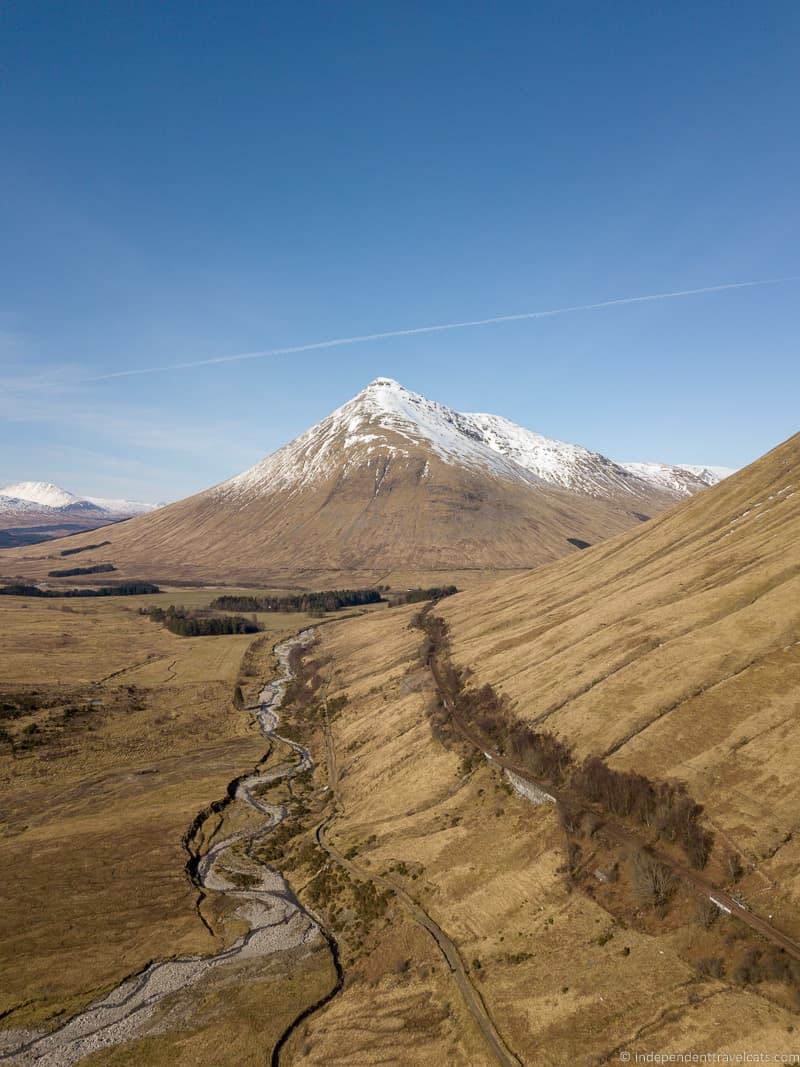 5. Steall Falls in Glen Nevis
Steall Falls has a 390 feet (120 meters) single drop, making it Scotland's second highest waterfall. The waterfall is located at Nevis Gorge within Glen Nevis, about 7 miles from Fort William. Behind Steall Falls is the mountain An Gearanach and in the distance looms the highest mountain on the British Isles, the mighty Ben Nevis.
Steall Falls featured in a number of the Harry Potter movies, primarily as a backdrop to broomstick flying scenes including some of the Quidditch matches. The waterfall is probably best recognized from being in several scenes during the Triwizard Tournament in Harry Potter and the Goblet of Fire.
During the Triwizard Tournament in Harry Potter and the Goblet of Fire, Nevis Gorge and Steall Falls can be seen as the backdrop to the arena. It is particularly featured in the background as Harry battles with the Hungarian Horntail dragon. The tournament arena itself is not real, but the falls certainly are!
It requires a short hike (about 1.2 miles) to reach a good viewpoint for the falls (about 20 to 40 minutes). There's a clear view of the falls crashing down the side of the mountain.
The hike is short but rocky and steep in places and requires small stream crossings. It can be slippery, particularly after rain and in winter, so bring appropriate hiking gear. Hike may not be appropriate for younger children.
You get a view of the waterfall from a bit of a distance as the glen first opens up into view. But you can continue as close as you wish further into the glen, and you'll eventually come to the steel wire-bridge that hikers need to cross if you wish to go across the river. When you are done hiking, just return the way you came.
For keen and fit hillwalkers looking for a more challenging hike, you can continue on to do the Ring of Steall hike, which is a rewarding 10 mile hike across four munros.
This area is a center of hiking activity, so expect to see lots of hikers and climbers in the area as the famous Ben Nevis hike is also nearby. You have a full range of hikes to choose from, from short and easy hikes to more challenging multi-day ones. For those interested in doing more hiking beyond the Steall Falls hike which is a well-marked track, you might want to get a copy of a good hiking guidebook and OS map for this popular area.
The parking area for the Steall Falls hike is at the end of the single track road to Glen Nevis, it is around a 15 minute drive from Fort William. If this is full, there are a few other parking areas along the road before that which you would have passed.
Those wanting to get here by public transit can take a seasonal local bus to Polldubh Falls Visitor Center and then walk about 30 minutes to the start of the described hike. Or you can take a quick taxi from Fort William to the start of the hike.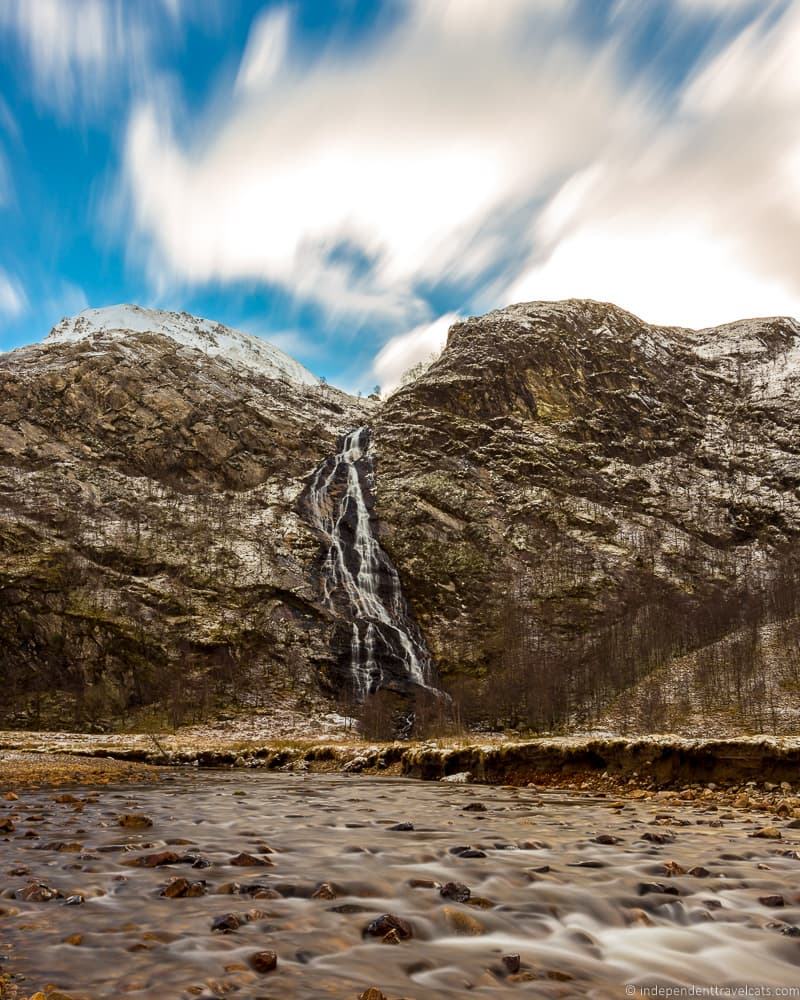 6. Rannoch Moor
Rannoch Moor is a wide expanse of highland wilderness near Glen Coe. It's a boggy moor area covering about 50 square miles, full of peat bog and lochans (small lakes). Get away from the road, and you'll find yourself in a scenic, wild, and desolate area. Although a challenging place to thrive, it still support a variety of flora and fauna, including red deer.
Rannoch Moor was also a Harry Potter filming location. In Harry Potter and the Deathly Hallows Part 1, this was where the Death Eaters board the train in search of Harry. The scene starts with a wide shot of the Hogwarts Express train crossing the moor and then blurs of Death Eaters in the air before closing in on a male Death Eater standing on the tracks to stop the train. They then apparate aboard.
A great way to get a good view of Rannoch Moor is by taking a train along the West Highland Line as the line goes through a section of Rannoch Moor. This includes The Jacobite steam train as well as the regular trains that run that route.
It is a popular place for hikers and those who wish to fish, especially for brown trout, in the lochs and rivers here. If you are thinking of hiking here, we recommend getting the local OS map as it can be easy to get lost out here. Kinloch Rannoch is one of the local villages here that is popular with tourists, and provides good access to outdoor activities.
If you want to fish in Scotland, you don't need a license in most places, but you do need written permission from the landowner. See this guide for more information. If you are staying locally, accommodation staff can often help you figure out who you'd need to contact before your trip, or you can hire a local fishing guide.
Note that Rannoch Moor area is filled with marshy and wet areas (in fact the majority of the area is wet!), so expect mud and bog along the hiking trails and bring appropriate hiking gear.
Although we've thankfully not encountered any Death Eaters at Rannoch Moor, there is a very annoying flying creature often present in the warmer months (usually May to September): the Highland midge. The area can attract a lot of midges and mosquitoes in the warmer months due to its peaty soil and abundance of marsh and lochs. Ticks can also be an issue.
Midges are a nuisance throughout much of the Highlands (especially the western Highlands) in the summer months, but they seem to be particularly annoying at Rannoch Moor. Unlike mosquitoes and ticks, they don't carry viruses that are harmful to humans, so they are more an annoyance than danger. But their bite is unpleasant and you are often left with a bunch of red bumps.
To help repeal midges and mosquitoes, we recommend Smidge (what we use) or Avon So Soft (many also recommend this). If you are planning to be standing in one place for long periods of time in midge season (e.g., fishing, camping), you might consider a midge head net. Bringing some sort of insect repellent (including something to protect against ticks) is recommended for anyone planning to hike in the Highlands in summer.
You can reach Rannoch Moor by car, train, or day tour. If you are traveling by train and want to hike in the area, you might want to stop at Rannoch Station. If trying to reach Kinloch Rannoch, you can arrange for a local shuttle in advance to pick you up at Rannoch Station and take you to the village.
If driving, you can get nice views as you drive along the A82 and there are a few parking places where you can stop for quick views of the area.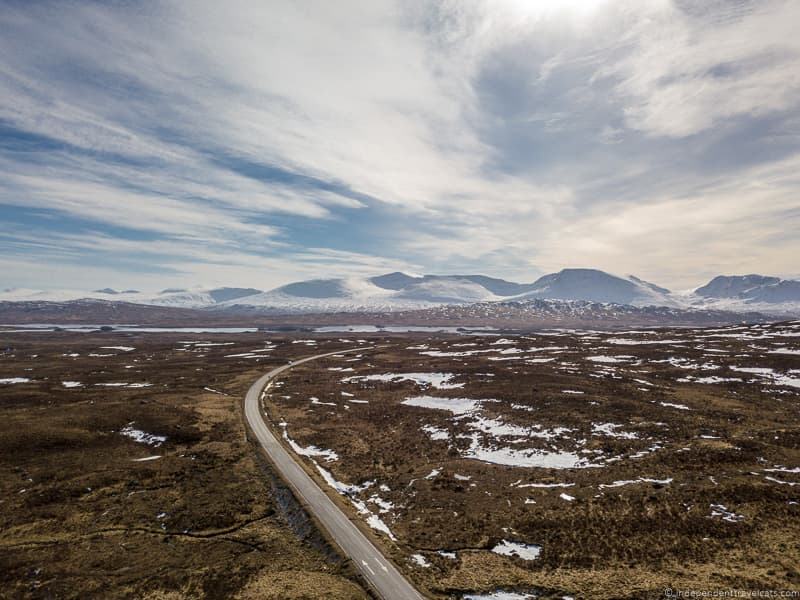 7. Glen Coe
The fantastic Glen Coe valley is a dramatic volcanic glen in the Scottish Highlands near the village of Glencoe. It was the site of  a terrible massacre in 1692 and it is also a National Scenic Area.
Glen Coe is a very popular hiking and tourist destination. It's wonderfully photogenic, with steep mountains, reflecting pools, and waterfalls to discover, and is one of our favorite photography locations in Scotland. It has been featured in a number of films, including Braveheart, Rob Roy, Skyfall, and of course the Harry Potter films.
The Harry Potter filming team used Glen Coe for a number of shots in several of the movies, including scenes in Harry Potter and the Prisoner of Azkaban and Harry Potter and the Half-Blood Prince.
The film with the most recognizable scenes from Glen Coe is probably Harry Potter and the Prisoner of Azkaban, with Glen Coe serving as the location for Hagrid's Hut. For the filming, a full set was built on location at Glen Coe complete with the surrounding pumpkin patch, gate house, bridge, and sundial stone circle. This is probably the best known Harry Potter film set that was built in Scotland.
Scenes here include many shots of Hagrid's Hut, the place where Buckbeak is chained up prior to his sentence, forest scenes, and where Hermione confronts and punches Draco at the sundial stone circle. The area was also used for the bridge leading to Hogwarts.
Although the Harry Potter and the Prisoner of Azkaban film set was only temporary and is sadly long gone, the background is still very recognizable. Most of the filming was done across from Clachaig Inn in Clachaig Gulley. You can see Signal Rock forest, surrounding hills, and Torren Lochan (the lake) in many of the scenes.
There are many lovely hikes you can take in the Glen Coe area. If you are planning to do some hiking here, you may want to get a good OS map of the area and/or a hiking guidebook. As in Rannoch Moor (and most in the Highlands), we'd recommend midge and mosquito repellent if visiting during midge season (approx May to September) and planning to spend a lot of time outdoors.
Many travelers here make a stop at the visitor center (fee for non-members), which is run by the National Trust for Scotland. Here you'll find visitor information about the area as well as an exhibition and video, toilets, a viewing platform, a shop, and a cafe.
In the village of Glencoe, there is also the Glencoe Folk Museum (seasonal) which presents local history in a thatched cottages.
Glen Coe is about a 30 minute drive from Fort William and about 3 hours from Edinburgh. It can be reached by car, bus, or day tour. The nearest train station is in Fort William.
There are a number of guided tours that visit Glen Coe, including this Harry Potter themed day tour from Edinburgh, this one by Rabbie's from Edinburgh which also visits Loch Ness, or this one that departs from Glasgow.
If you are looking for a longer tour, you might consider this 3 day one or this 5 day tour, both of which explore more of the Highlands and visit the Isle of Skye.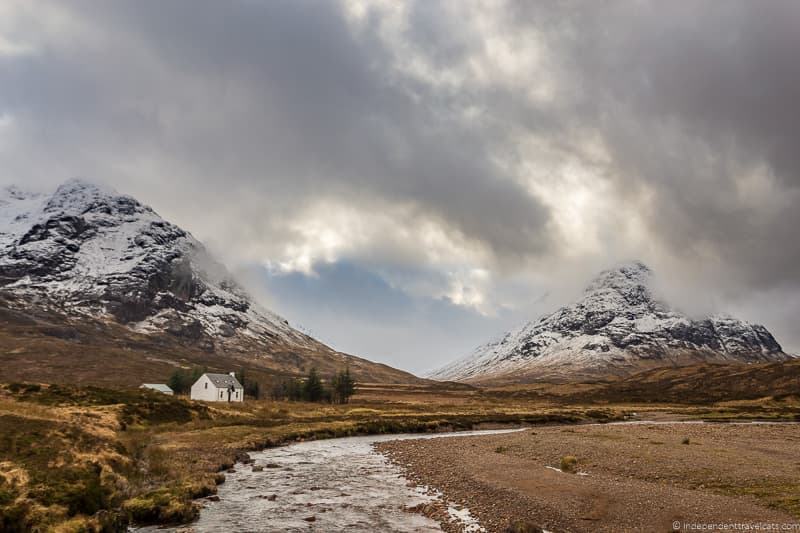 8. Loch Etive & Glen Etive
Loch Etive, known in Scottish Gaelic as Loch Eite, is a sea loch in the Argyll and Bute area of Scotland. The loch is fairly narrow and shaped a bit like a snake, stretching over 30 miles (18 km).  The loch is located within Glen Etive which is a scenic glen that is popular with outdoor enthusiasts.
Glen Etive and Loch Etive were used as a filming location for at least two Harry Potter films. In the Harry Potter and the Deathly Hallows Part 2 movie, Loch Etive is the lake where Harry, Ron and Hermione end up being deposited after jumping off the back of a dragon following their daring escape from Gringotts in London.
The northern section of Loch Etive in Gualachulain was also the setting for the camp that the trio set up near the lake in Harry Potter and the Deathly Hallows Part 1. After Ron leaves following the argument with Harry, Hermione ties a scarf around a tree near the lake to let Ron know they left if he returned.
The Glen Etive area is a scenic one and offers great hiking opportunities. The River Etive and other local rivers here are popular with kayakers. Many people stop by on their way to visit the coastal town of Oban.
A couple of attractions around Loch Etive are Dunstaffnage Castle (a 13th century castle) and Bonawe Historic Iron Furnace (18th century pig iron furnace). Both are open to visitors and run by Historic Scotland. There is a fee to visit but they are free to Historic Scotland members and those with the Historic Scotland Pass or the Heritage Pass.
The loch stretches over 30 miles so it depends a bit on where you want to stop, but the easiest way to reach it is by car. It is about a 40 minute drive from the coastal town of Oban, 1 hour and 20 minute drive from Fort William, or a 3 hour and 15 minute drive from Edinburgh.
The nearest train stations to the loch are in Taynuilt and Connel, and buses run to both of these villages as well.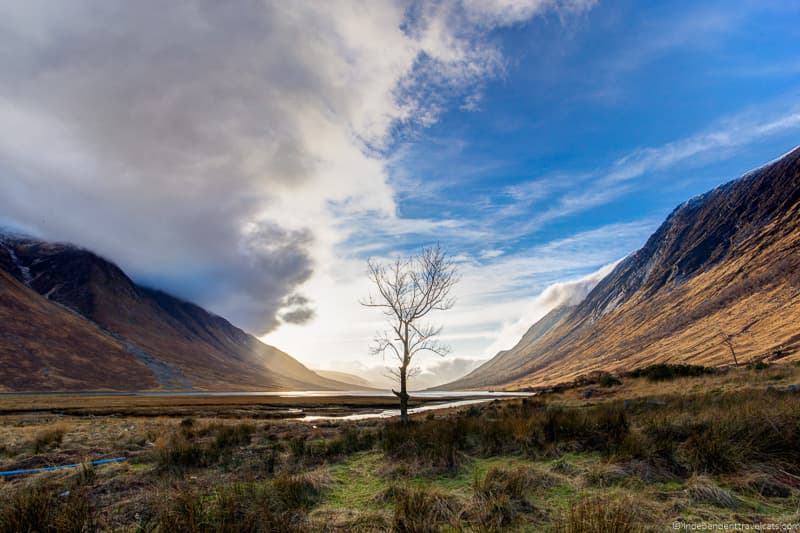 9. Black Rock Gorge
Black Rock Gorge is a narrow canyon cut into red sandstone that is just outside the town of Evanton in the area of Easter Ross in Scotland. It is about 1.5 km in length and 36 metres (120 feet) in depth.
In the Harry Potter films, Black Rock Gorge is shown during the Triwizard Tournament in Harry Potter and the Goblet of Fire. The canyon is shown in the dragon challenge sequence when Harry is trying to escape from the dragon.
When Harry tackles the dragon challenge he is chased into a spectacular gorge with oddly shaped rocks. In real life, this is the Black Rock Gorge at Evanton, which can be found around 15 miles north of Inverness.
Views of the gorge can be accessed via a relatively easy 2.5 mile round-trip hike which will take you around 1.5 hours or so. The hike is fairly level and easy, although there are a few rough and slippery bits so do take care. If it has rained lately, parts of the trail can be quite soggy so good waterproof hiking shoes recommended.
You can see the gorge by crossing two bridges across the gorge along the hike. The gorge is not easy to photograph and looks much more impressive in person than in a photo or video as it is very difficult to get a sense of the scale in a photo.
The walk is scenic and there was no one else on it when we did it. In addition to seeing the gorge, there are also some nice woodlands, a water power plant, a river, and a waterfall to see along the route. You can find a good description of this hike, as well as information on where to start and where to park, here.
The trail starts in the village of Evanton which can be reached by car or public bus. Evanton is located about a 30 minute drive from Inverness. Evanton is located just along the popular North Coast 500 driving route.
If you are looking for another fairly easy hike in the area, there are several paths around the community-owned Evanton Woods (you'll walk through a section to get to the gorge). There is also a very nice woodland playground here if you are traveling with kids. You might also consider a hike up to the nearby Fyrish Monument. There are nice views from the monument on a clear day.
If you are looking for a drink or pub meal after the Black Gorge hike or a place to stay the night, the Novar Arms Hotel is conveniently located right across from the parking area.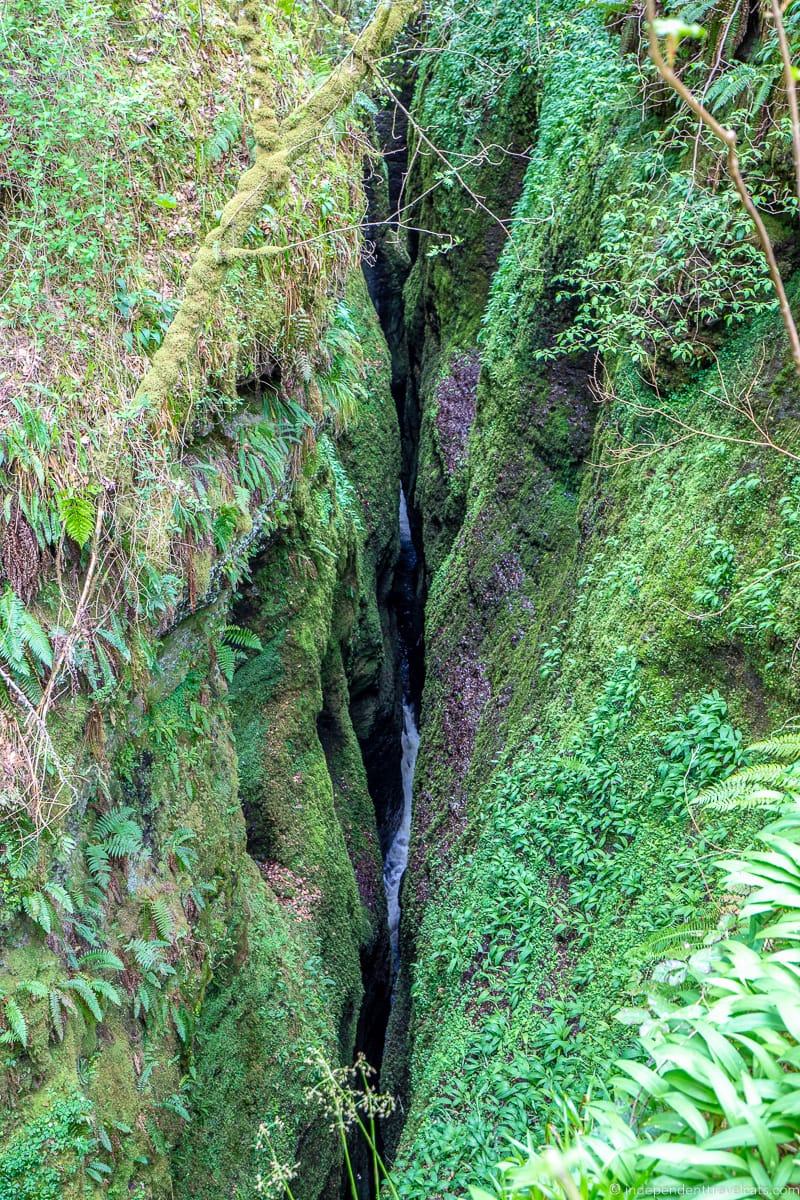 10. Loch Eilt
Loch Eilt is a freshwater loch located in the Scottish Highlands between the villages of Glenfinnan and Lochailort. The loch has a number of small islands.
Loch Eilt has been used in several of the Harry Potter films including Harry Potter and the Goblet of Fire, Harry Potter and the Chamber of Secrets, and Harry Potter and the Deathly Hallows Part 1.
The best known Harry Potter filming location here is the tiny island of Eilean na Moine on Loch Eilt. The little island serves as the place where Dumbledore is buried after his death in Harry Potter and the Half-Blood Prince. Shots of the island are featured in Harry Potter and the Deathly Hallows Part 1, when Voldemort comes here to steal the Elder Wand.
Loch Eilt is also used for a number of other scenes in the movies, including in Harry Potter and the Prisoner of Azkaban. In that movie, following Buckbeak's sentencing, Hagrid is shown at the loch looking depressed and throwing stones when Harry, Hermione, and Ron find him.
It also appears in various other general shots of the Hogwarts exterior in Harry Potter and the Goblet of Fire and Harry Potter and the Chamber of Secrets.
The most recognizable filming location is definitely Eilean na Moine island. This can be found at the western point of the loch off the A830. This is the same road from which you can see the Glenfinnan Viaduct—the loch location is around 8 miles past the bridge or a 10 to 15 minute drive.
If you are taking a train along the West Highland Line to Mallaig, you will be able to see Loch Eilt from the train as you pass by.
The loch can be reached by train, bus, day tour, or car. Loch Eilt is about a 3 minute drive from Lochailort and a 40 minute from Fort William. The nearest train station and bus stops are in Lochailort.
If you are driving, there's no designated parking, so you will need to look for safe places to fully pull of the road. There is a vague track that leads to the Loch shore for a view of the island. The island can be seen on Google maps here, for reference of where you are going.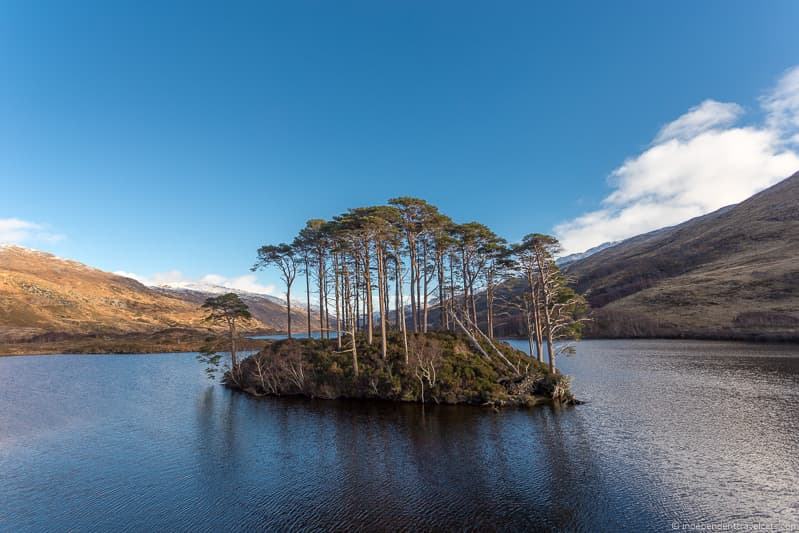 11. Loch Arkaig
Loch Arkaig is a 12 mile (19 km) long freshwater loch located north of Fort William. One of the lake's islands, Eilean Loch Airceig, has a ruined chapel dedicated to St. Columba. Loch Arkaig is also rumored to be where a large amount of stolen Spanish gold coins (often called the Jacobite treasure) is buried.
Loch Arkaig appears in a few of the Harry Potter films. When you visit Loch Eilt (described above) to see Eilean na Moine, you might think you are in the wrong place. The loch in the film looks a lot wider and bigger than Loch Eilt. This is indeed the case.
The director liked the look of island in Loch Eilt and it fit his artistic vision; however, the size and shape of the lake did not. So shots from Loch Arkaig and Loch Eilt were blended together to give the overall effect, such as the shots of Dumbledore's resting place in Harry Potter and the Deathly Hallows Part 1.
Loch Arkaig was also used for some of the wider shots of the dragon escape flight in Harry Potter and the Deathly Hallow Part 2.
The best way to reach Loch Arkaig is by car. If you are traveling by public transit, you can head to Fort William (or Spean Bridge) and then take a cab from there.
If you enjoy butterflies, there is a butterfly conservation reserve located along the north side of the loch called Allt Mhuic.
12. Loch Morar
Loch Morar is a large freshwater loch located east of the coastal village of Mallaig. It is the deepest freshwater body of water in the British Isles, even deeper than Loch Ness, with depths reaching over 1,000 feet! It is also one of the largest lochs in Scotland.
Yes, there are a lot of lochs in the Harry Potter movies, but don't worry this is the last one we are going to include!
Loch Morar was one of the many lochs used for shots of Hogwarts Lake. Loch Morar was used  primarily for close up scenes throughout the movies. None are super distinctive though.
It's a big loch, with the best views available from the west end. To learn more about the area you can check out the Loch Morar local website.
Trains going along the West Highland Line to Mallaig, including The Jacobite, pass by the western side of lake on their journey. So if you taking the train, you should get a look at the lake from the window.
The loch can be reached by car, train, or bus. The nearest train station (and bus stop) is in the small village of Morar and it is less than a 15 minute walk to the western shores of the loch.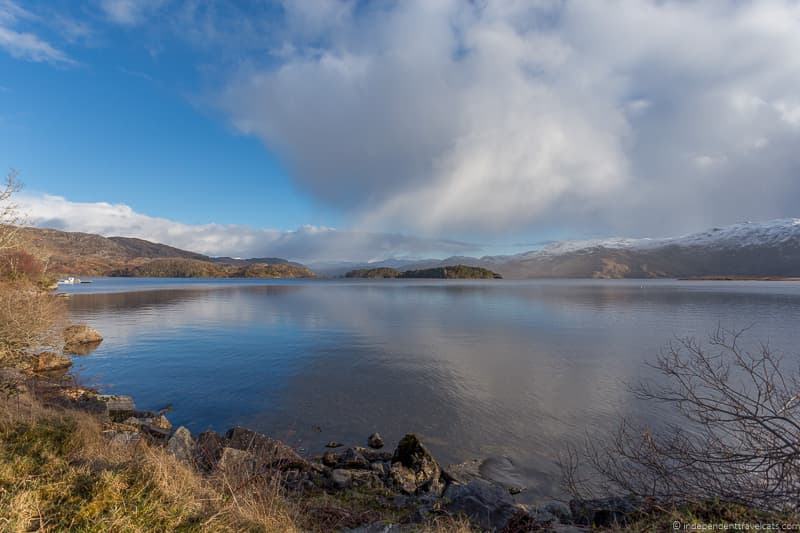 Now that you know where Harry Potter was filmed in Scotland and a bit about each location, we thought you might also want some tips for planning your visit to these sites and to Scotland in general.
We include transport tips, a list of Harry Potter tours in Scotland, lodging tips, and additional attractions that may be of interest to Harry Potter fans.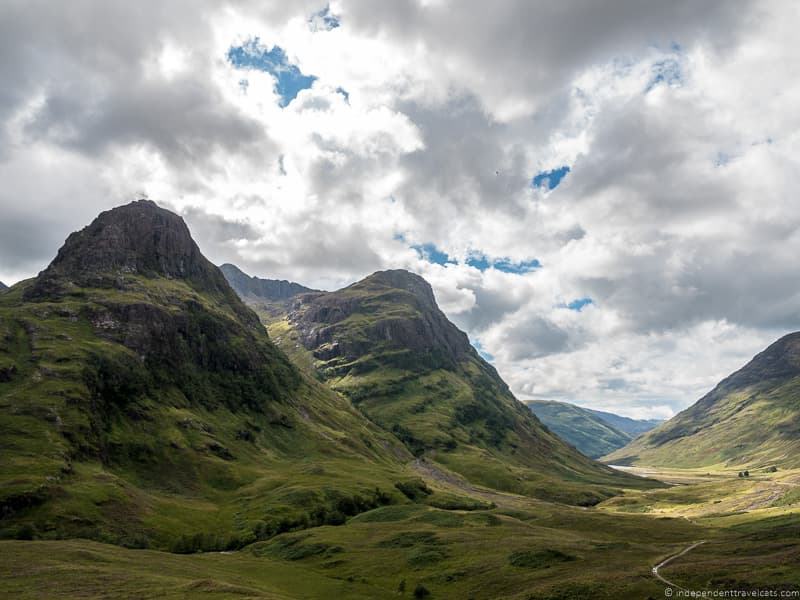 Best Way to Get to Harry Potter Filming Locations
The best way to get around to most of the filming locations is by car as it gives you the most flexibility. You can also visit the most popular locations by taking a day tour, such as this one from Edinburgh, which is great for those limited on time but want to see the highlights.
Car hire is available in a number of locations in Scotland with the most selection in the larger cities like Edinburgh, Glasgow, Aberdeen, and Inverness. There are a lot of car rental companies, we normally use Enterprise for rental cars.
But many of the Harry Potter movie locations can also be visited by taking a public bus or train. Some are a short walking distance away from a public transit stop, but some do require longer walks to reach or a taxi ride. So plan ahead if you want to travel by public transportation to find out what's possible.
If you want to travel by public transit in Scotland (and the rest of the UK), we recommend using the Traveline website to help plan your journey.
Map of Harry Potter Filming Locations in Scotland
Below is a map of all the Harry Potter movie locations mentioned earlier.
Just click on this link or double click on the image below to open in Google Maps for a closer look: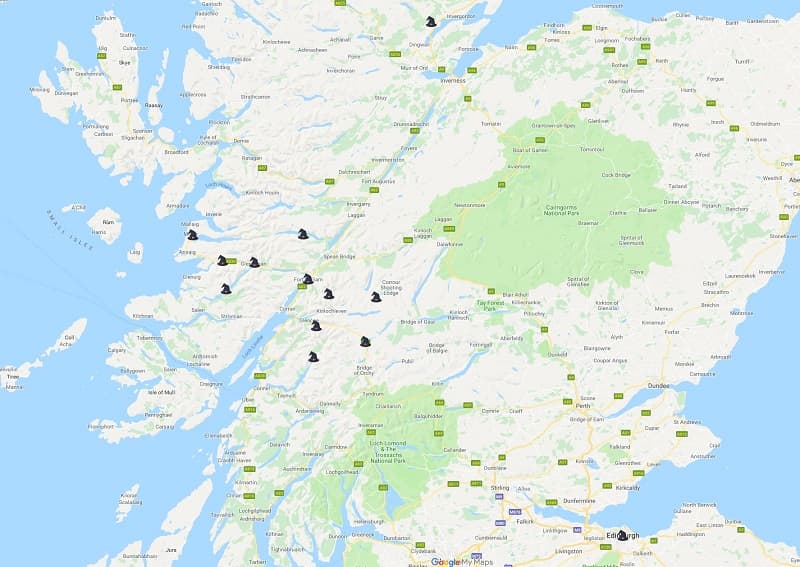 We've also included Edinburgh and Alnwick Castle (see next section for more information about both) on the map, two other places with Harry Potter connections that are not too far away. 
Other Harry Potter Sites You can Visit
If you are in Scotland, you may also want to consider the Harry Potter related sites in Edinburgh Scotland. You might also want to consider a day trip to Alnwick Castle, one of the more dramatic Harry Potter locations located in northern England, which is located less than 2 hour drive from Edinburgh.
Edinburgh
Edinburgh was not actually used as a filming location for any of the Harry Potter movies; however, it was the city where J.K. Rowling wrote many of the Harry Potter books and she has lived here since 1993. There are many locations across the city that will be of interest to Harry Potter fans.
These includes some of the cafes where Rowling wrote Harry Potter, as well as a number of places that are believed to have served as inspiration for characters and locations in the books. These include the Greyfriar's Kirkyard, where you'll find graves that include the names of Tom Riddle and McGonagall, as well as a local school that looks a bit like Hogwarts!
If you want to tour Edinburgh in search of Harry Potter, take a look at our detailed guide to finding Harry Potter in Edinburgh for more inspiration. You can explore on your own or you can take one of the Harry Potter themed walking tours, such as this popular 2 hour tour.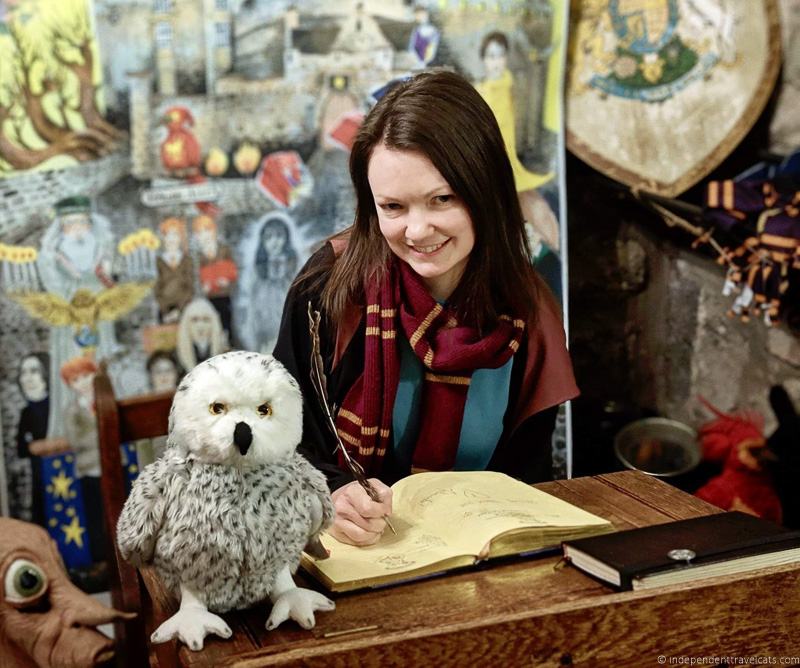 Alnwick Castle
Alnwick Castle is found in Northumberland, the most northerly county in England, and as such, is obviously not in Scotland! However, we wanted to include it as it's actually one of the closest Harry Potter filming locations to Edinburgh, and is easily visited as a day trip from the city.
Alnwick Castle was used in the first two Harry Potter films as the outside of Hogwarts, and is most recognizable as the location for the broomstick training in Harry Potter and the Philosopher's Stone. This took place at the Outer Bailey. When you visit Alnwick Castle, you can take a broomstick flying lessons in this exact spot!
In Harry Potter and the Chamber of Secrets, various scenes were filmed around the castle, primarily showing students and staff of Hogwarts moving between locations in the school. They were also seen going in and out of the Lion Arch when visiting Hagrid's forest cabin.
The castle has also been used as a filming location for a number of other films and TV shows, including Downton Abbey, Transformers: The Last Knight, and Elizabeth.
Even without the Harry Potter connection, the castle is still worth a visit. You can purchase tickets at the castle or you can pre-book your tickets online here.
The adjacent gardens (next to but not part of the castle property) are stunning and definitely worth a visit, especially if traveling in Spring or Summer.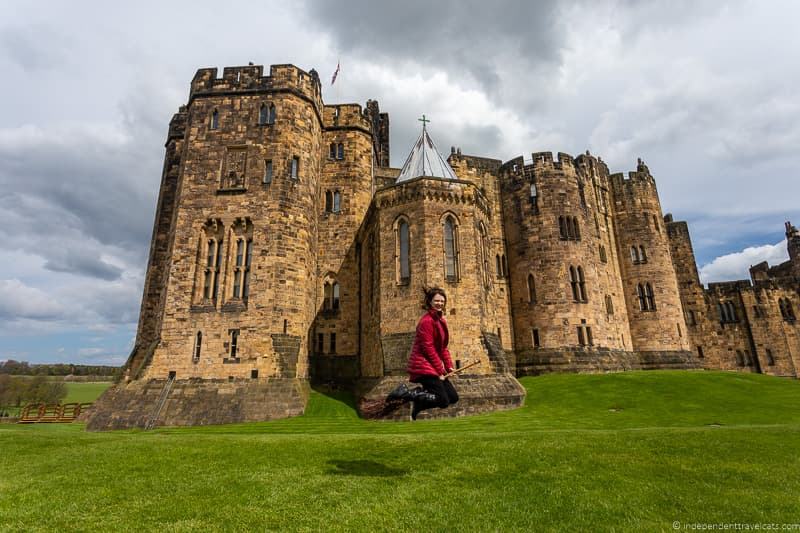 How Many Days to See Harry Potter Movie Locations
You could visit all the Harry Potter filming locations in 2 days if you concentrated just on visiting these sites and didn't mind driving around a lot. However, since there is a lot more to see in Scotland, we'd recommend a 5 day trip or longer so you can mix Harry Potter sites with lots of other of Scotland's great attractions.
It is not realistic to visit all the filming location in one day, but you can see several if you head to the northwestern part of Scotland (around Fort William). You can see many of these same attractions by taking a train along the West Highland Line.
If you want to visit Black Rock Gorge, you have to go 2 hours further north in Scotland. If you also want to see Alnwick Castle, it is located just across the border in northern England, but in the opposite direction from the other filming locations.
Our favorites are The Jacobite train ride (a fun experience and nice scenery), Alnwick Castle (iconic castle with broomstick lessons and beautiful gardens), and Glen Coe (dramatic landscape and great area for hiking). Rannoch Moor, Glen Etive, and Steall Falls are also great for those who like hiking and scenic landscapes.
The lochs in general are the least interesting places in our opinion. There are over 30,000 lochs and lochans here in Scotland, and several of them made their way in the Harry Potter films. However, without the characters, props, and CGI enhancement, most are just going to look like another lake. The most recognizable loch location to Harry Potter film fans is probably Eilean na Moine in Loch Eilt.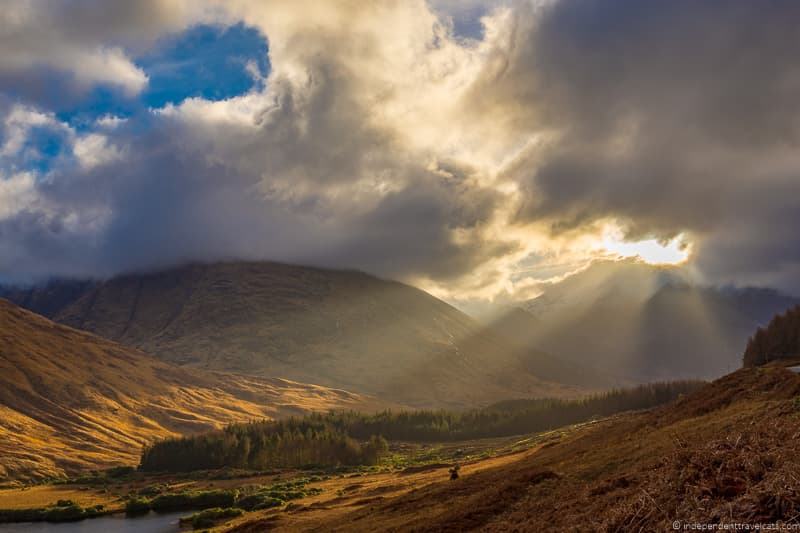 Tours to Harry Potter Film Locations
Below are several tours that depart from Edinburgh. If you don't see what you are looking for, feel free to ask us for a suggestion.
This full day trip from Edinburgh takes visitors to see several filming locations (including Rannoch Moor, Glenfinnan viaduct, Glencoe, and Loch Shiel) and features a ride on The Jacobite train (Hogwarts Express). Best bet if you want to see as much as possible in a single day.
This full day small group tour features a visit to the impressive Alnwick Castle, a filming location for Hogwarts in Harry Potter (as well as Downton Abbey and Transformers). The tour also stops in a Scottish Borders market town and along the scenic Northumberland coast. We've done this Rabbie's tour and can recommend it.
This private Potter tour is designed for small groups or families (up to 4 people) and includes visits to a number of Harry Potter sites including Glenfinnan Viaduct, Glen Coe, Loch Shiel, and Loch Eilt. You can explore at your own pace since its a private tour!
This 2 day tour includes a ride on the Jacobite steam train as well as stops to see Cairngorms National Park, Culloden battlefield, Loch Ness, Glencoe, and Rannoch Moor. Includes overnight stay in a B&B.
This 3 day guided tour from Edinburgh includes a visit to the Isle of Skye, several Scottish Highlands locations (including Glencoe and Loch Ness), and includes a ride on the Jacobite steam train.
This 4 day West Highlands tour isn't Harry Potter focused but includes stops at some of the most iconic filming locations, which include Glenfinnan Viaduct, Glencoe, and Rannoch Moor. Tour visits many of the highlands of the Scottish Highlands and visits the Isle of Skye.
If wanting to travel from Glasgow, this is a very similar 4 day tour to the above but it includes a Jacobite steam train ride.
**Note: The Jacobite only regularly runs from April to October so many of the tours that include the train ride are seasonal or operate without the steam train ride from November to March.
Where to Stay When Exploring Harry Potter Sites
The majority of the filming locations are in northwestern Scotland, around the Highlands town of Fort William. This is where we would recommend basing yourself if you want to explore a number of these locations over a couple of days.
Fort William is also where The Jacobite steam train starts its journey. It is a pleasant town offering museums, a historical fort park, restaurants, and a pleasant walkable city center area. It is within a relatively short drive of Glencoe and Ben Nevis, and there are a number of hiking, skiing, and water activities in the area.
The town is easy to access by car, bus, or train, and is even a stop on the Caledonian Sleeper.
You can also search a full list of lodging options here, but here are a few suggested accommodation options to check out in and around Fort William across budgets:
Fort William Backpackers – This well-rated hostel offers dormitory style rooms, comfortable common areas, and free WiFi. Centrally located and about a 5 minute walk from both the city center and train station.
Fassfern Guesthouse – This cozy B&B offers comfortable rooms and a full English breakfast situated near L Linnhe, just outside the city center. A 13 minute walk to city center.
Cruachan Hotel – This 3-star hotel next to L Linnhe offers a variety of room types, some with loch and hill views, as well as a terraced dining area. Offers breakfast as well as dinner, late night snacks, and drinks.  A 15 minute walk to city center.
Glenlochy Apartments – These well-rated self-catering apartments offer fully equipped kitchens, siting/dining areas, and free parking. Great option for families. A 15 minute walk to city center.
Inverlochy Castle – If you have a car, are looking for a luxury treat, and don't mind staying a bit further away, we recommend considering a stay at Inverlochy Castle Hotel. This mid-19th century luxury castle hotel offers historic and well-decorated rooms, excellent service, and on-site restaurant.The service here sets it apart and it is one of the best places we've stayed in Scotland (and we've stayed in a A LOT of places!). About a 1 hour drive from Fort William city center.
Edinburgh can be a good base if you are just looking to do a day trip from Edinburgh to see some of the Harry Potter filming spot highlights. If you are wanting to explore by taking a tour, the majority of tours (both day tours and multi-day tours) leave from Edinburgh although you can also find tours from Glasgow and Inverness.
Here are a several lodging options in Edinburgh we recommend for Harry Potter fans (all located in city center within walking distance of Edinburgh's Harry Potter attractions):
Castle Rock Hostel – Popular adults-only hostel with a castle theme, offering both dormitory style and private rooms. Located within the Grassmarket area near Victoria Street and about a 3 minute walk to The Elephant House. 
Motel One – A popular modern good value design hotel centrally located in Edinburgh's Old Town. Located only a few minute walk from the Royal Mile and about a 6 minute walk from Victoria Street. 
The Grassmarket Hotel – This 3-star modern and quirky decorated hotel is located within the Grassmarket area and just a couple of minutes walk to Victoria Street and The Elephant House. 
Canongate Luxury Apartment – This 2-bedroom apartments has been nicknamed the "Harry Potter apartment". It is decorated with a witchery and Harry Potter theme, and has a number of Harry Potter related details and vintage items. Located just off the Royal Mile.
Holiday Inn Express – This 3-star hotel offers well-priced rooms in the Old Town. Located near the Royal Mile, it is a 5 minute walk from Spoon and about a 10 minute walk from Victoria Street.
The Balmoral – This 5-star historic luxury hotel opened in 1902 as a traditional railway hotel and has become a city landmark. This hotel is a mix of traditional and modern decor and has some beautiful suites, including the J K Rowling Grand Suite where Rowling finished writing the final Harry Potter book! Located next to the Waverley train station.
The Witchery – This popular boutique luxury hotel is named after the witches who were burned at Castlehill in the 16th and 17th centuries. The hotel offers 9 different themed suites which are lavishly decorated with Gothic touches, large 4-poster oak beds, and antiques. Located just below Edinburgh Castle along the Royal Mile. A 5 minute walk to Edinburgh Castle and a 2 minute walk to Victoria Street.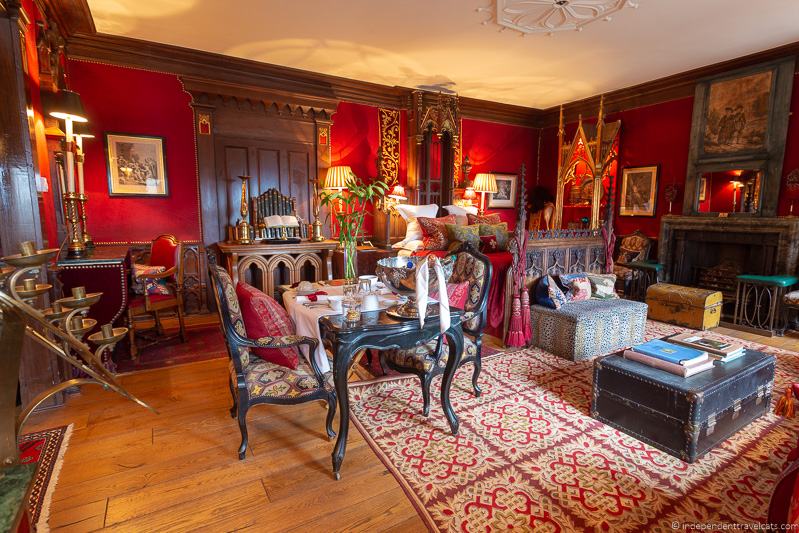 More Information for Visiting Scotland
If you are looking for more Harry Potter content, we also have a comprehensive guide to Harry Potter locations in Edinburgh as well as a guide to cafes where J.K. Rowling wrote the Harry Potter books.
If your trip is also taking you to London, we have a guide to Harry Potter in London as well as how to visit the Warner Bros Studio in Leavesden which was where most of the filming took place.
We have lots and lots of other information on Scotland across our two travel blogs which you can view here and here. For instance we have guides to things to do in Edinburgh, things to do in Glasgow, best day trips from Inverness, visiting Loch Lomond, photographing Glen Coe, skiing in Scotland, planning a North Coast 500 road trip, and much more!
So that's our guide to Harry Potter filming locations in Scotland, and we hope it will help you plan your own magical trip to Scotland!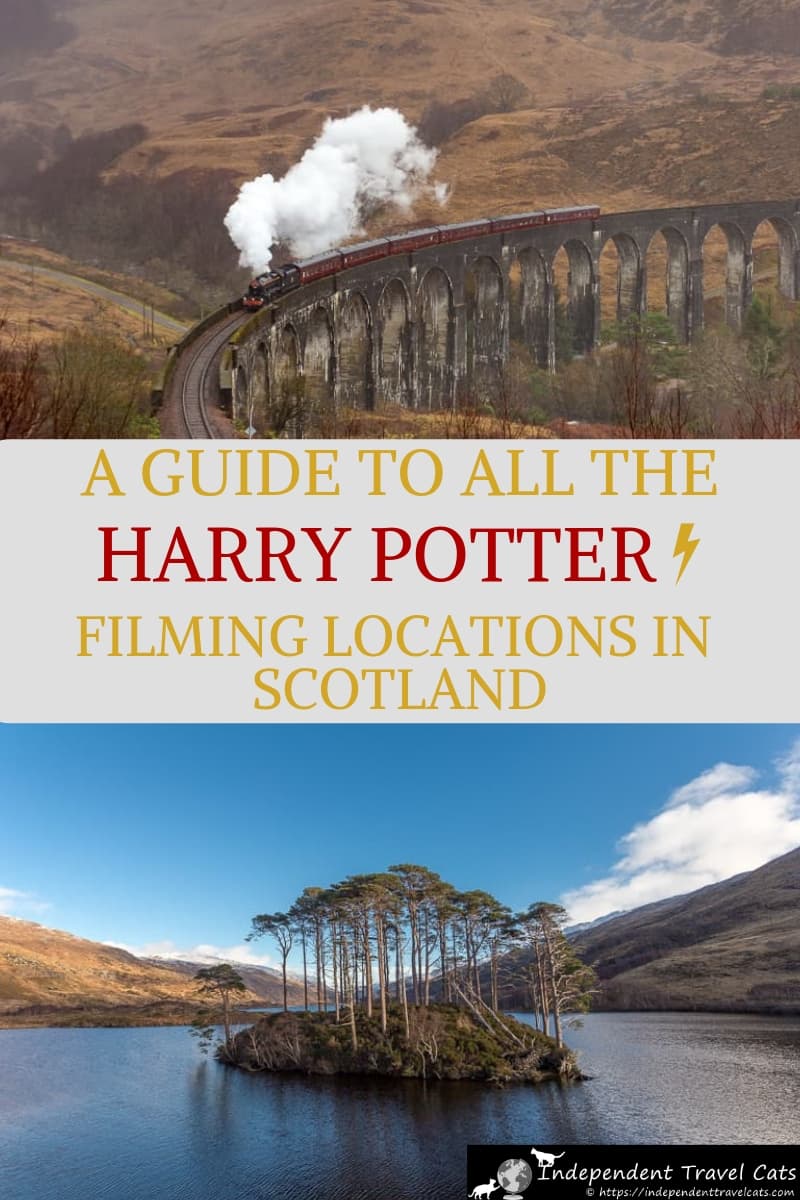 Which of these spots would you want to visit? Have you been to any of these Harry Potter film locations in Scotland? Are there any other Harry Potter sites in Scotland that you think should be added to this list? Tell us in the Comments section below. 
As always, we love your comments and feel free to ask us any questions about Harry Potter filming locations or any other question you may have about visiting Scotland in general!
Credit: Source link