This post may contain affiliate links. Please read my disclosure and privacy policy.
If you are new to a vegan diet, or have vegan friends and family members coming over for a Thanksgiving dinner, I've got you covered! The Vegan Thanksgiving recipes below are all dairy-free and egg-free, and they're always a hit with both vegetarians and meat-eaters alike.
What Do Vegans Eat on Thanksgiving?
Turkey isn't the only dish we look forward to on Thanksgiving. With a few simple swaps, it's easy to make most of your favorite side dishes, like mashed potatoes, gravy, stuffing, green bean casserole, and your favorite desserts, vegan-friendly. Your guests can build their own meal with all of the options below!
Jump to recipe ideas:
Vegetarian Alternatives to Turkey (Main Courses)
If you need a vegan main course to serve at Thanksgiving, try one of the recipes below.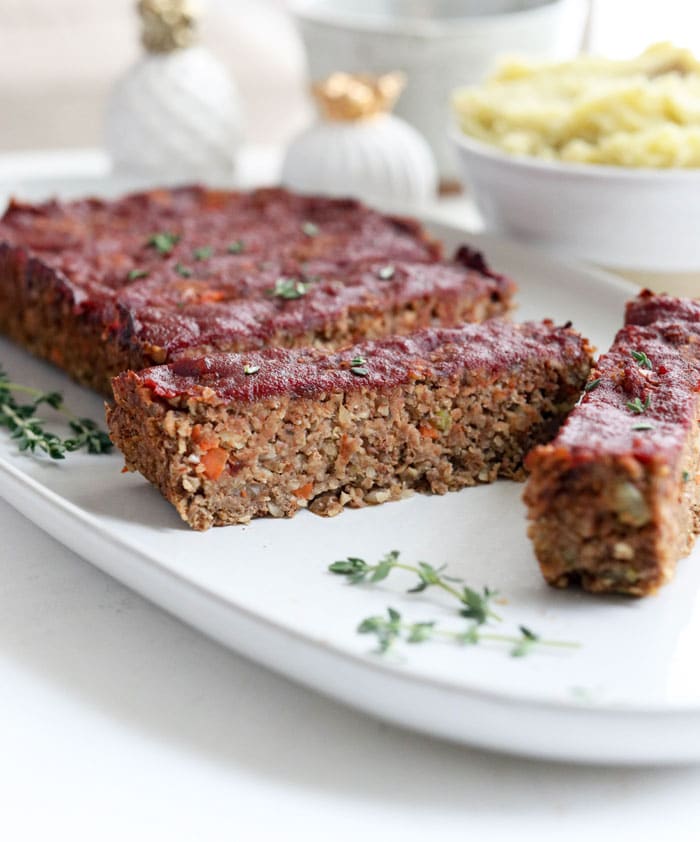 Vegan Meatloaf (Easy Lentil Loaf)
This Vegan Meatloaf is a delicious vegetarian main entrée that will impress your guests! Made with lentils, walnuts, and oats, it's hearty & filling. You'll love how this recipe doesn't get soggy in the middle.
Get the Recipe
Baked Portobello Mushrooms (An Easy Vegetarian Dinner!)
These Baked Portobello Mushrooms are marinated in an easy gluten-free sauce and are oven roasted in just 30 minutes. Perfect as a vegan or vegetarian Thanksgiving main course!
Get the Recipe
Creamy Butternut Squash Pasta
This Butternut Squash Pasta is the ultimate Fall comfort food. It's creamy and comforting, while being entirely dairy-free, and takes less than 30 minutes to get on the table for an easy meal.
Get the Recipe
Stuffed Acorn Squash (Vegetarian!)
This Stuffed Squash recipe makes a great vegan or vegetarian dinner. It's stuffed with a protein-packed quinoa stuffing, which can be made in advance for an easier holiday meal.
Get the Recipe
Vegan Tuscan Pumpkin Pasta
This Fall-inspired pasta sauce marries pumpkin and tomato sauce, for an unexpectedly delicious combination! Don't be surprised when you want to lick your bowl clean. Dairy-free & ultra-tasty!
Get the Recipe
Best Vegetable Stew (Vegan!)
This Vegetable Stew is a comforting way to eat more veggies and clean out your fridge! It has a meat-like texture, thanks to jackfruit, and tastes like a vegetarian version of my mom's classic beef stew.
Get the Recipe
Vegan Thanksgiving Sides

These healthy side dishes are all dairy-free, gluten-free, and egg-free, but you won't miss out on any flavor!
The BEST Vegan Mac and Cheese (A Fan Favorite!)
This Vegan Mac and Cheese recipe is tossed in a quick & easy cashew "cheese" sauce, and is as fast to prepare as the boxed version. With over 200 reviews, it's become a fan favorite!
Get the Recipe
Glazed Sweet Potatoes (in 1 pan!)
Maple Glazed Sweet Potatoes are an easy holiday side dish, made with just 5 ingredients! You'll only have 1 dish to clean later, and they are vegan & Paleo friendly, for those on special diets.
Get the Recipe
Instant Pot Mashed Potatoes (No Drain!)
These Instant Pot Mashed Potatoes are quick and easy to prepare, with an 8-minute pressure cooking cycle. I love that you don't have to drain them after cooking!
Get the Recipe
Vegan Green Bean Casserole
This Vegan Green Bean Casserole is fast & easy, made with a creamy white bean sauce. I love the crispy walnut topping, for a gluten-free & dairy-free casserole.
Get the Recipe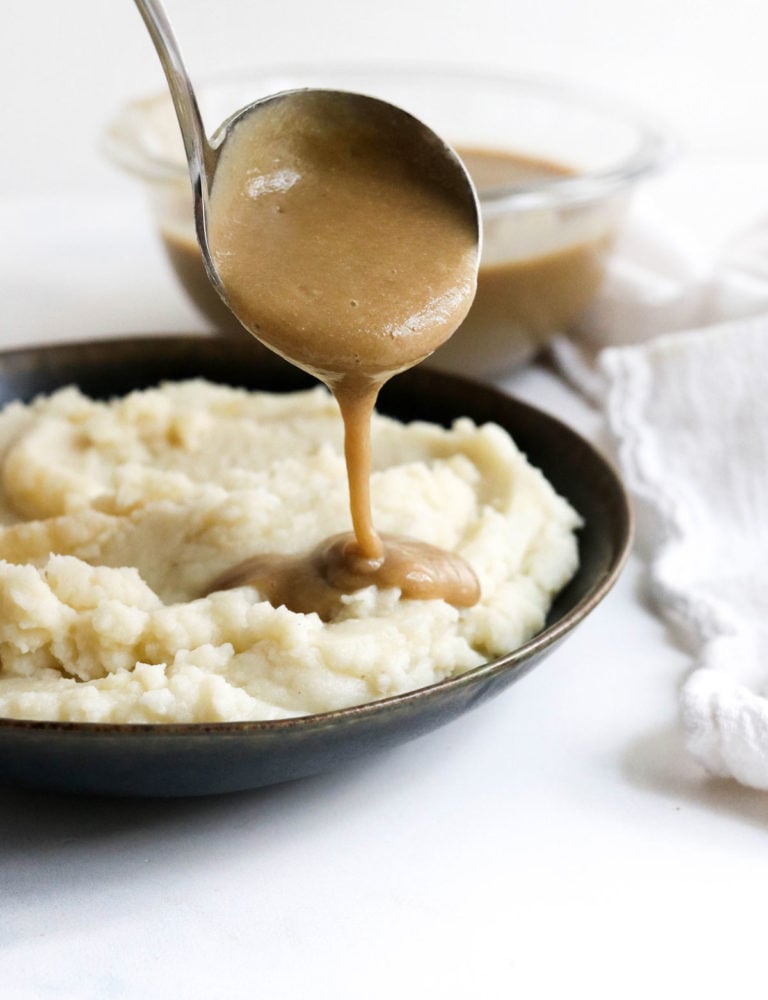 Best Vegan Gravy (Gluten-free!)
This is the best Vegan Gravy recipe you'll ever taste! It's naturally gluten-free and low-fat, and all you need is a few simple ingredients to get started. It's made entirely out of vegetables!
Get the Recipe
Wild Rice & Mushroom Stuffing
This Wild Rice Stuffing is loaded with flavor, and is a great way to sneak a few more vegetables in your holiday meal. It has all the taste you love, without using bread, so it's gluten-free.
Get the Recipe
Vegan Skillet "Cornbread"
This Vegan Cornbread isn't actually made with corn, but it sure tastes like it is! Millet gives this bread a signature yellow color, and it tastes like the box mix my mom used to make.
Get the Recipe
Vegan Corn Casserole
This Vegan Corn Casserole, also called spoon bread, is made with whole food ingredients. It tastes like the version made with Jiffy corn mix, only this version is gluten-free and dairy-free.
Get the Recipe
Sweet Potato Casserole with Pecans
This Sweet Potato Casserole is topped with a cruncy pecan topping instead of marshmallows, for a healthy side dish. It's dairy-free and vegan-friendly, without using refined sugar!
Get the Recipe
Healthy Green Bean Casserole (Vegan & Paleo)
This Healthy Green Bean Casserole is an easy recipe made entirely out of vegetables! It's gluten-free, dairy-free, soy-free, and totally delicious. Perfect for those on special diets, like vegan & Paleo protocols.
Get the Recipe
Vegan Creamed Spinach
This healthy Creamed Spinach recipe is made with a creamy garlic cashew sauce to keep it dairy-free. It has all the flavor you love, without the cheese. This also works well with kale!
Get the Recipe
Spiced Cranberry Sauce
Lightly sweetened with maple syrup and bursting with Fall spice, this Spiced Cranberry Sauce is sure to be a favorite at your Thanksgiving dinner table. Only 5 ingredients!
Get the Recipe
Vegan Thanksgiving Desserts
These vegan dessert recipes are all dairy-free, egg-free, and gluten-free, but they definitely taste as delicious as their traditional counterparts. Make them ahead of time for an easier holiday!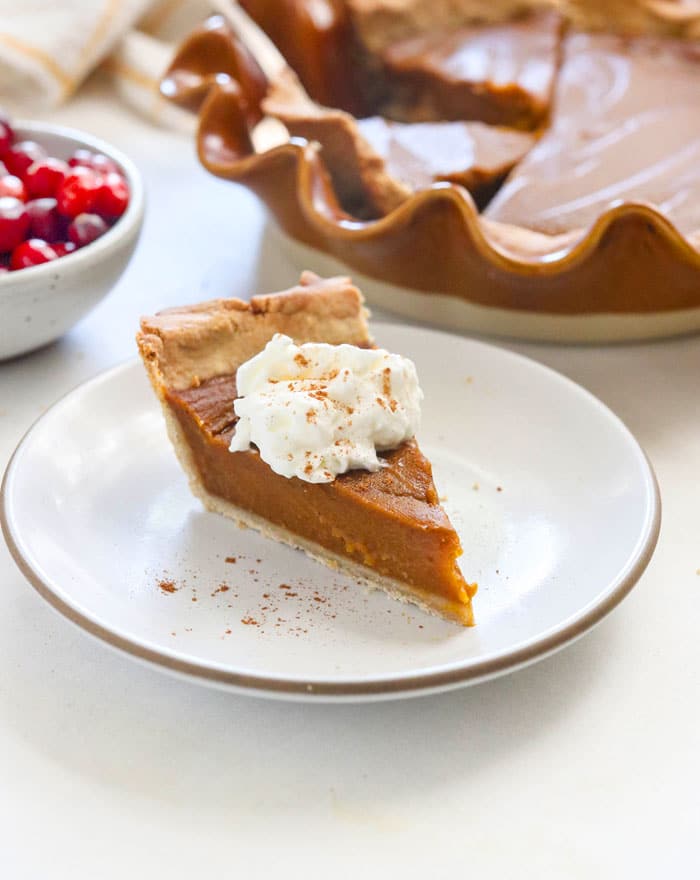 Vegan Pumpkin Pie (Soy-free!)
This Vegan Pumpkin Pie is the best recipe I've ever tasted! All you need is a handful of ingredients and a blender to whip it up. Date-sweetened and ultra-delicious.
Get the Recipe
Vegan French Silk Pie (Dairy-Free & Soy-Free!)
This Vegan French Silk Pie recipe is made with simple ingredients, and tastes like the real thing! It's naturally gluten-free and dairy-free, and is naturally sweetened with coconut sugar.
Get the Recipe
Vegan Chocolate Tart (No Soy!)
This Vegan Chocolate Tart is a decadent dessert, made with a crisp hazelnut crust. It's dairy-free and gluten-free, with a rich chocolate filling, with a hint of Nutella flavor.
Get the Recipe
Chocolate Pecan Pie Bars (No Bake!)
These Chocolate Pecan Pie Bars taste like pecan pie, with a rich dark chocolate layer in the middle. This holiday dessert is naturally gluten-free, dairy-free, and egg-free.
Get the Recipe
Vegan Pecan Pie (with NO corn syrup!)
This easy Vegan Pecan Pie is naturally sweetened and has a remarkably similar taste and texture to the original, without using eggs or corn syrup! Only 5 ingredients needed.
Get the Recipe
Vegan Pumpkin Tarts (Frozen Dessert!)
These Vegan Pumpkin Tarts are a healthy dessert, packed with Fall flavor! Just blend the ingredients together and pop them in your freezer for a fast, perfectly portioned treat.
Get the Recipe
Easy Baked Apples
Baked apples are a fast & easy dessert, made with just 7 ingredients. This healthy recipe has the flavor of pie, without the work! Naturally gluten-free & dairy-free, and perfect for holidays.
Get the Recipe
Pumpkin Spice Latte
This Pumpkin Spice Latte recipe takes just 5 minutes to make, using home-brewed coffee. It's a great homemade alternative to the popular Fall drink, and is naturally sweetened.
Get the Recipe
Healthy Hot Chocolate
This healthy hot chocolate recipe requires only 4 ingredients and is dairy-free and naturally sweetened. It's the perfect sweet treat for a cold day; ready in just minutes!
Get the Recipe
I hope these vegan Thanksgiving recipes will be a hit at your holiday meal! Tag @detoxinista or #detoxinista on social media, so I can see what you make!
–
Reader Feedback: Are there any holiday recipes I haven't covered? Let me know if you have any recipe requests in the comments below!
Credit: Source link